US House of Representatives on Wednesday approved NASA's budget for 2009 of $ 20, $ 2 billion, according to RIA Novosti. The budget bill contains a separate amendment regarding increased cooperation with NASA Russia and other countries in the framework of protection from asteroids. Congressmen plan to use for this purpose the Russian radar RT-70.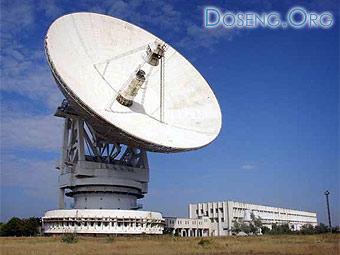 The amendment indicates that the projected number of asteroid collision with which could pose a danger to Earth, is about 25 thousand. To prevent a possible threat, the United States will need to cooperate with other countries. The initiator of the development of programs to protect against asteroids Rorbaker Dana (Dana Rorbaker) during the discussion of the amendment clarified that the detection of Earth-threatening asteroids need powerful radar remote space communications, one of which is the Russian PT-70 (the second name P-2500). According Rorbakera, RT-70 will be able to "make a contribution" to the fight against asteroids.
Radar (more precisely, the antenna system) RT-70 is located in the Primorsky Krai, in the village of Galenko under the Ussuri. It is run by the Russian Space Forces.
The head of the Russian Space Agency, Anatoly Perminov, said the source of RIA Novosti that Roskosmos has a positive attitude to the initiative of the US Congress, but a fundamental decision can only be taken with the participation of the Ministry of Defence. Perminov said that he is aware of the problem of the asteroid hazard, and believes that it should be solved at the level of Heads of State.
In addition to programs to combat the asteroids in the budget bill provides funding for the continuation of the US space shuttle flights. This item has angered the Bush administration. The decision to stop all flights of the space shuttle by 2016 was adopted after the 2003 crash shuttle "Columbia". Another reason for the collapse of the project was the shuttle program to return man to the moon by 2020, which requires budget allocations.
In addition, the Bush administration believes that the allocated amount - she's 2, 8 percent more than the amount allocated in the past year - is too big. According to administration officials, the maximum size of the budget should not exceed 17, 9 million.