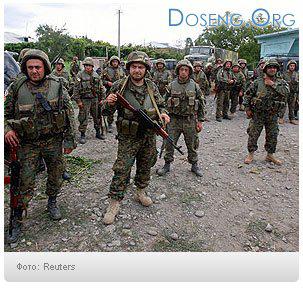 Georgian troops, despite claims by Tbilisi ceasefire last night dealt a new blow to the Russian peacekeepers. "In some places the responsibility of peacekeepers last night continued active confrontation. Especially in the south. One of the peacekeeping posts even bombed Georgian air force. Fortunately, no casualties, "- said the commander of the Joint Peacekeeping Forces (JPKF) in the Georgian-Ossetian conflict zone, Major-General Marat Kulakhmetov.
According to the commander, the main task of the peacekeepers on August 11 is to provide a safe exit from Tskhinvali to North Ossetia side columns with the victims and the remaining civilians. At the same time, he said, unfortunately, there is no "absolute guarantee" that the Georgian side will refrain from fire exposure to these columns.
How, in turn, the official representative of the government of South Ossetia Irina Gagloyeva, as a result of shelling the western part of Tskhinvali on Monday killed several Russian peacekeepers. "Monday night in the Georgian-South Ossetian conflict has been a sharp aggravation of the situation. The shelling by the Georgian side the western part of Tskhinvali region Prisskih heights of multiple rocket launchers "Grad" killing three Russian peacekeepers, and another 18 received injuries of varying severity ", - she said.
Also, she said, "on Monday night there was a mortar attack on the southern part of the city, in which were seriously wounded six civilians, they were hospitalized", reports "Interfax».
It is worth noting that despite the peaceful statements and promises of a cease-fire, the Georgian side continues to actively sabotage operations on the territory of South Ossetia. "Two Georgian sabotage group number 8 and 11 people respectively, were captured in the vicinity of Tskhinvali. Now they are kept under tight security, as local residents, learning about it, wanted to lynch "- said Gagloyeva.