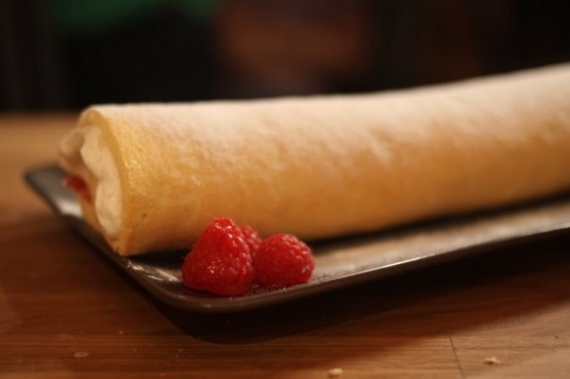 To prepare the rolls need:
150g flour - sifted, 150g of sugar and 6 eggs and 300 ml of whipped cream, raspberry jam 200g and 300g fresh raspberries
Eggs, sugar and flour whipped together in a mixer, and then the whole mass is poured a thin layer on a baking paper, which laid out the bottom of the pan and into the oven goes somewhere for half an hour at 200 degrees.
In the meantime, you need to whip the cream, which will be filled in preparing the oven raspberry roulade.
Once the roll is ready to cool down a bit and it can lubricate the raspberry jam. For greater sweetness. Here you can get about 300 grams of jam. Apply a thin layer on top of the cream and garnish with berries raspberries, which is very convenient drowned in cream. This creates an additional advantage when minimized roll since the berries are crushed and remain intact. It turns out very juicy, very bright and summer berry dessert. With raspberries and whipped cream.
Enjoy!