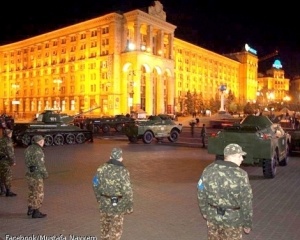 On the night of October 27 in Kiev were introduced armored special forces, which are comfortably settled on Independence and the adjacent pedestrian zone.
Do not be alarmed prematurely. Let's hope that this is not hysteria before the elections. All armored vehicles - the museum exhibits during the Second World War and removed to the Maidan in the scheduled celebrations in honor of the liberation of Ukraine during that same World War II. You can take a look, pofotat, get acquainted with the military past.
By the way, is not whether symbolic of the fact that in the same period held in our country national pastime called "parliamentary elections"? You look, and there will be freed.
What else can you expect on the Maidan? Promise to feed the soldier's porridge. Another concert is announced. I would like to think that he will more sincere interest than the actions of the Party of the Regions on the First National, from which bore so frank "scoop" that even the brothers Karamazov not pulled this farce. Another masterpiece from the master word creation arose Yanovich "country began to live better." A new party perlotvorets Madame Bakhteeva inadvertently had called his colleagues "party creators and creators." It is a temper.
Well, of course, expected on Independence fireworks. So welcome to the celebration. Still, a serious event. No kidding.
PS. One I do not like. Block some page news channels with reference to this event.