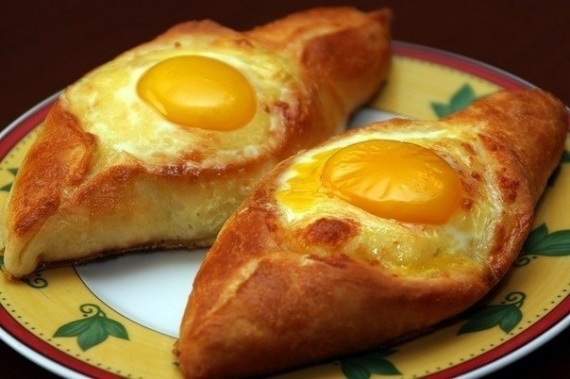 1 kg of flour
250-300 ml of water or milk
1 tbsp sugar
15 g of dried or 50 g of fresh yeast
For the filling:
1 kg of cream cheese (grate)
10 eggs
200 g butter (cut into 10 pieces)
Dissolve yeast with sugar milk or warm water and keep in a warm place for 30 minutes. Knead the dough, leave for proofing for 1, 5 hours.
Periodically punched the dough. Then divide by 10 identical balls, roll in the oval cake, put on a greased baking sheet, sprinkle cheese on each, form bumpers and bake in a preheated 220 degree oven until until the cheese has melted and the dough will not get a golden color.
Remove the baking sheet from the oven, put on each slice of khachapuri oil and break the egg. Bake for another 5 minutes, the yolk can remain liquid. Serve hot khachapuri.