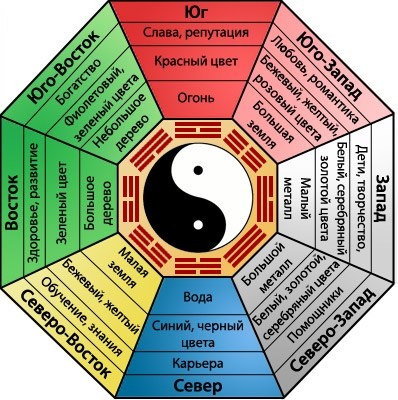 We find ourselves in the northern part of your apartment.
If you want to climb the ladder, looking for a new activity, or if you want to strengthen their position in the workplace, let's revive this area.
1. Of course, cleanliness, space and light!
2. Transparent crystals cut.
3. "Music of wind».
4. The mirror located so that it will not "cut" visual reflection of the head, and preferably feet. And be sure of good quality, without distortion.
5. Fountain and the aquarium will be here to place, unless they are behind you.  
6. The three-legged toad sitting on coins.
7. Turtle better of metal; or ornamental stone sitting in a metal container in water; home or live bug, but in any case it should be ONE!
8. Pot abundance. This clay or ceramic pot or crystal vase filled with coins.
9. Very good (especially in the office) to put here a computer, telephone or any other commonly used office equipment
10. Crystal or glass lotus.
This area element of water, it helps to Metal, it is counter-fire.