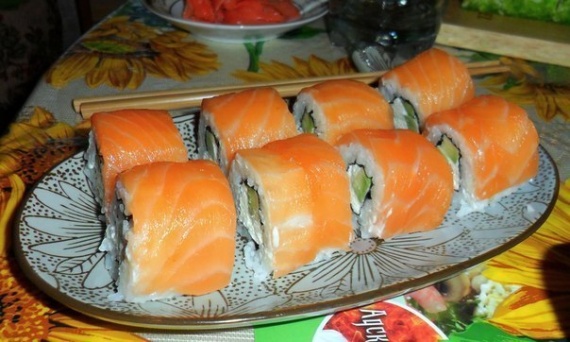 Ingredients:
Sushi rice
Rice vinegar (or are willing to refuel themselves)
Nori
Salmon raw or slabokopcheny.
Eel
Philadelphia cheese
Cucumber
Extras: pickled ginger, wasabi, soy sauce,
Makis for rolling rolls and a sharp knife.  
Preparation:
1. Prepare the correct figure. The recipe I have already written, but for convenience again. Half cup of washed rice fill two art. Cold water.
2. Bring to a boil and cook for about 7 minutes. Pour in the rice dressing, prepared from item. spoon of vinegar tablespoons of water and ten. spoons of sugar and salt (or ready to take the rice vinegar). Cover with lid and cook rice still 5-7 minutes on low heat, the water must be evaporated and absorbed. Remove rice from the heat and leave for 15 more minutes without removing the lid from the pan. Give rice to cool.
3. As usual with cling film wraps, spread it with a thin dense layer of rice, spread on top of the elevator, lightly sprinkled with water. The center of the workpiece put Philadelphia, eel and cucumber sliced ​​into strips. Roll tightly roll down.
4. Put the sausages on top of the resulting salmon and again rolled roll. Cut into pieces with a sharp knife.
Served with ginger, wasabi and soy sauce.