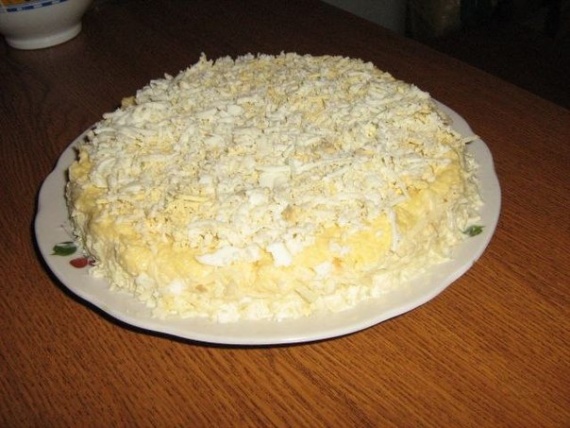 All ingredients are taken in arbitrary proportions, depending on how much you want to lettuce.
 - Figure
 - Salted humpback
 - Hard cheese
 - Eggs
 - Prunes
 - Onion (who does not like onions, and you can not).
 - Mayonnaise  
Boil the rice, rinse.
Prunes pour boiling water, allow to steam, drain, cool, cut into small pieces.
Cheese grate.
Onion very finely chopped.
Eggs just grate, but individually whites and yolks.
Stacked salad every guest in a separate kremanku.
1 layer- rice, mayonnaise, but little to like mesh turned out.
2 layer - quite a bit of onion.
3 layer- salted salmon, cut into small pieces.
4 layer- proteins rubbed again a little mayonnaise on top.
5 layer- grated egg yolks.
6 layer- few pieces of prunes, mayonnaise mesh.
7 layer- grated cheese, mayonnaise.
When preparing this salad with salted fish is not as well with boiled or canned, it is better not to put prunes. Because it is a combination of salted fish and prunes are very successful in this salad and gives it its flavor.