Came from the East in the middle ages men's pajamas in European homes has long been a common attribute of men's clothing. The textile industry did not miss this date and adjusted release of this element home decoration to such an extent, that now the man stands before the most banal question – how to choose a men's pajamas.
Selection criteria
First of all, this choice must comply with two settings – comfort and style. So you have to choose according to several criteria. But first you should decide what time of year it will be worn pyjamas. This is important due to the fact that there are two types of this men's apparel – winter pajamas and summer. Naturally, they differ in features style.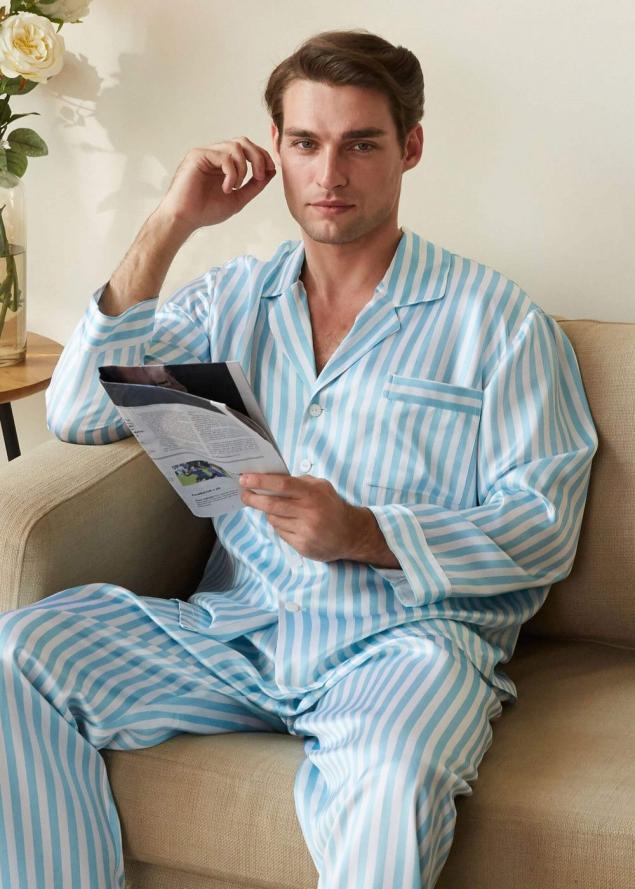 For example, in the winter the options of pajamas is sure to be had sleeves, and it will be made of warm fabrics.
At the same time, summer pajamas can be short sleeved, and even without them, and long sleeve.
Another important criterion
Well, now closer to the topic of your choice. Thus, the main criteria for this choice are:
Size;
Colors;
Type of tissue;
Model;
Style.
The most clear factor is the choice of colour – here the role played by taste and individual preferences.
When choosing the size too much range does not exist. Although retail always can be found too extensive model, and suits a little already. However, the exact pajamas should not be too narrow, and the more compressive. This is the most negative impact on the physiology of the reproductive organs and condition of the blood vessels.
Style
As already noted, it can be both winter and summer. However, the pajamas traditionally consists of two parts – a top shirt and bottom pants. Here we have to choose from with this combination:
T-shirt long sleeve and pants;
T-shirt with short sleeves and shorts;
Jumpsuit;
Shirt with short sleeves plus pants.
These combinations also take into account the time of year and the temperature in the room, as it is inappropriate even with a good heating to use the pajamas, consisting only of short shirt with short sleeves and short shorts.
Model
Here, attention should be given to the various attributes that can form the model signs.
For example, many winter pajamas come in collars and lining. They are summer items, but more often if they are long sleeved.
If you have to choose pajamas to sleep, this collar will not bring any benefit, but if it is home edition, the gates will be a wonderful decoration to the shirt.
Another sign style is pockets. Practical sense at home pajamas they usually do not carry. But they underlined the fact that the PJS – it is home use.
Material
Here is a selection for several options:
Knitwear;
Silk;
Atlas;
Cotton;
Viscose;
Mahr;
Bike;
Cotton;
Flannel.
As you can see, all are materials of natural origin, however, there is another artificial material. This fleece jacket. Despite this, it is as natural fabrics, perfectly keeps heat, does not cause irritation and rashes. Such requirements are put forward to all tissues. But choosing one of them should be targeted only at ease, soft feel and the price.
And finally one important note – when you select should take into account all components. So the morning was fresh, and sleep is healthy, use homemade mens sleepwear of the highest quality and to avoid questionable sellers with synthetic copies.