Delicious juicy fruit pineapple on our table – it's no longer exotic. To buy pineapple in every supermarket, that's just not always possible to choose correctly ripe juicy and sweet fruit, so many people prefer instead of fresh fruit to take canned. But can be prefabricated with the delicious and aromatic fresh fruit?! We offer interesting informative manual on the choice of pineapple, especially because this fruit is considered to be one of the most useful for weight loss, the perennial problem of our time. If you still doubt as to whether a delicious fresh pineapple as canned, we offer tips on how to choose a pineapple.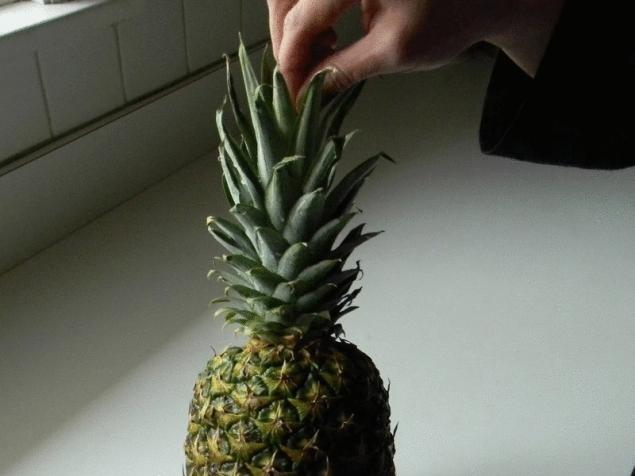 How to choose a ripe pineapple Contrary to popular belief that pineapples grow on trees, in fact the plantations of these fruit look just like a normal cabbage field – after all, just as growing this exotic fruit. World's major importers of pineapples are Paraguay, Thailand, USA, South America and the Philippines, so the choice of fruit can labels to know how long and how come the fruit to our shores. It is obvious that the pineapples come to us green, as they are taken in crude form and bring to us at sea, as it is the cheapest way of transportation of fruits.
Better if the pineapple was ripe and plucked were imported by air transport, but the cost of these fruits is much higher than the cost of torn green fruits. That is why there are often two identical pineapple one and the same manufacturer may have different costs. It is more correct to choose a more expensive fruit, as there is a guarantee that you will get a ripe juicy pineapple without chemical treatment, with delicate fragrant flesh.
Before you choose, read the label and pay attention to the manufacturer because it is often it can guarantee the quality of the delivered goods. Best sell pineapples such world leaders like Dole, United Fruit and Chiquita. These providers on each unit of product attach brand label indicating the place and time of collection, as well as the expiration date, as reputable companies always guarantee the quality and responsible for it. At the same time, if on the shelf there since the copies, without any markings, choose this is to choose a pig in a poke.
Before you finally choose a pineapple, it is important to inspect it so it had no dents, as bacteria from the soil could easily get inside the fetus and this can harm your health. To choose a fruit is not quite right.
If the pineapple has a slightly greenish appearance, it says that it ripped off green and ripen it will be a few more days, so you can choose a fruit, if you eat it you will not this day, after 3-4 days at room temperature it will ripen and be delicious.
Gently pop the pineapple palm to hear the thud – it says that the fruit inside is juicy and more juicy than pineapple, the riper the flesh, have green fruits it is more dry and less juicy.
To choose the most ripe and juicy pineapple, gently pull the leaf tops. If the top leaves easily rotated 360 degrees, it is fully ripe and ready to eat.
The crust should be firm, but not solid and have a smooth Golden color, and when pressed lightly bounce, which suggests that pineapple has ripped already at the stage of ripeness.
Interestingly, the scent of pineapple can often be a sign of his maturity and readiness to go to you on the table. If your chosen pineapple is too sweet and heavy smell, it speaks of over-ripeness which the fruit has passed the stage of fermentation. An unripe pineapple will have a light scent of herbs – this fruit is unsweetened and netocny.So before choosing a pineapple, just smell it.  
источник:krugznaniy.ru
Source: /users/1077