The desire to build
your own pond
comes to mind almost all the owners of land. But, clearly assessing the amount of land, many from such undertaking refuse. But in vain! It turns out, a personal oasis, you can easily build with his own hands, and most importantly — by any stretch. I think we found the source of tranquility and inspiration...
The editors of
the"Site"
shares ideas that will help you to transform a suburban area beyond recognition. And all you need is an old tire and a bit of patience!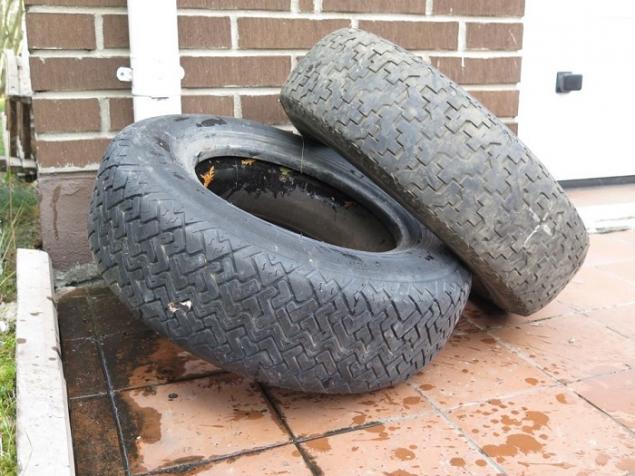 How to make a pond with his hands
For a start, take some old tires of different diameters. In this case, used 3, but you can experiment with the amounts. Importantly, we'll tell you about the technology!



In the right place and dig a hole for each tire. The diameter of the hole should match the diameter of the tyre. At the bottom of an embankment not too thin layer of sand.



In the prepared hole load of the tire. To the future pond was located in a level position, can use the level.



The top of the tire cut with a circular saw.



Make sure the edges are cropped the tires were flat.



Align the internal part of the future of the pond with lining. For this can use conventional polyethylene, but we advise to buy a special waterproofing material. The edges of the material put out and secure, placing large stones.



Overlay the area around the tires decorative stones or other materials to your liking. The surrounding soil can be planted with grass or succulents. That would be awesome!



Improving the soil and decorate the area with rocks, rather fill the pond with water.



Voila, your personal little oasis is ready. The real highlight of the landscape!



Sometimes completely useless at first glance, the objects can turn into the real work of art. Homemade pond will be a source of good mood and relaxation not only for you but also for the guests. Do not take the time and effort into quality work, and you will definitely get the desired result, which you'll be proud of not one year!
Liked the idea? Share it with your friends in social networks.
The author

Christina Mironyuk Fan of painting, especially Monet and Klimt. Loves movies, appreciates the music on vinyl. The architecture and sculpture that inspires inquisitive personality round the clock! Christina has been studying digital technology for prosthetics in dentistry. The girl chooses minimalism and simplicity in the interior, and in life. Inspiring mountain view and the book "Twenty thousand leagues under the sea" by Jules Verne — that is necessary for the happiness of our charming author!