Potatoes for Breakfast, for lunch, for dinner... Dishes from the usual vegetable and then become boring to everyone without exception. Fortunately,
the"Site"
knows a great recipe that can in a jiffy to diversify eating habits and turn baked potatoes into a favorite treat!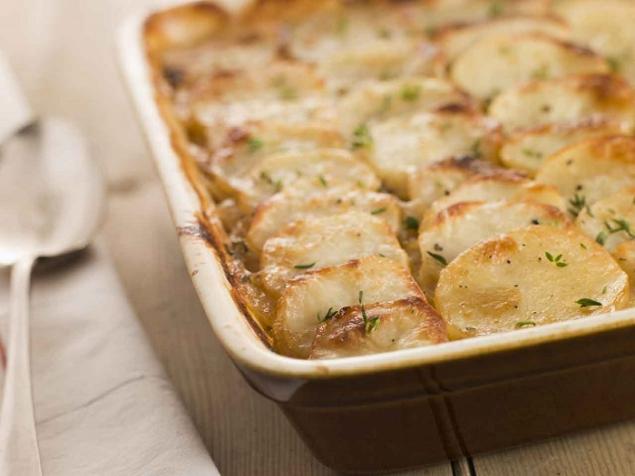 Potatoes watchings cooking potatoes brand you need available ingredients, and most importantly — everything is so useful and so delicious!
Ingredients
1 kg of potatoes
200 g of Parma ham
200 ml chicken broth
200 ml whole milk
2 PCs shallots
1 leek (white part)
1 grated clove of garlic
10 g butter
100 grams of grated Gruyere cheese (or any other)
0,5 tsp ground nutmeg
salt and pepper to taste
This amount of ingredients is calculated for
4 hearty servings of
delicious food.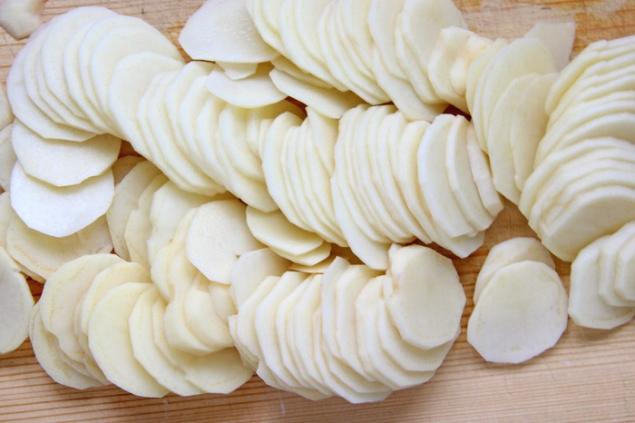 Cooking
Clean the potatoes peeled and cut into thin rings. New potatoes can not be cleaned. Also cut onion rings, but the ham into thin strips.
In greased with butter a baking dish and put in layers potatoes, ham, onion and garlic, not forgetting to add salt and pepper to taste. Repeat layers as you have enough ingredients. The top layer is definitely potato. Don't forget the nutmeg, it will give the dish a wonderful flavor.




Mix soup with milk and pour them is laid out in the form of vegetables to the upper layer. Sprinkle with grated cheese. Ready!
Send mouth-watering potatoes in a preheated 180 °C oven. Bake 50-60 minutes until Golden brownuntil the liquid will impregnate the potatoes.
Serve flavored potatoes are hot. Ready serving delicious dishes can decorate with a sprig of rosemary. Bon appetit!




Will certainly prepare this delicious dish of potatoes for a family dinner or with friends. It is a favorite treat of all without exception. Worth a try!
Do not be greedy and be sure to share this recipe with friends.
Now everyone can publish articles
Try this first! To WRITE an ARTICLE the Author

Christina Mironyuk Fan of painting, especially Monet and Klimt. Loves movies, appreciates the music on vinyl. The architecture and sculpture that inspires inquisitive personality round the clock! Christina has been studying digital technology for prosthetics in dentistry. The girl chooses minimalism and simplicity in the interior, and in life. Inspiring mountain view and the book "Twenty thousand leagues under the sea" by Jules Verne — that is necessary for the happiness of our charming author!