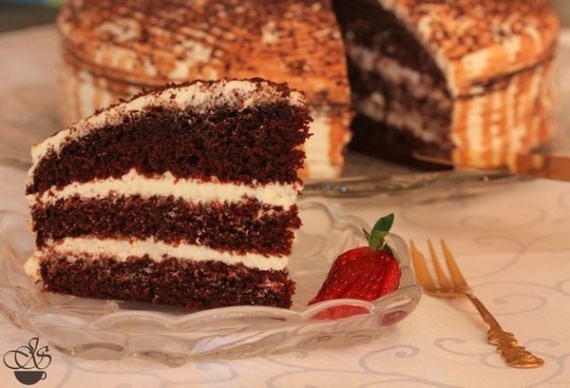 Cake for chocolate lovers. Biscuit on the boiling water is soft, fluffy and porous. It is very well absorbs any cream.
Ingredients:
Article 2.5. flour
Article 1.5. sugar
1.5 tsp soda
1 tsp baking powder
5 tablespoons cocoa powder  
2 eggs
1 tbsp. milk
1/2 Art. vegetable oil
1 tbsp. boiling water
For the cream:
500-700 gr. fat sour cream (30%)
3/4 Art. sugar
Mix all the dry ingredients.
Separately, beat the eggs (whisk).
To add the eggs, milk and butter.
All mix and knead stiff dough.
In the batter pour boiling water and stir.
Bake at 160 60-70 min.
Ready cooled cake cut into 3 parts and smear with cream.
For the cream whip cream with sugar.
You can decorate the cake with chocolate.