Prepare a beautiful looking restaurant avocado salad with oranges at home is absolutely not difficult. A lot depends on slicing fruits and vegetables. The better the cut of your knives, the easier it is to cook and create some beauty on the plate. Of course, you also need to include your imagination when adorning a dish, lay all the components on the plate.
This recipe of avocado salad with oranges is enough to make just one serving of salad, so if you want to cook more, increase the number of components.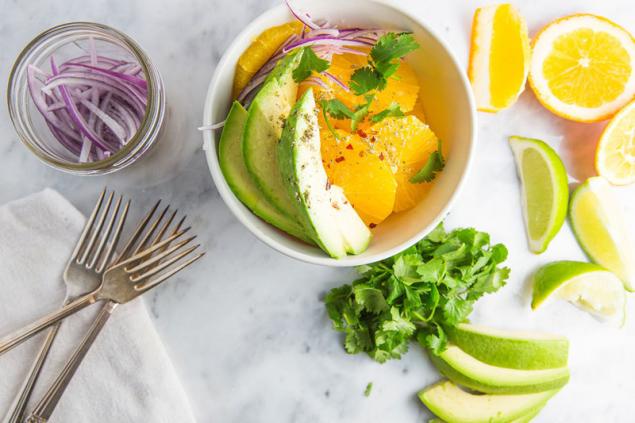 Ingredients:
Orange — 1 piece
Avocado — 1/4 pieces
Red bell pepper — 1/4 pieces
Tomatoes cherry — 6 pieces
Salad "Romano" and "frieze" — to taste (you can use iceberg, and others)
Salt, pepper — to taste
Lemon juice — to taste
Orange juice — to taste
Olive oil — to taste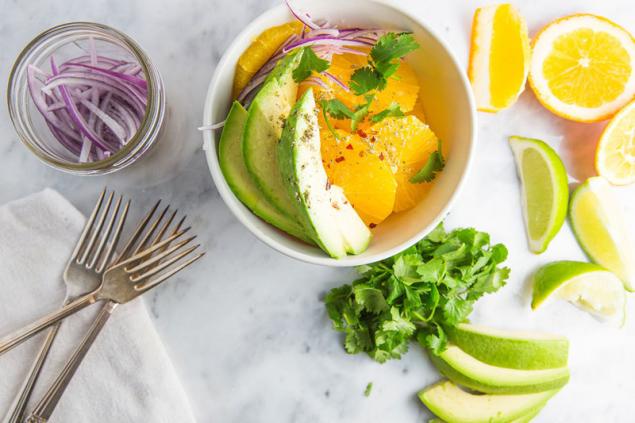 Preparation:
1. Prepare all the necessary ingredients. 2. Salads cut into arbitrary pieces.
3. Put them in a bowl and add thin julienne sliced bell pepper.
4. Orange cut in half. One part of the reserve to refuel. The remaining half cut into slices, peel and cut into fairly large, put in a salad bowl.
5. Avocado wash, purify and cut into thin strips. Put in a bowl.
6. Cherry cut in half.
7. All the salads are nicely put and pour the dressing that you prepare from a tablespoon of olive oil mixed with juice of half orange and lemon juice (to taste) and salt and pepper. Cook with love!
Also delicious: Amazing salad with avocado, melon, fennel and mint Spicy carrot salad with sesame
P. S. And remember, only by changing their consumption — together we change the world! ©
Source: povar.ru/recipes/salat_s_avokado_i_apelsinami-11308.html#close