Especially for lovers of puff pastry
the"Site"
prepared the recipe with delicious
hot snacks
. Cooking Dutch roll literally takes 15 minutes, but baking is excellent. A great alternative to hot sandwiches!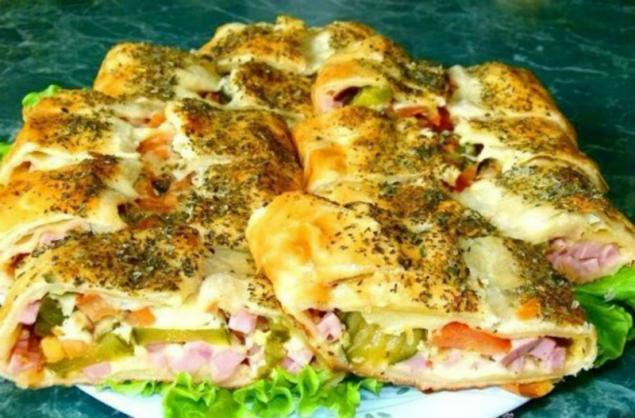 Roll out puff pastry with zeromigration
packaging (500 g) puff unleavened dough
200 g of hard cheese (Dutch)
300 g ham
2-3 meaty tomatoes
2-3 pickled cucumber
mustard
greens
ground black pepper, to taste
a mixture of dried herbs (provençal or French)
egg for lubricating rolls
Cooking
Thaw out the dough according to the instructions on the package, roll out to make rectangular layer of medium thickness. Brush surface of dough with mustard.
Sodium cheese, tomatoes cut into cubes, cucumber slices or sticks, greens grind.
On a layer of dough put half of the cheese, then tomatoes, ham, cucumbers and herbs, then the second half of cheese. Pepper to taste. Salt need not be added, since both the ham and the cucumbers themselves are already quite salty.




Gently roll up the roll, the edges sasieni. Brush the surface with egg yolk and generously sprinkle herbs.
Bake the loaf at 200 degrees for 20-25 minutes until Golden brown.
Cooking welcomes a flight of fancy: ham can substitute cooked meat or any other meat product (sausage of any kind, sausages). Tomato perfectly replaced or complemented by
bell pepper
. What would I have left unchanged is the mustard and pickles, they give the loaf a unique piquancy!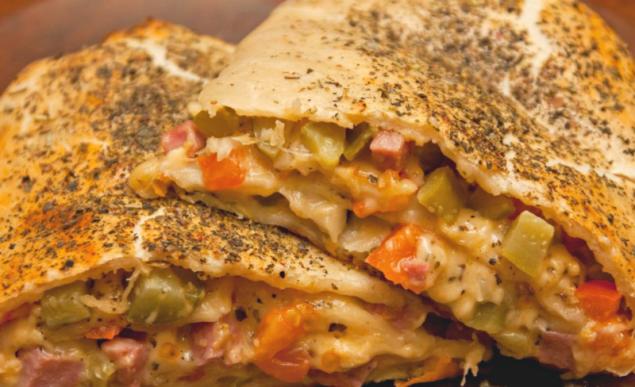 Can also use the recipe for homemade puff pastry if you prefer to cook it yourself.
Share recipes fragrant loaf with friends, they will love it!
Now everyone can publish articles
Try this first! To WRITE an ARTICLE the Author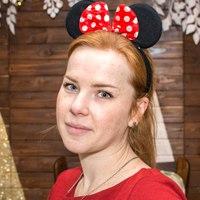 Loves to photograph the beauty of nature, enjoys handmade. Son Vanya had taught the mother to cope with any household tasks effortlessly: Marina knows how to get the most stubborn stains and to clean the house in minutes. Interested in the most acute, various life issues, never remain aloof from what actually matters! Favorite book Marina — "gone with the wind" by M. Mitchell.