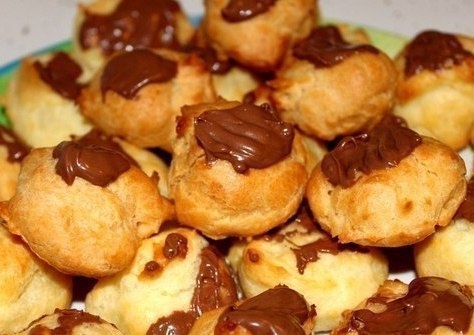 Ingredients:
3 eggs
1 cup of water
1 cup flour
100 g butter
1/2 chocolate bar  
In a saucepan pour the water, bring to a boil, reduce the heat to a minimum. Throw all the oil, a pinch of salt. Quickly add the flour and interfere with a wooden spatula until the walls of nothing will stick.
Custard pastry dough for a little cool. Add the egg and mix thoroughly. Likewise, gradually add the remaining eggs. Turn on the oven to heat up to 200 C.
On a baking sheet, the laid parchment, using a teaspoon put the dough in the form of cakes. Within 30 minutes in an oven bake at 200 C (exactly!). After that, turn down to 170-180 C and bake until golden expressed rosy color. Oven during cooking custard cakes in any case not to open!
After cooking, let stand custard cake in the oven for 5-10 minutes, then open the oven and let stand for 5-10 minutes. Melt chocolate in a water bath and grease cakes.
Instead of chocolate can also use Nutella or some other chocolate paste.