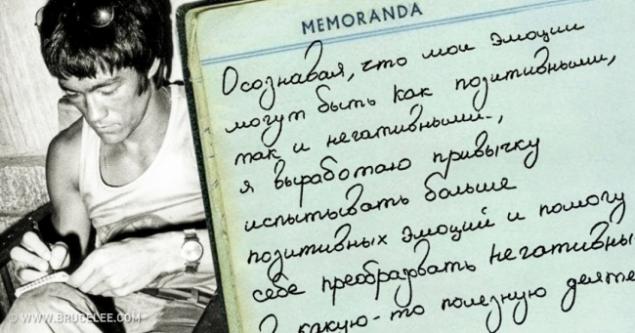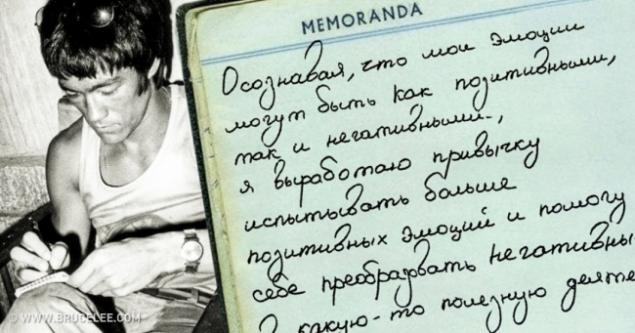 Bruce Lee was known worldwide not only as an incredible actor and an unsurpassed master of martial arts, but also as a great philosopher. His Outlook on life still inspire people around the world.
The master always carried with him the notebook in which he recorded all the important thoughts that visited him during the day. Most recently, these records has been completely restored and published online.
Us in
the Website
was most struck by the thoughts that Bruce Lee used as a daily exercise to strengthen their own spirit and body.
About willpower and emotions
Recognizing the power of will the highest court for all divisions of my mind, I'm going to use it daily when I need a push to begin to move to achieve any goal; and I will develop a habit to use willpower at least once a day.
Realizing that my emotions can be both positive and negative, I'll develop a habit to experience more positive emotions and help yourself to convert negative into some kind of useful activity.
On the mind, imagination and memory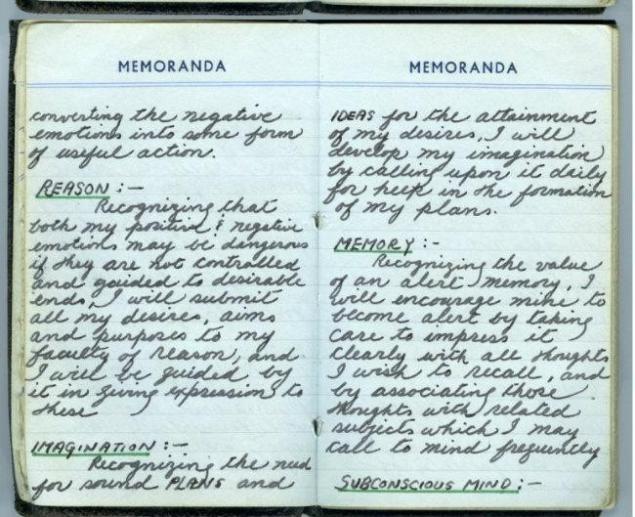 Recognizing that my positive and negative emotions may be dangerous if not controlled and guided only by achieving certain goals, I will consider all your desires, needs and objectives with my mindand I will guide them to Express them.
Recognizing that my imagination is indispensable when creating all my ideas, plans and needs, I will develop it by constant reference. And it helps me when forming my goals.
Recognizing the value of a good memory, I will encourage your desire to improve it and I will try to remember all their existing thoughts and desires and associate them with the relevant objectives, which I think most.
About the subconscious mind and conscience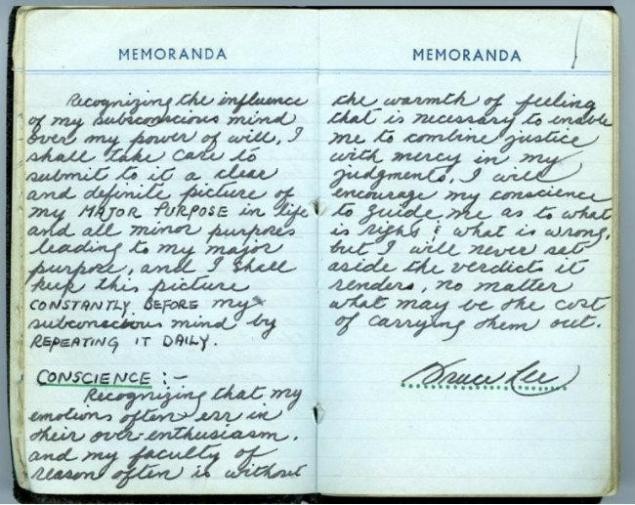 Recognizing the power of my subconscious over my will, I present the final picture of the main goals of my life and all minor purposes, which will lead me to the desired result. I have to keep this picture in your subconscious mind and to repeat these words daily.
Recognizing that my emotions often faced with excessive enthusiasm and my mind is often not strong enough to enable me to combine justice with mercy in my judgments, I will ask my conscience to tell me right and wrong. And I will never judge her verdict, as I felt hard to accept it.
And, finally, about the understanding of life
You'll never get more out of life than you expect. Just put your mind on what you want and what is not. Be a quiet witness of what is happening inside you. No one can offend you unless you allow it. Inside, on a psychological level, whether anyone.
Source brucelee.com, labioguia.com
Photos on the preview www.brucelee.com
See also
The philosophy of the great warrior Bruce Lee
40 rare historical photos, which we watched in silence and not breathing
via www.adme.ru/tvorchestvo-fotografy/40-redkih-istoricheskih-snimkov-kotorye-my-smotreli-molcha-i-ne-dysha-956210/