Thirty four million three hundred one thousand eight hundred five
Taiga village of Kamarchaga, in the Krasnoyarsk region, now known far abroad, and all thanks to the talented, creative people. And glorified his small home Olga Kostina, the woman with the Golden hands and creative thinking, which turned his house into a work of art, decorating it with mosaics of 30,000 caps from plastic bottles. Today at her home, guests come to admire from all over the country, and photos of unusual houses scattered all over the Internet.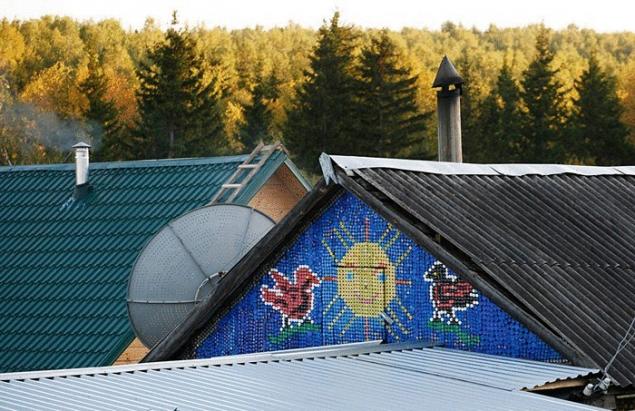 It all started with a simple — Olga Kostina was an enthusiastic collector, and collected beautiful bright caps from bottles. When they were obscene, the question arose what to do with this stuff. Then the pensioner and thought to throw a collection of mind, so why not use it, and not to build a canvas-mosaic to decorate your yard. So the collection of plastic lids turned into large-scale tapestries and migrated to the walls and roof of the wooden farmhouse.
To interconnect the cover, the components of the patterns, Olga Kostina used the same techniques as in macrame, "weaving" them into one canvas, and to have the walls of the house nailed them with nails for a tight fit. Now the facade is adorned by the national ornaments, characters of folk tales and cute and good pictures from childhood: the sun, clouds, daisies... by the Way, in addition to decorative function, the coating also brings a more substantial benefit-namely, compacts the walls of the house and protects them from moisture. And apparently the old house now looks much brighter, more colorful and more fun, becoming a local landmark not only Kamarchaga, where he lives, mistress Olga Kostina, but for the entire district.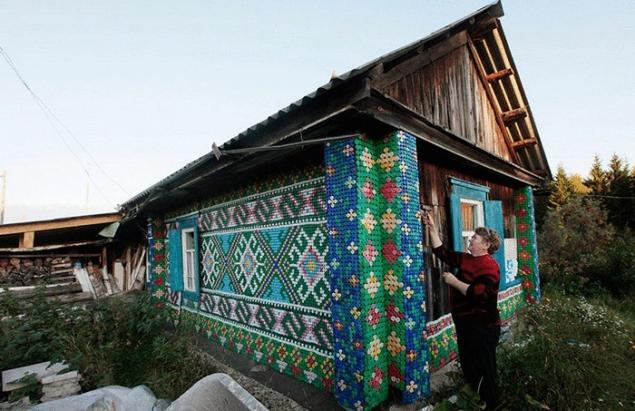 As for the decoration of the facade Olga Kostina used the plastic cover, and plastic is one of the main enemies of the environment, her art project can be considered "green" and to combat environmental pollution. I guess the idea of a Russian pensioner eagerly supported foreign artists and masters of installations, which from year to year presented their eco-projects on the same topic. However, what does this bill itself is Olga Kostina, is unknown.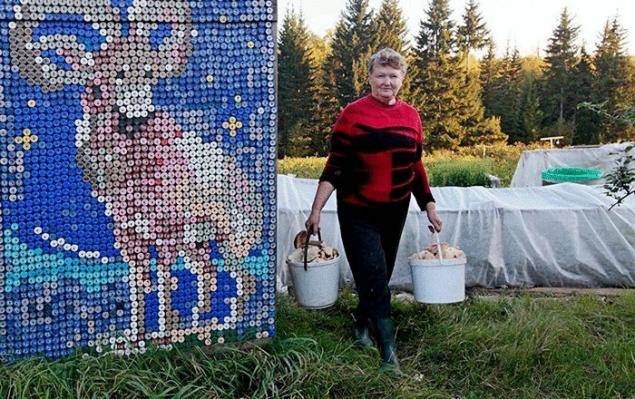 Source: /users/78