Burdock hair mask have long been used in folk cosmetics and medicine. They use a burdock, and it is extracted from burdock root, this oil can be found at the pharmacy.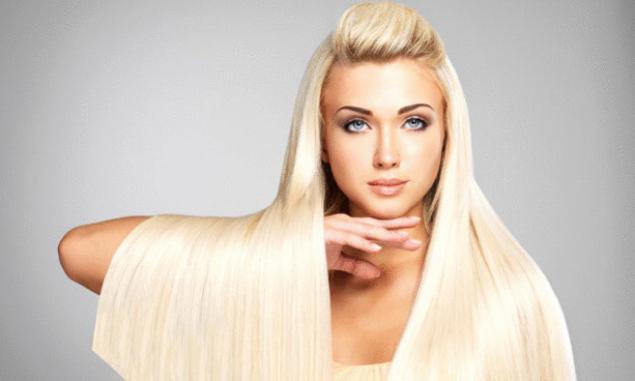 This oil can solve many problems with hair, he has a very rich composition: tannins, palmitic and stearic acid, inulin, minerals, vitamins. For dandruff, split ends, hair loss, applying it two or three times a week will give visible results after two weeks to a month.
Burdock oil can be used both independently and prepare on its basis burdock hair mask. Oil cope with the bad as with any type of hair, and it has no contraindications, except for individual intolerance.
Mask based on burdock oil Burdock oil pre-heat in a water bath and then RUB it into the hair roots. For ease of distribution of oil throughout the length of the hair is convenient to use a comb with rare teeth planted. next, the head is wrap with plastic and then a warm hat or towel. Such "insulation" should be repeated for all the masks that are presented here. Wash off the mask after an hour. It is not recommended to use for oily hair.
Burdock oil and honey To three tablespoons of honey to add as many spoons of butter and egg yolk. Stir in a water bath all ingredients mask for hair with honey until smooth. while it is warm apply it on the hair roots and will last about an hour, then rinse. If you have oily hair type, then replace it in this recipe for yellow to lemon juice (3 tbsp). Store-bought juice is not suitable for this, squeeze the juice yourself.
Hair mask with burdock and nettles Cup of boiling water steep 2 big spoons of nettle. Cool and strain the infusion from the leaves. Add the burdock oil (a tablespoon). Apply the mask in a month before washing the hair.
The mask of several vegetable oil 30 grams of burdock oil mix with jojoba oil and almond/olive oil taken at 10 grams. Further, before use, add to the mixture the oil in the capsule of vitamins A and E. This mask will restore hair damaged by different factors.
Burdock oil and mustard, you will Need to dissolve a tablespoon of mustard powder in a small amount of water to form a homogeneous mass. To add mustard oil (1 tbsp). Next, put the same amount of mayonnaise (homemade) or sour cream, depending on dry or oily your hair is, respectively. This mask RUB into slightly damp hair roots, keep for about an hour.
Tincture of red pepper and burdock In equal proportions you need to mix castor and burdock oil (2 tbsp), and in the amount of 6-8 spoons add tincture of red pepper. Apply to wet hair. You do not need to distribute on all length, this mask is designed for roots. If not in the presence of castor oil, it is necessary to double the number of burdock. This mask will strengthen hair growth and are suitable for any type. It is not necessary to do it more often check 2 times a week.
Mask of burdock oil along with cocoa For this mask will need a few ingredients. You will need to make a small amount of water and 1 tbsp cocoa until homogeneous. Carefully whisking protein, add it to cocoa and there also three spoons of burdock oil (canteens). After thorough mixing, is apply a mask so that the bulk of it came to the hair roots. The remaining length does not need a lot to apply. wash off after an hour with shampoo. Maybe another time it will have to do in order to more thoroughly rinse the hair.
Aloe and burdock oil to prevent hair loss and promote growth, this mask will be a good tool. It consists of fresh aloe juice, onion and garlic. 5 tablespoons of juice, take 2 tablespoons of burdock oil and mix well. To be applied only on the skin and the hair roots. To keep from hour to hour and wash off using shampoo.
Source: lubim-zhizn.ru/