In Thailand, there is a tribe of Karen, who is famous for its women. And all because since childhood, women wear scarves bracelets, and long necks of giraffes called ...
Initially, Karen lived in neighboring Myanmar, but all the way something is not shared with the Burmese, especially with the authorities. Provocations, fights and even armed clashes. About fifteen years ago, part of the Karen people had to move to Thailand, where they found their new calling in tourism. Of 7, 5 million people of the Karen refugees only 400 thousand.
Their villages necessarily marked on all tourist maps, here are selling tours. After all, everybody wants to look at the female giraffes. Let's see you and me.
These villages, about a dozen, I chose one at random, near the town of Mae Hong Son - only twelve kilometers along a scenic road with dozens of small fords.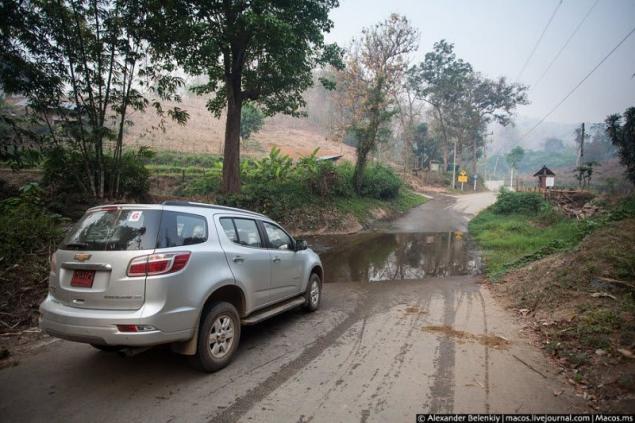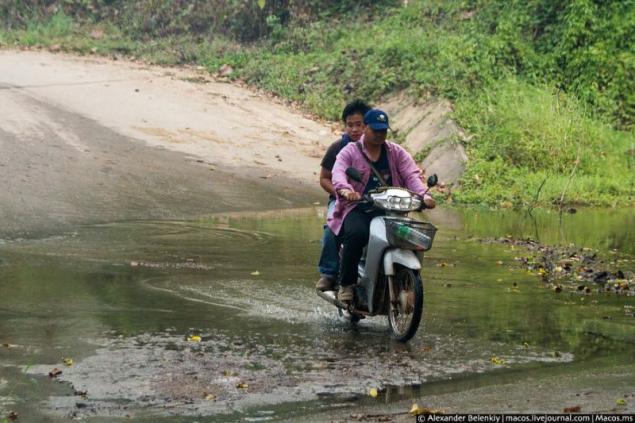 The village of Huai Tao Sue (sorry) looks like a perfectly ordinary Thai village, not as blind as near Fang, but the differences in life is quite unknown. Even if the concrete road.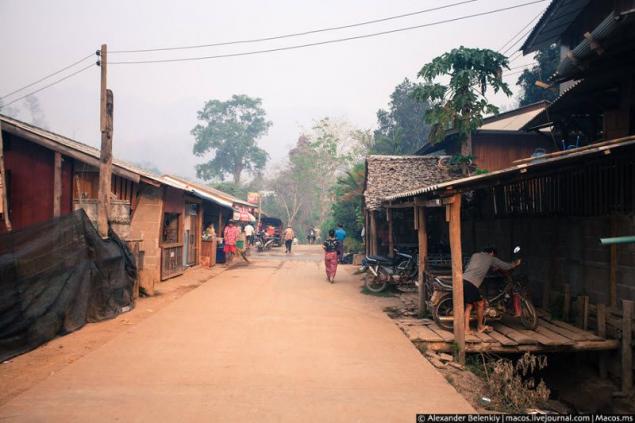 In theory the whole village Karen, but certainly has the blood to mix. Themselves Karen live in the market!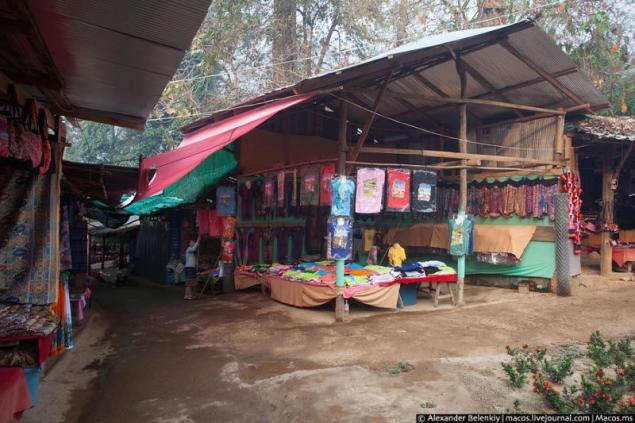 Small wooden bridge separates the village from the usual tourist.
Barely passing him, I stood gazing. Is there no women on the necks of the Rings? No.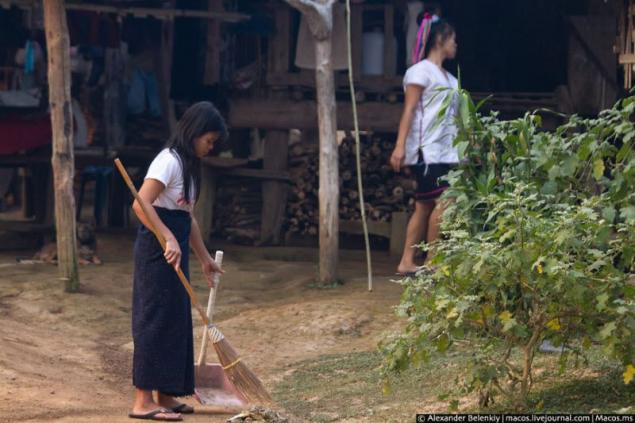 The first "karenka" appeared a little later. She walked with a towel over his head and carried cooker. It was early morning buses with tourists not yet arrived.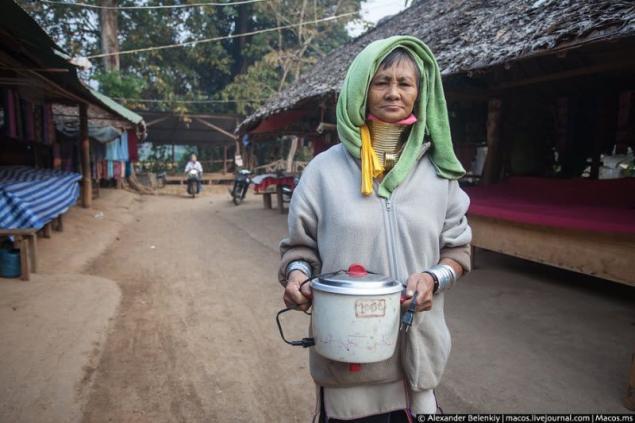 The whole "village" Karen - essentially a large tourist market. Sell ​​any jewelry, ornaments and souvenirs "topic" - figurines of women with long necks.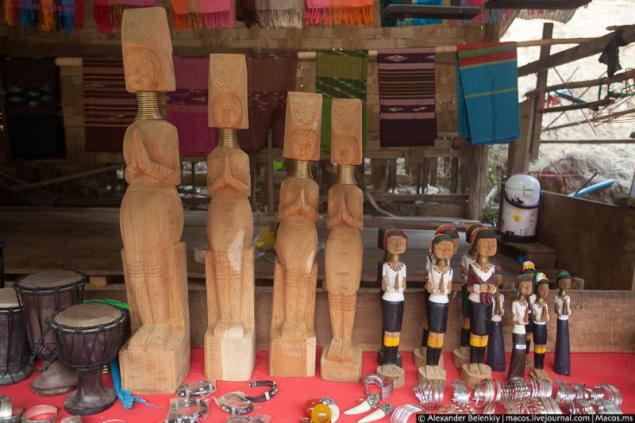 But why do we market to you, let's go in the back yard. Here at home, where they live Karen: simpler than the Thais, but certainly on stilts: Ground floor is very convenient to use as a warehouse or garage for a car or motorcycle.
WC - on the street. And a pretty decent toilet, when you consider that it is an ordinary hole in the floor. It looks like a traditional Thai toilet: ceramic hole with legroom and a bucket of water. Water and wash your hands, and arms, too.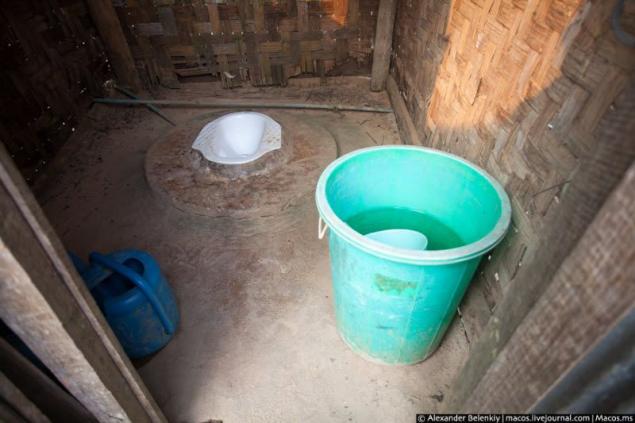 As always, the street runs a lot of all living creatures.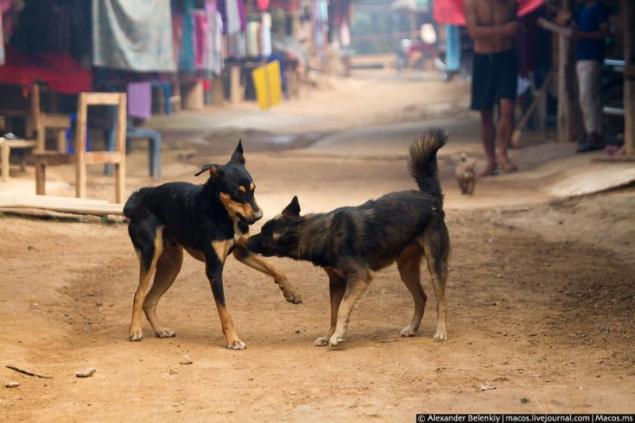 Men Karen tribe do not wear any jewelry, and in my opinion, from Thais are no different.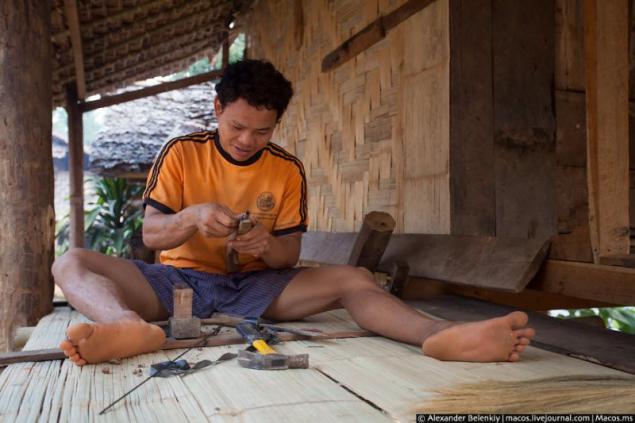 Apparently, this is a sleeper.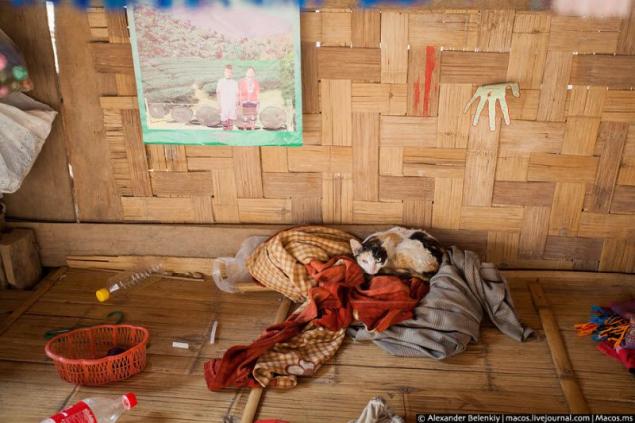 Karenka whether this girl? I do not know at what age to start wearing bracelets, but I read somewhere,. that from a very young age. And here began sneaking suspicion ...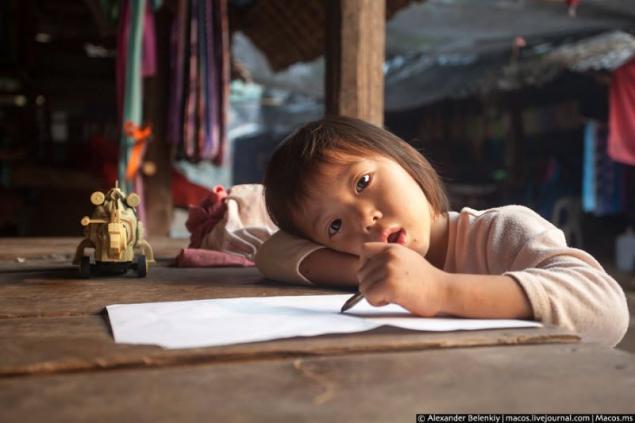 Devochkin toy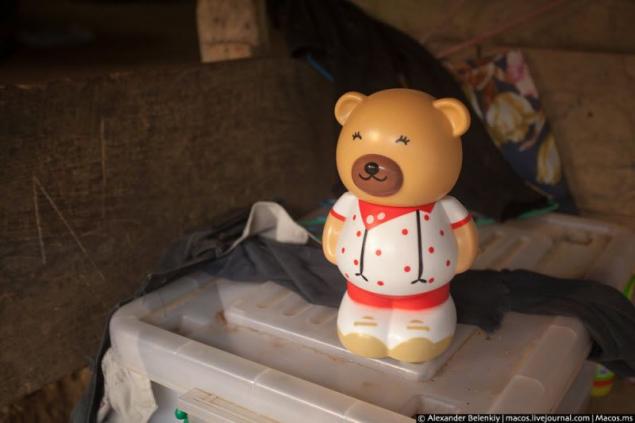 They say that the women of the tribe since childhood are neck rings, each year adding one or more, thereby lengthening and stretching his neck. But look, this Grist not young, but very few rings.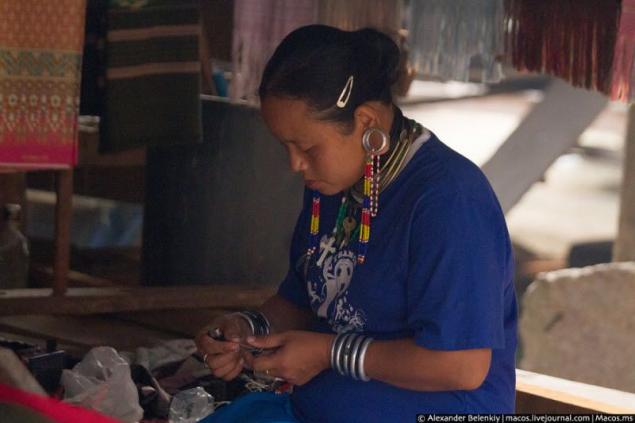 Arriving early, more guests were not wanted. I think that just do not have time to prepare, and not covered his tracks.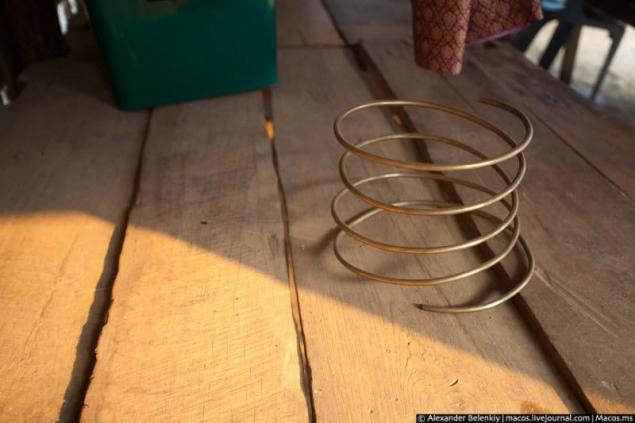 See how many turns! These women are well taught to pose for tourists. Pictures of them literally all over it and go. They look at you and the camera, nod - and then turn away, continuing to go about their business.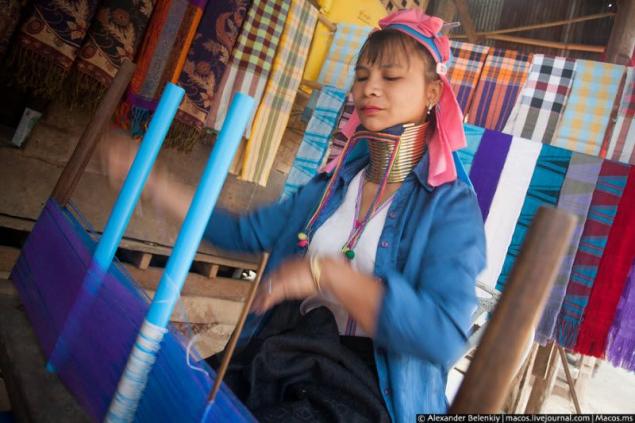 But look, there are teams of bracelets that are easy to attach and remove. If you do everything carefully, deception no one will notice!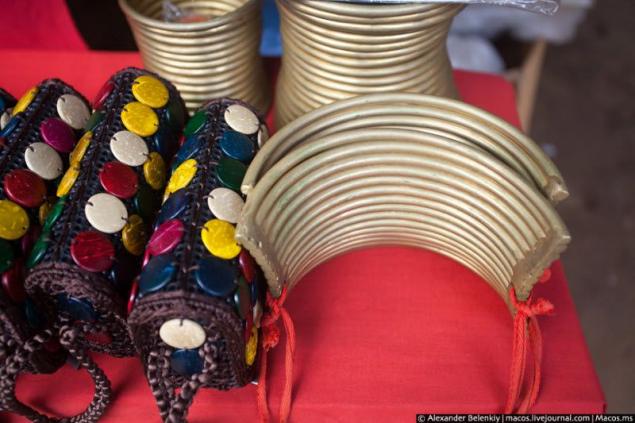 This girl was very sweet, she knew a few English words, and I bought her such a wonderful elephant, he told me very poravilsya! Total 250 rubles :)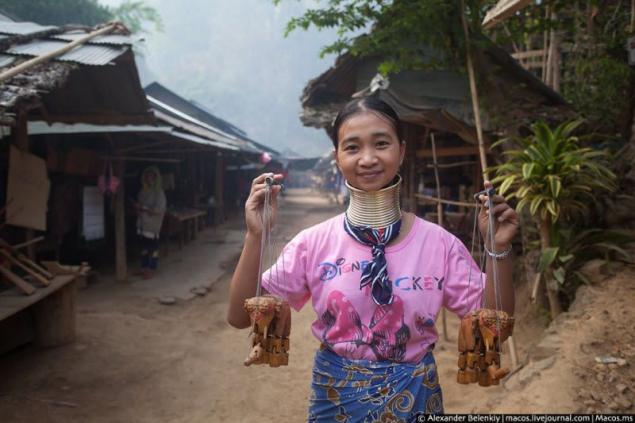 Once I put the bill as an elephant has doubled in price! I was approached by a peasant in a cap and gave it to read. In this case, smiled and repeated: «We love money!». Well, yes, but who does not like them! For those who do not know English will translate written in two words: "long-necked tribe - refugees. They live in Thailand for more than 20 years (Wikipedia says that the relocation began only in 1997, - approx. Macos) because of the political situation in their home country Burma. If you want to look at Karen, please pay an entrance fee of 250 rubles per person. It is necessary for them to get daily allowance of food (for some reason written in brackets "rice and curry"), medical care and education of children (as far as I know, schools in Thailand are free). Well, a few words about that in Burma, they were simple farmers, but a military dictatorship took from them all, and forced to flee their homes. "Since 1948 Burma independence from Britain, but the civil war is still going on." I do not know where the truth and a lie, but Wikipedia, again, says that Karen is very prone to separatism. Although it may have been a product of genocide against them. Here is difficult to judge.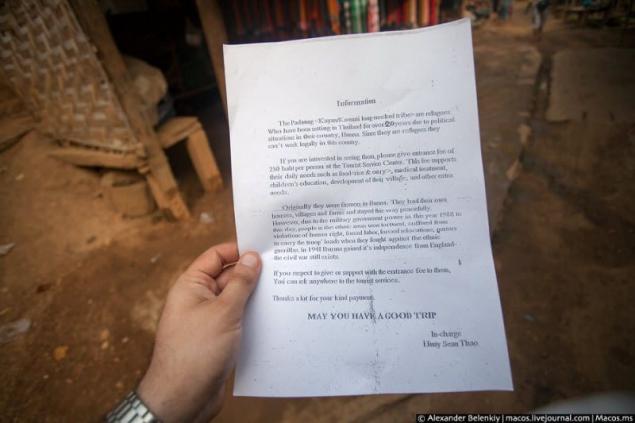 It is also difficult to say whether the Karen women always wear their bracelets, or it's just to lure tourists. Without rings on the neck they nobody would be interesting.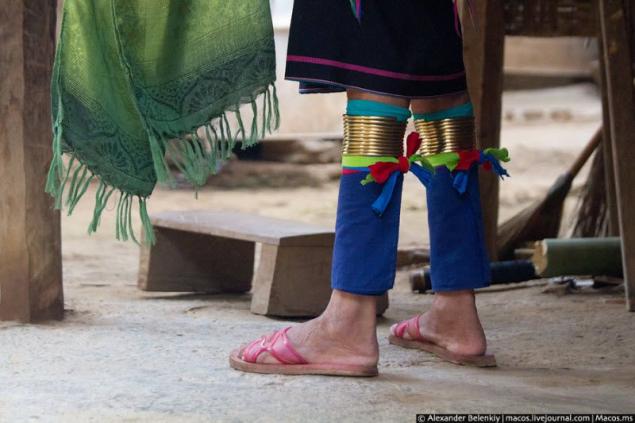 But all this is similar to the human zoo. They say the Karen villages have already appeared in the south of Thailand, Phuket and Pattaya, do not go to the same one and a half thousand miles to look at the female giraffes.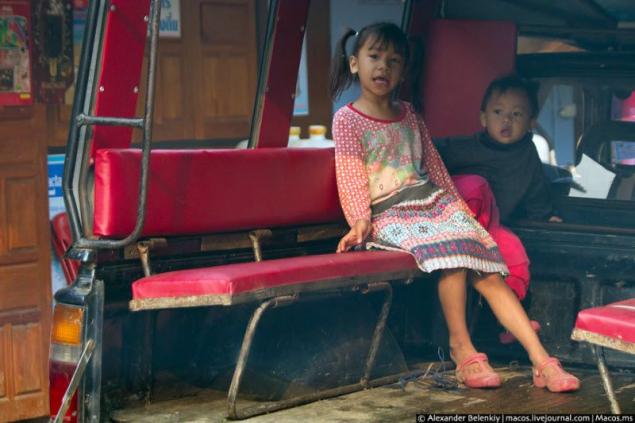 After visiting the village, I had a strange, unpleasant and depressing experience. And you?
Source: macos.livejournal.com