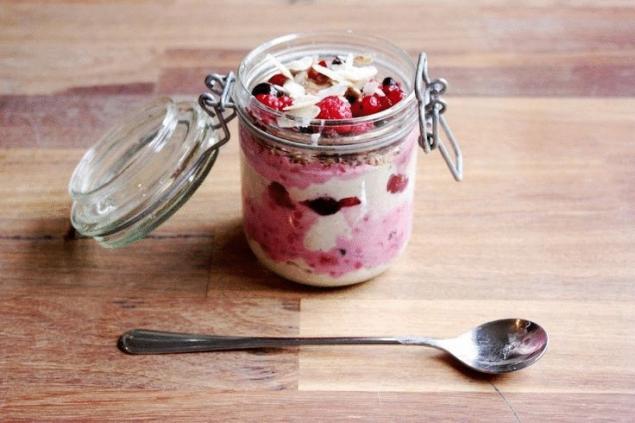 Lazy or cold oatmeal is a great invention for those who do not like to cook, always in a hurry or just doesn't like hot food. Besides, oatmeal, prepared according to this principle, as useful as possible. Adopting!
The advantages of lazy oatmeal in the Bank set. First, it is extremely easy to cook. Secondly, it is very useful and presented in a variety of options for every taste. Thirdly, it is convenient to take with you. Finally, lazy oatmeal can be quite long to store. What is this original dish?
The principle of the preparation is the Main difference between this oatmeal from the traditional cold method of preparation. This not only simplifies the process but allows to keep intact more of the useful substances contained in oat flakes and other ingredients in the dish. The result is a delicious, nutritious and at the same time, diet cereal which are rich in protein, fiber, calcium, vitamins and other important nutrients, plus contains almost no fat and sugar.
To prepare lazy oatmeal will need a glass jar or plastic container with a capacity of about 0.5 liters, with a wide neck and sealed screw-cap. Will fit cans of honey or canned vegetables. Note that from bottles with a narrow neck oatmeal will be uncomfortable there. And capacity of a larger volume, inconvenient to carry.
As for ingredients, it is best to take regular oatmeal — it is healthier than instant oatmeal. For the dairy part of the food usually takes a mixture of milk and Greek or any other yogurt with no fillers and flavorings.
Additional tweaks to lazy oatmeal turned out delicious, choose a cereal of good quality and not too small.
With breast part of the lazy oatmeal, you can experiment — add fermented baked milk, cheese, yogurt, etc. To sweeten you can use honey, but maple syrup, agave nectar, fructose, stevia. The dish will turn out very tasty, if you add a baked banana. However, note that adding a banana reduces the shelf life of the finished oatmeal without freezing from standard four to two days.
To enrich the lazy oatmeal omega fatty acids is possible by adding a tablespoon of ground flax seeds or Chia seeds.
Note that lazy oatmeal is the perfect dish for those in a hurry and don't want to be late. Quickly mix the ingredients in the evening and in the morning just to take to work or training. Jars of porridge and freeze it — then it will be stored for up to a month. Important! If you are going to freeze the lazy oatmeal in order to avoid cracking banks don't fill it to the brim — ideally two-thirds.
And Yes, there are lazy porridge cold not necessarily! If desired, before use it can be warmed in the microwave, putting back a jar without a lid for 1-2 minutes.
Examples of recipes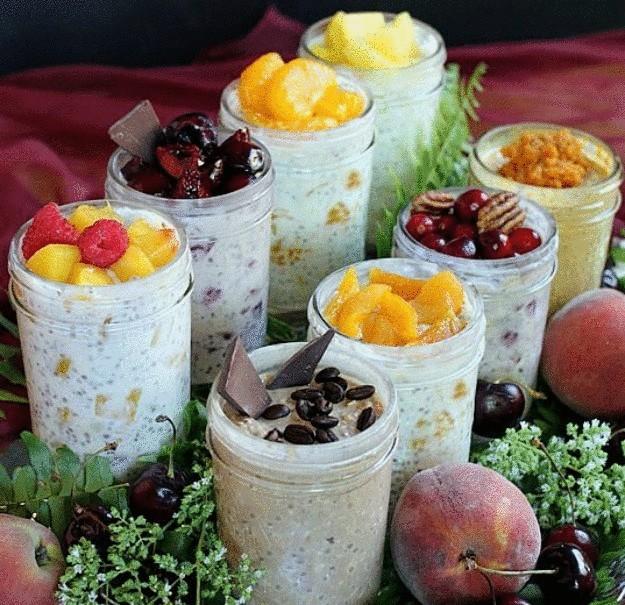 Recipe lazy oatmeal can be varied as you like — it is important to observe the General principles of cooking. The combination of products depends solely on your tastes and goals. For example, if you lose weight, the composition should be one, if you are gaining ground is quite different. Here are just a few variants of a generic type.
Oatmeal with Mandarin and orangeIngredients:
Cereal ¼ Cup
Milk 1/3 Cup
Yogurt ¼ Cup
Orange marmalade 1 tbsp.
Honey 1 tsp.
Mandarin chopped ¼ Cup
Preparation:
In a jar add all the ingredients and mix them thoroughly. Put the lid on and put overnight in the fridge. The resulting oatmeal can be stored up to 3 days.
Oatmeal with banana and cocoaIngredients:
Cereal ¼ Cup
Milk 1/3 Cup
Yogurt ¼ Cup
Cocoa powder 1 tbsp
Honey 1 tsp.
Sliced banana ¼ Cup
Preparation:
Mix in jar oatmeal, milk, yogurt, cocoa powder and honey. Then add the bananas and gently stir. Put the lid on and put overnight in the fridge. Received cold cereal can be stored up to 2 days.
Oatmeal with Apple and cinnamonIngredients:
Cereal ¼ Cup
Milk 1/3 Cup
Yogurt ¼ Cup
Cinnamon ½ tsp
Honey 1 tsp.
Apple sauce and slices of fresh Apple ¼ Cup
Preparation:
Mix in a jar all the ingredients. Cover and store overnight in the refrigerator. Received cold oatmeal can be stored up to 2 days.published
Source: fitfixed.com