Brought in the morning in order... smartphone. Five years ago, who would have thought that the phones will need to order direct. But, I have to.
Coy cut coy then put. Now the main screen of my digital assistant looks like this: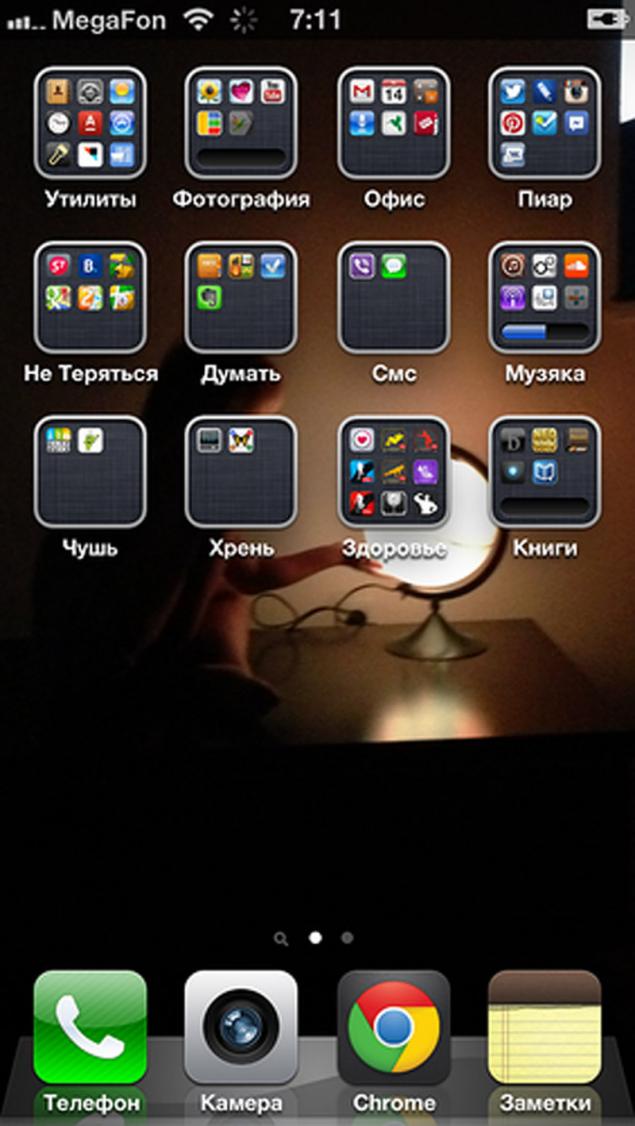 It is important for me to have everything on one screen, so the applications are grouped in groups, and on the second screen hanging out hated the app "kiosk" that can't be grouped with anything and a group of basic smartphone apps that don't seem comfortable to me (iTunes, Safari, mail program, music application, compass, game center, etc), but I can't remove. Removed so that the eyes are not blisters.
Any help of mobile applications VK and FB. I began to notice that a no-no, look back and watch the tape of the pages and news. And if you think about it — there is absolutely no sense. After all sorts of clever and correct the quotes became constant reposts and motivators, they ceased to be valuable. The value remains in how to interpret them and to think, this should be done when people decide for themselves, not when someone in FB will zakrutit the next census.
Set a Awesome app Mote: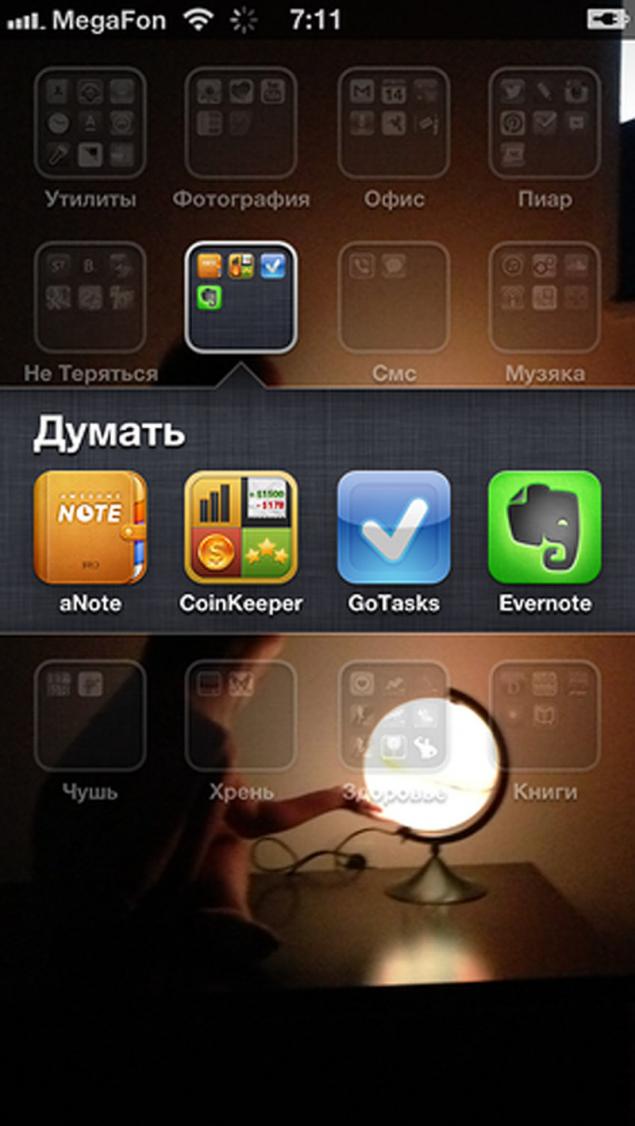 Is an aggregation of notes, synced with Google. Generally, the main thread of fixing thoughts and tasks go through the standard application notes, it is rendered in the main screen fixed in the bottom right corner. And Awesome need for another thread of information. For an individual project.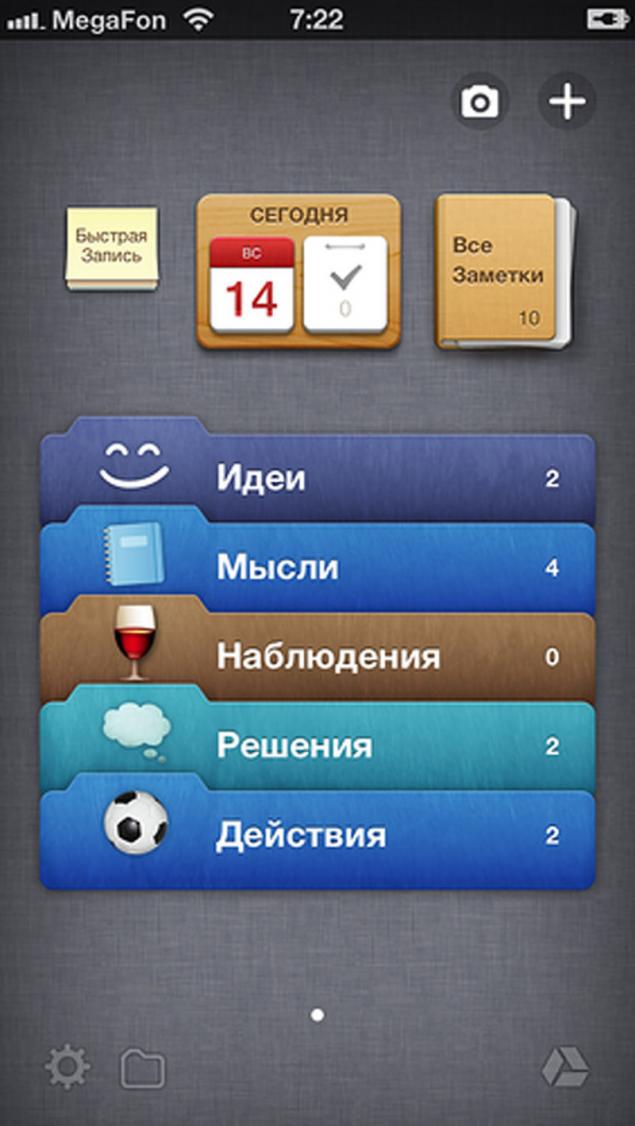 Its main value is in total lefficacia object information. Any record (post) can be assigned to a category and a tag, thus data is classified as the subject of the application, and in essence. The essence can be seen in the photo above
In General, the main business of smartphoneware during the working day, are made via these apps: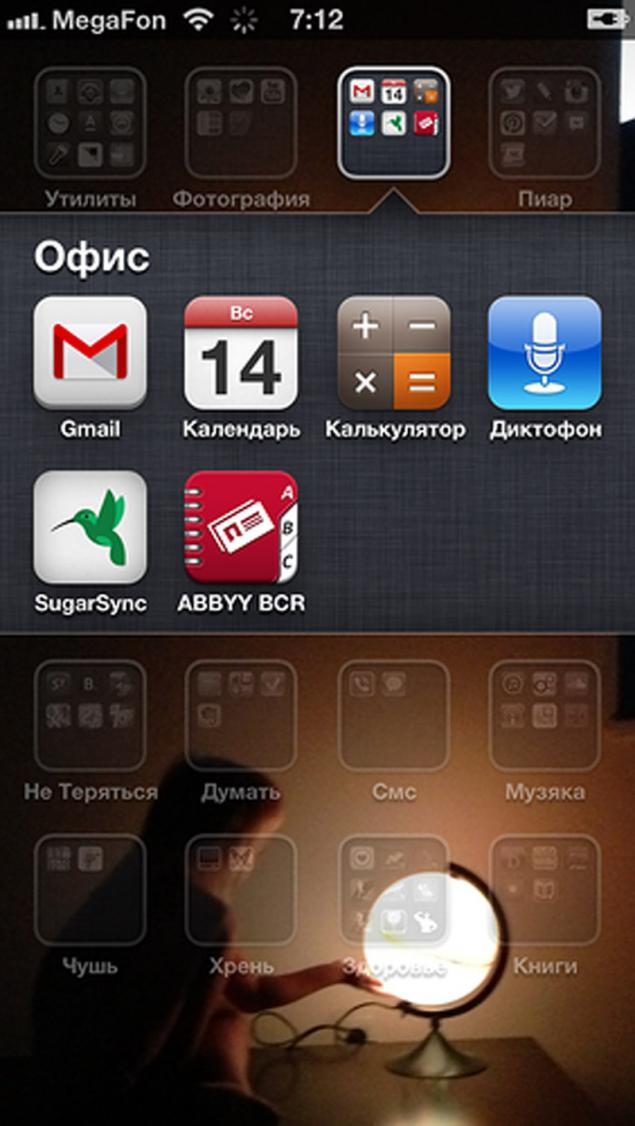 Mail, calendar and storage — SugarSync. other applications are not critical. In General it's not critical, but without those, well, those that are attached at the bottom of the main screen, it would be harder.
I dig constantly in search of interesting and useful apps, put them and remove, but once a month you go over the app list and remove anything that is not found in regular (!) application. Because in the modern life, the smartphone is a source of information and unmanageable information is evil. Evil evil evil :)
Some of the rules comfortable existence in the smartphone:
— only one app for news. No separate applications for Newspapers, magazines and TV channels. I have this Pulse.me.
— no notifications except SMS and chat in Twi, FB and VK. Mail, calendar, updates, likes, news — all disabled.
— always silent mode.
Then the mobile assistant, and higher labor productivity.published
Author: Ilya Konoplev  
P. S. And remember, only by changing their consumption — together we change the world! ©
Source: interesno.co/myself/0465e76fcdf7