It seemed that after the
Lumia 435 and Lumia 532
earlier this year, the minimum price for smartphones Microsoft (and yes Smartphone named in principle) is already installed, and this boundary only the B-brands or operator model. But, as it turned out today, there is no limit to perfection: we announced our most affordable smartphone - Lumia 430 Dual SIM.

Russian prices have not been announced, but stated the estimated cost is $ 70 without taxes and fees that the current rate is about 4,200 rubles. Agree, not bad for a nice and modern device that is slightly later in the year will receive the upgrade to
Windows 10
.
In the meantime, the smartphone comes with Windows Phone 8.1 update Lumia Denim. For those who have forgotten or poorly followed so that we
here
writing - all his innovations can be found in
в this post
.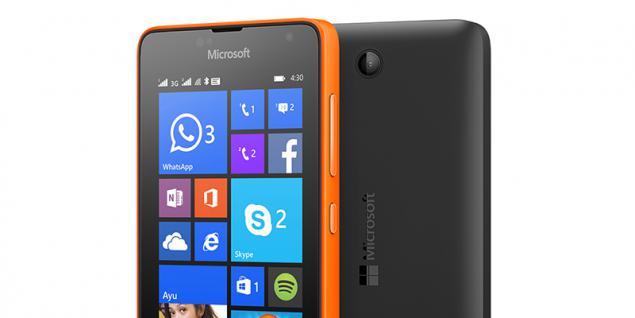 In truth, with a price tag of Lumia 430 DS can be seen not only as an alternative to other entry-level smartphones (often obsolete), but also more advanced "ficherfonam." In particular, a smooth transition as an opportunity to push devices for smartphones running Windows.
So what can please their owners, our new product?
For example, the processor and memory. In the Lumia 430 is installed dual-core Qualcomm Snapdragon processor 200 at 1, 2 GHz, 1 GB of RAM and 8 GB of internal memory. Add to that support for microSD cards up to 128 GB and 30 GB of cloud storage OneDrive, and its cost smartphone is starting to look more attractive.
If we talk about the performance of your smartphone, here people are waiting for the smooth operation of applications and fast response. We continue to say that Windows Phone 8.1 has been optimized for low cost devices with 512 MB of RAM, so Lumia 430 with its 1GB feels comfortable enough.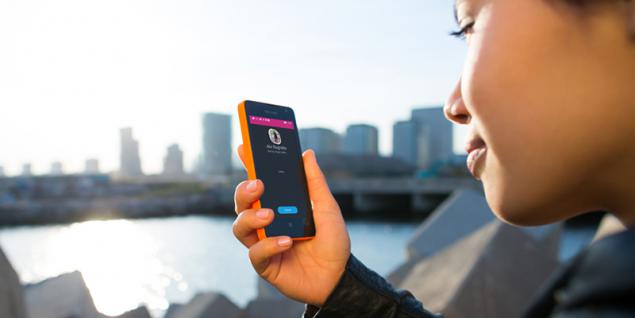 Mention and other characteristics of the new device. It has a 4-inch LCD-display with a resolution of 800 x 480 pixels, an aspect ratio of 15: 9 and a pixel density of 235 pixels per inch. Also, despite its positioning smartphone has a set of two chambers. However, here he stars from the sky is not enough: in the main chamber is installed 2 megapixel camera module, and in the front - 0, 3 megapixels. On the other hand, it is sufficient for video calls, Skype benefit now tightly integrated into the ecosystem.
In general, with regard to branded services Microsoft, then here all grown-up. Immediately out of the box, you can work with Microsoft Office documents through the preinstalled applications Word, Excel, PowerPoint and OneNote, or, for example, enjoy convenient off-line navigation HERE. In addition, the app store, users can download additional applications, such as document scanner
Office Lens
or mobile version familiar to many
Remote Desktop
'and.
To work with all of the above on a single charge Lumia 430 will be long enough. The smartphone installed battery capacity of 1500 mAh exactly, which provides up to 8, 3 hours of talk time and 19 days of standby time.
Novelty wait is very long: it is assumed that in April it will go to Russia, as well as to the markets of some other countries. Although the exact cost Lumia 430 is still unknown, we can say for sure that it will be the most affordable in the family.
And of modifications: a device is available in two color combinations (with housing bright orange or black) and only "dvuhsimochny" version. It is noteworthy that the Lumia 430 mode is used Smart Dual SIM, allows you to assign a unique profiles of their SIM-cards, for example, "work" or "family" and set the priority for the default selection in the contact list of the smartphone.
Specifications Microsoft Lumia 430 Operating System: Windows Phone 8.1 update Lumia Denim Navigation: b > Map Services HERE Free global maps and navigation HERE Maps HERE Drive +. The free app HERE Transit available in stores Display: 4 "WVGA LCD 800 × 480, 15: 9, 235 PPI Battery < / 1500 mAh Processor: dual-core Qualcomm Snapdragon 200 at 1, 2 GHz Main Camera: 2 megapixels, application «Lumia Camera» Front camera: 0, 3 megapixel Memory: 1 GB RAM, 8 GB of internal memory up to 30 GB of free OneDrive, memory card support micro-SD up to 128 GB Dimensions and weight: 120, 5 × 63, 19 × 10, 63 mm, 127, 9 grams a good smartphone for novice users. a good smartphone for everyone who does not strive for the number of cores, and megapixels inch screen. good smartphone as a second device. just a smartphone. not my option. Better to save / invest in a more expensive and powerful smartphone. Voted 402 people. 72 people abstained. Only registered users can vote in polls. Sign , please.

Source: geektimes.ru/company/microsoftlumia/blog/247552/