Hi, Habr!
As you may know, these days runs a large conference
Microsoft BUILD Developer Conference 2014
. In 2013, the event was attended by over 6,000 developers, and the most memorable event, in addition to announcements and demonstrations, was an impressive
interactive light show Nokia Lumia
.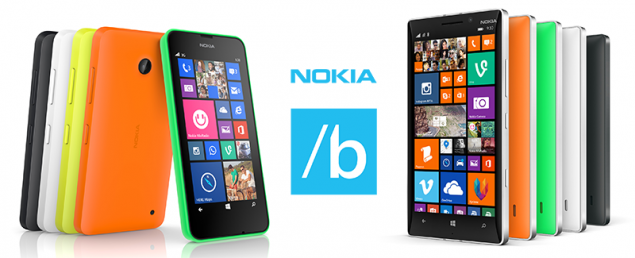 However, this year the scale of the Prime Microsoft and Nokia could surpass last: presented at the BUILD Windows Phone 8.1, the flagship smartphone Nokia Lumia 930 and the future best-selling line of Nokia Lumia 630 / 635.
Windows Phone 8.1
Before talking about new smartphones, focus on their software component, namely Windows Phone 8.1. A detailed review of the update of the mobile platform is likely to be published soon in the official blog
Microsoft
on Habrahabr, so we'll just focus on the key changes.
The main innovation - is, of course, the voice assistant Cortana, which will completely replace the standard search in Windows Phone. Moreover, Cortana, named in honor of the popular virtual assistant game series HALO, is not just a voice search, a real assistant with some semblance of artificial intelligence. During its development colleagues from Microsoft spent several dozen interviews with the best personal assistant to find out what makes a good helper best. With the support of the natural voice calls, it can not only find any information in the smartphone and in the global network, but also to fully plan your day, run applications and so much more.
On the possibilities of Cortana says, for example, the ability to respond to a request for planning events to instantly identify and report suspected intersection of plans, if earlier correspondence or calendar featured another scheduled event. Cortana is also able to find restaurants on the set parameters (approx. "Find a good sushi bar in Moscow") and help in booking a table, answering questions about the weather in the right town or report the results of a sporting event. In addition, the assistant can be charged reminder format "when the next time I'll call my sister, remind ask about her new puppy».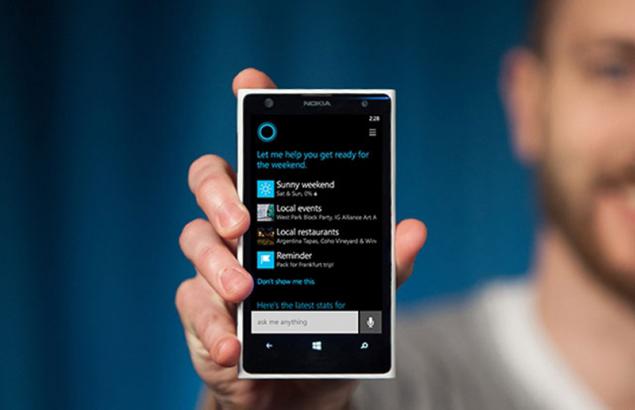 Cortana is tightly integrated into the system, but its functions can be extended with third-party applications, such as interaction with Facebook, Skype or Twitter. Moreover, the user can control, c which data can be operated Cortana: interests, reminders, music, location, etc.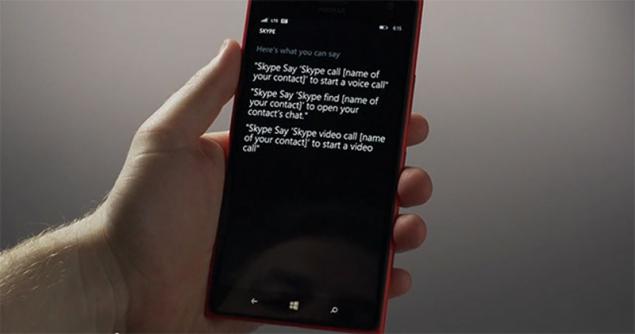 At first, Cortana appears as a beta-version in the US market, and then gradually will be supported in other regions.
A welcome innovation in Windows Phone 8.1 has become the center of notifications. Its menu can be called "traditional" swipe from top to bottom. In addition to displaying the latest events from social networks, instant messengers and other applications, notification center offers quick access to settings and switch modes. In addition, each user can customize the shortcut list to fit your personal needs (for example: to bring to the fore switches Wi-Fi, Bluetooth and GPS).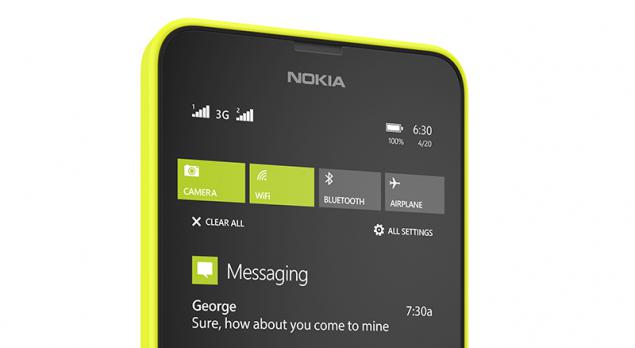 Got a few nice options platform interface. Firstly, users can set a background image instead of a single solid color "tiles." In this case, the background image is static and transparent "tile" will be moved over it when you scroll up and down.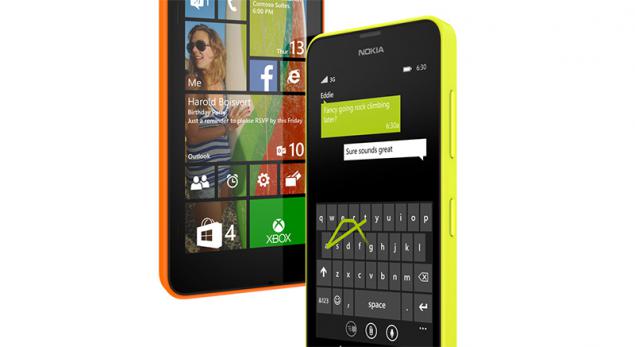 Secondly, it is possible to install a series of three "rings" in the majority of devices on Windows Phone. Earlier, three-row "initial screen" was the prerogative bolsheekrannyh Nokia Lumia 1520 and 1320.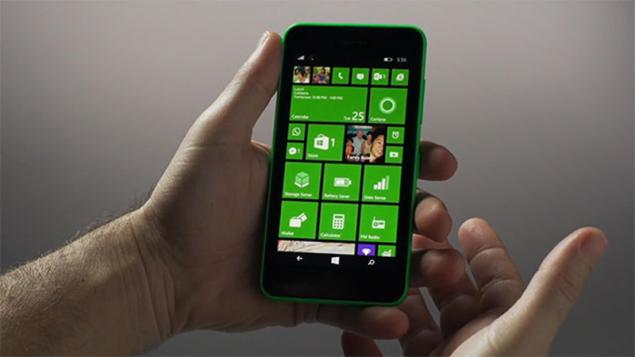 Third, is the ability to customize the "lock screen" thanks to a set of built-in themes. They need to make a variety of how the user will unlock your smartphone and view notifications.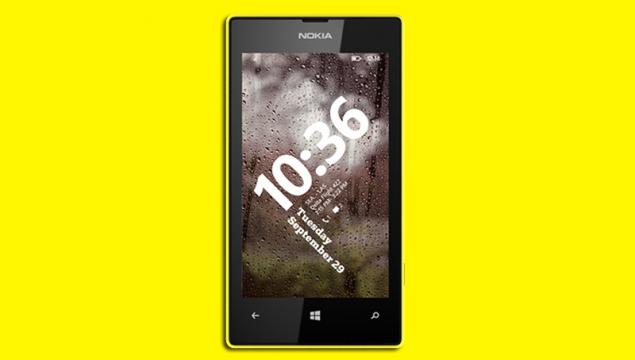 App Store interface has also undergone a number of changes, including a new page layout application display estimates, the home page, and many other menu items.
Keyboard in Windows Phone, once recognized as the best keyboard for mobile devices, greatly refreshed. Having its own name Word Flow keyboard has received support "swipe gesture" and a developed intellect. She is now able to not only predict the words in context, but also, for example, automatically affix emoticons in the text.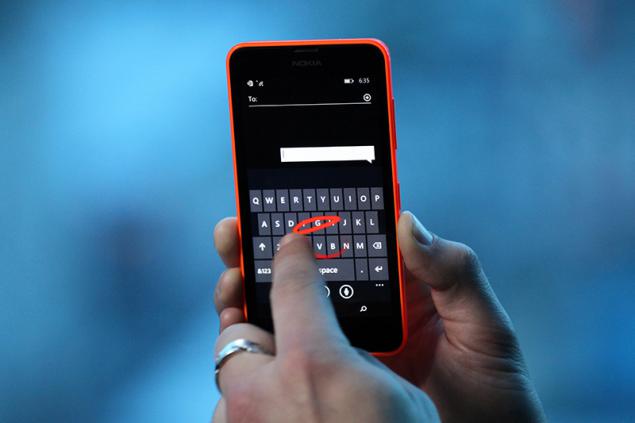 By the way, now the buttons can now be not only the sensory (read "physical), but also virtual, that gives designers a certain freedom in the design of new smartphones on Windows Phone 8.1. A striking example of this was our new line of smartphones Lumia 630/635, which received a similar way to control key functions.
These smartphones also support another new feature WP8.1, namely the opportunity to work with two SIM cards. But back to this later.
For a number of useful features Windows Phone 8.1, which should appeal to users of Nokia Lumia, include the long-awaited separate volume for different applications and menu system. That means, for example, the ability to adjust the volume of the music separately from the overall volume of the smartphone. By the way, the application "Music and Video" update system is divided into two separate services: Xbox Music and Xbox Video.
And one of the most important innovations for developers (and ultimately for consumers) is support for universal applications that can run on Windows Phone 8.1, and in Windows 8.1. Moreover, if the application is an application will be paid, then users will be enough once to get it to run on (!) Any of the WP and Windows devices.
In the list of new features in Windows Phone 8.1 also includes:
• Support for VPN and S / MIME;
• Supports DLNA;
• Better integration of social networking features Twitter and Facebook in the hub "People»;
• İnternet Explorer 11 with support for WebGL and improved support HTLM5;
• Battery Power Sense program to determine the most battery consumption;
• Wi-Fi Sense - a feature that allows to share a secure connection with the contacts in Skype, Facebook and Outlook, without telling them the password;
• Quiet hours, feature that allows you to limit the number of contacts that can communicate with the user in the specified period of time to them;
• Automatic updating of applications over the air (analog Windows 8.1);
• Changes in the work NFC;
• Install applications and games on the memory card;
• Support for WiFi Direct;
• Improved calendar.
Nokia Cyan
And now the most important thing: Windows Phone 8.1 will begin to spread "over the air" to all existing models Lumia c Windows Phone 8 this summer with a Firmware Update Lumia Cyan.
In addition to the above innovations in Windows Phone 8.1 Nokia Lumia users will be available to new opportunities to work with images. Major improvements will affect the display galleries of photos, in addition appears an advanced application for working with images Creative Studio.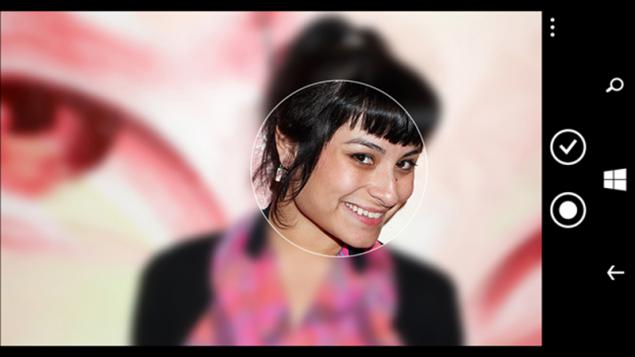 Also updated the Nokia Stories that will make pictures to share in the format of a video slideshow.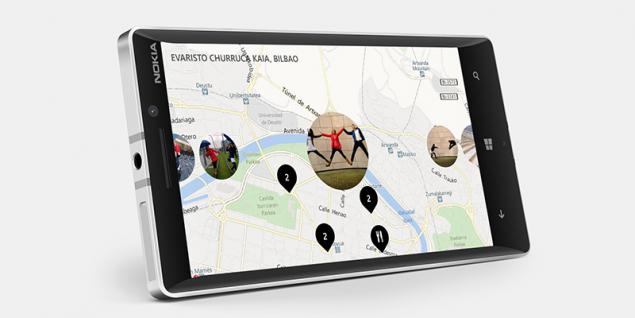 After the update for all devices Lumia will also be available Business Package Windows Phone 8.1 which includes a number of applications for corporate use and additional data protection. With this package of new business unit will be able to strengthen its position in the segment of the business units.
C upgrade Lumia Cyan will support technology SensorCore appeared in the new devices range Lumia. It provides a fitness solutions, such as Bing Health and Fitness, a fundamentally new energy-efficient opportunities to obtain data from sensors smartphone.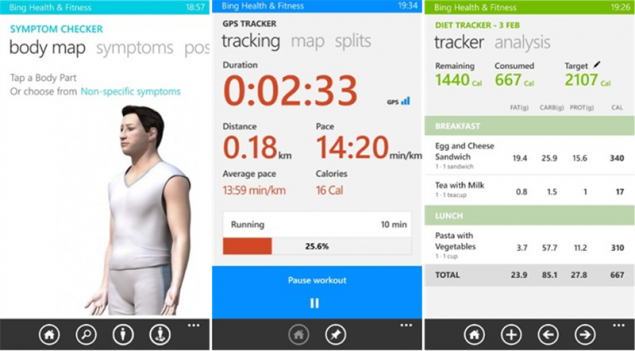 Along with the update were announced two development tools:
- SensorCore SDK, which has already been tested in several partner companies, will be useful for developers to create applications that use the technology SensorCore;
- New development package Imaging SDK 1.2 BETA for imaging in the Nokia Lumia, provides new opportunities for the next generation of applications for working with images and social networks.
Starting today, the package is available at
link
. New Imaging SDK1.2 provides advanced capabilities for working with images, and filter effects.
We will provide details about the new equipment in our future posts.
Nokia Lumia 930
Star of the first day of the conference BUILD, of course, became the new flagship smartphone Nokia Lumia 930. According to its characteristics the new smartphone quintessence of the best technical and design solutions company.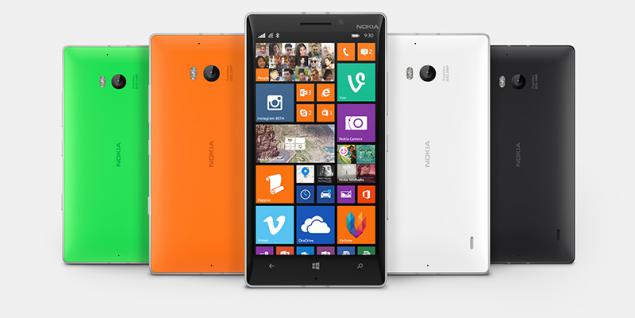 The smartphone is equipped with a five-inch OLED-screen with ClearBlack technology, having a resolution of 1920 x 1080 pixels (pixel density of 441 pixels / inch). Touch screen, covered glass Gorilla Glass 3, traditionally characterized by high sensitivity and allows you to manage your smartphone gloves.
Nokia Lumia housing 930 consists of two parts: a metal frame of a monolithic silver or black and polycarbonate rear cover in black, white, orange, or green, which protects the components contained inside. This combination of materials and a variety of colors, the smartphone may like how bright design lovers and fans of strict decisions. Incidentally, metal frame, with ample room for all the components of the smartphone has been used not only for aesthetics, but also to increase the overall strength of the device. Dimensions smartphone is 137 x 71 x 9 mm and a weight of 8 167 g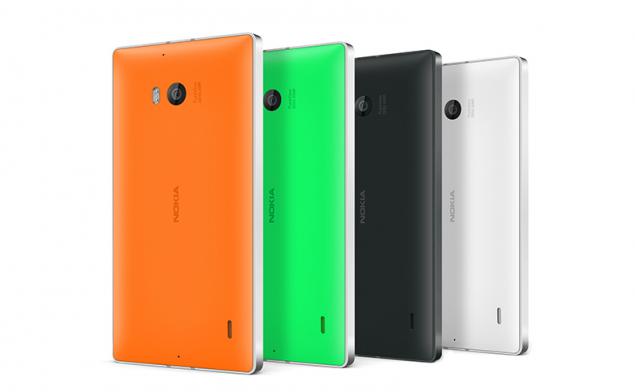 The smartphone is based on a quad-core processor Qualcomm Snapdragon 800 processor with a clock frequency of 2.2 GHz with a graphics chip Adreno 330. The volume of RAM is 2 GB internal memory of 32 GB.
Main Camera Nokia Lumia 930 is made by technology PureView and has a resolution of 20 megapixels (sensor size 1/2, 5 inches). ZEISS optics camera received and dual LED flash. Due to the value of the maximum aperture F / 2.4, the smartphone will be able to make high-quality pictures in low light.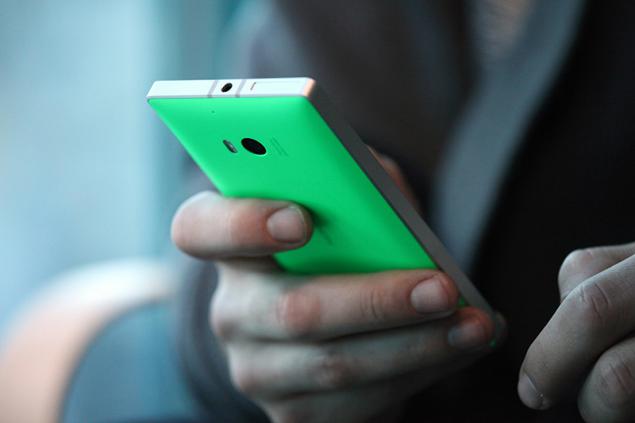 In addition, thanks to high-quality camera technology and Rich Recording, includes a system of four microphones, smartphone lets you record video in 1080p with impeccable sound quality.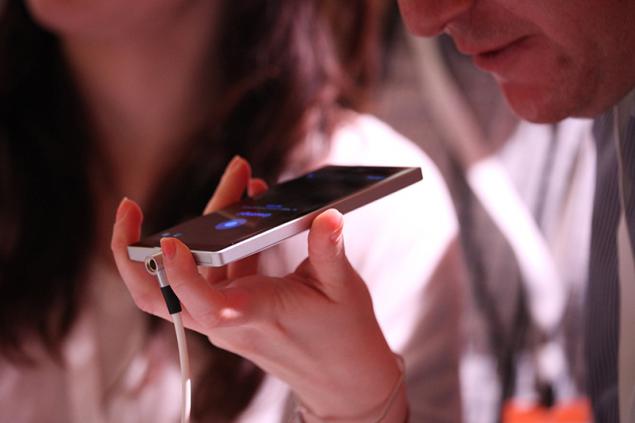 Smartphone supports all current communications standards, including network LTE, Wi-Fi WLAN IEEE 802.11 a / b / g / n / ac, Bluetooth 4.0 and NFC.
Battery capacity is 2420 mAh, providing 16 hours of talk time and 9 hours of video playback. As befits a flagship device Nokia, smartphone supports wireless charging standard, Qi.
Sales of Nokia Lumia 930 will begin in June in Europe, Asia, Middle East and India.
Nokia Lumia 630 / Lumia 635
Future bestsellers, smart entry-level Nokia Lumia 630 and Lumia 635 have similar characteristics and design, however, have a number of fundamental differences. Lumia 630 has two versions with the support of one and two SIM cards, while the Lumia 635 supports the network standard LTE. Lumia 630 also differs body of opaque plastic, and the model Lumia 635 boasts a removable panels of two-layer high-gloss plastic with "depth effect" (as well as its predecessor Lumia 625).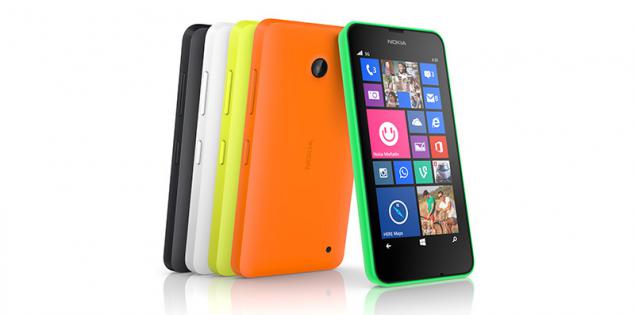 Interesting implementation of support for two SIM cards in Windows Phone 8.1: each of the phone numbers have their own personal "tiles" for calls and messages. In the settings smartphone user can set the default choice of SIM cards for calls to a specific number of contacts.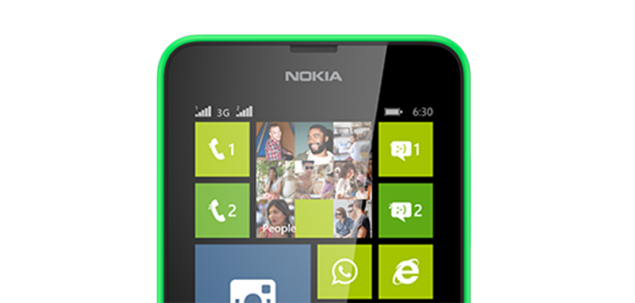 Both smartphones are equipped with 4, 5-inch IPS-display technology ClearBlack c resolution of 854 x 480 pixels. The models are based on quad-core Qualcomm Snapdragon 400 clocked at 1 GHz and 2 have 512 MB of RAM and 8 GB of internal memory, expandable through microSD up (!) 128 GB. In Windows Phone has been optimized to work with devices with less RAM 1 GB, allowing users to run applications and games without any restrictions.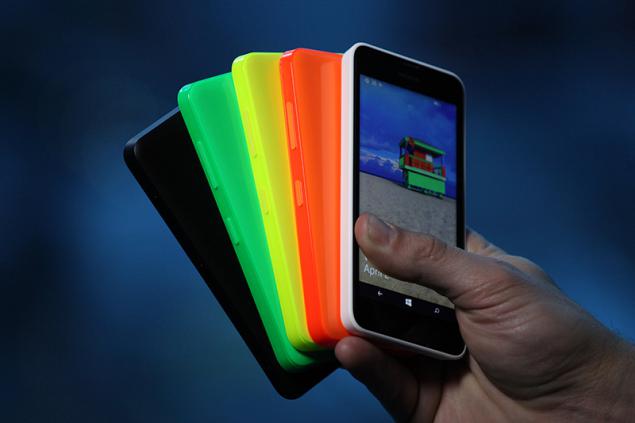 The camera in each of the devices to take photos with a resolution of 5 megapixels, which is a good indicator for the entry-price segment. Rechargeable batteries have a capacity of 1830 mAh.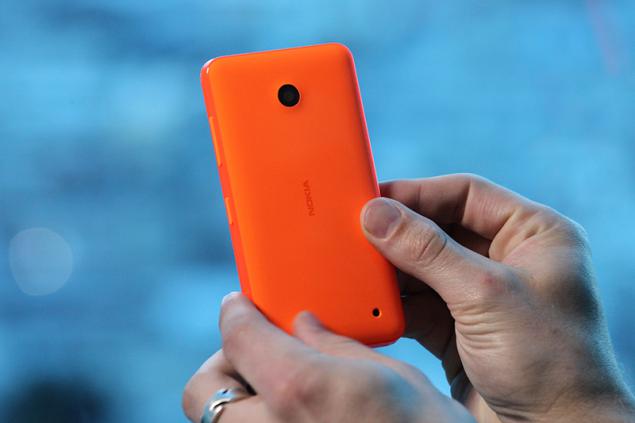 Devices offer features that are comparable to expensive smartphones range Lumia. They default to support the technology SensorCore Bing Health and Fitness, a suite of applications Microsoft Office, Nokia Camera, free streaming listening to music with Nokia MixRadio, as well as free maps and navigation of the world HERE.
In Russia, the Nokia Lumia 630 is expected in May 7990 at an estimated cost rubles per unit with one SIM-card and 8490 rubles for a device with two SIM-cards.
Model Nokia Lumia 635 will be available in many countries, including the United States, starting in the summer of this year.
Phones Lumia 630 and Lumia 635 will be available in white, orange and yellow colors.
Also in Russia, Ukraine and Kazakhstan bundled with each device will be available in black replacement housing.
Source:
habrahabr.ru/company/Nokia/blog/218261/