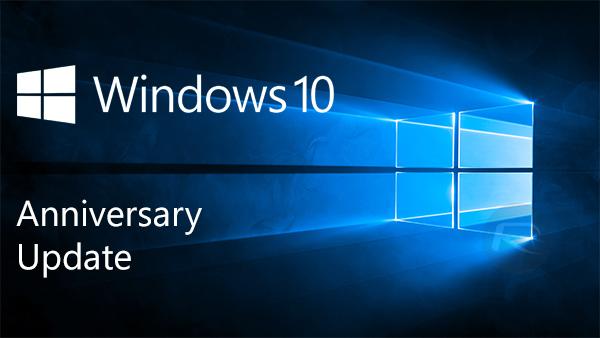 Total Windows operating system in a few days 10 year old. It is not so much for humans, but software is a long time. During this time the company has released several updates, added a couple of new features in its operating system. But come August 2nd most important thing for the OS update, which was called Windows 10 Anniversary Update.
It will bring a lot of new operating system. Probably, we opened the possibility users will be happy. There will be those who did not like the update, there will be technical problems. But while the problems, little is known, but to talk about the new capabilities of the system.
Windows Ink
Working with digital pen is very convenient in some cases. Especially this is useful for touch screen devices owners. Microsoft has added the ability to post notes on the browser web pages (so far only refers to Microsoft Edge), and One Note.
According to the company, in osnove Windows Ink is based on two ideas. First - this is a simplification handwriting. It is planned to make it simple to pen could work and the person who first took it all in his hands. In addition, developers are trying to show everyone that the pen - it is not some third-party accessory, and really handy tool.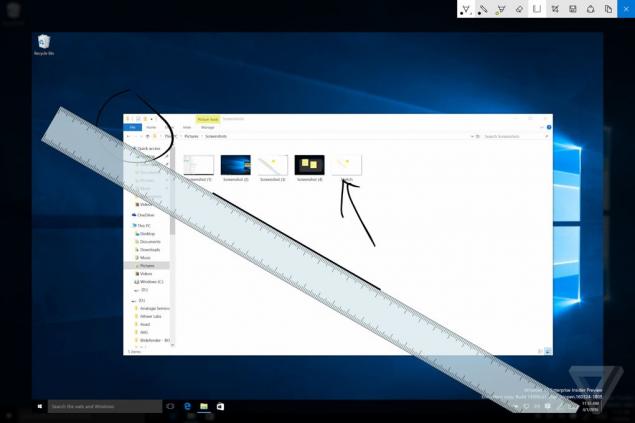 Working with him is possible in the Edge, One Note, Cortana, Maps, Office. Also added to the pen and the virtual ruler - also quite a useful tool. He does not need to all but those users who often have something to draw or paint, will appreciate Windows Ink. According to those who have already worked with Windows Ink beta, the new convenient. Not so much as a real pen or pencil on paper, but here, it is possible to play a role just force of habit.
Extensions for Microsoft Edge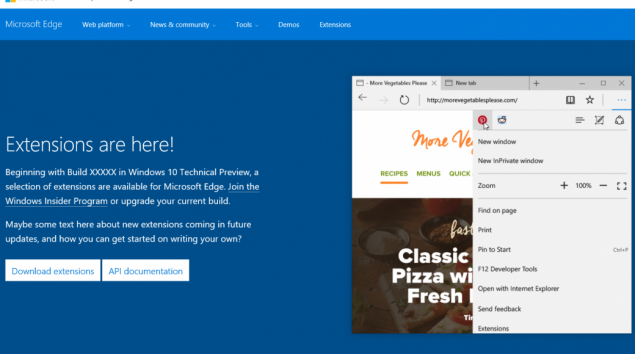 Without extensions for browsers now lives quite difficult. Yes, some people do not work with them, but it is rather an exception. Microsoft Edge extensions will be supported with an anniversary update for Windows 10. Third-party developers can also create their own extensions. Many of them have long been used in other browsers - is AdBlock, 1Password, LastPass, and EverNote
. Microsoft also adds the Web notice for Edge. Sites that work with notifications will be sent to Windows 10, Action Center (Notification Center). By right-clicking you can see the history of open tabs. Right-click on the tab itself will open it again.
Microsoft has optimized the power consumption of your browser. According to the company, in some cases, Edge consumes 70% less power than other browsers.
The plans of the corporation - to remove the need for third-party ad blocker. That is, it is planned to integrate the functionality of ad blocker directly into the Edge. No extensions, all natively.
Improvements Cortana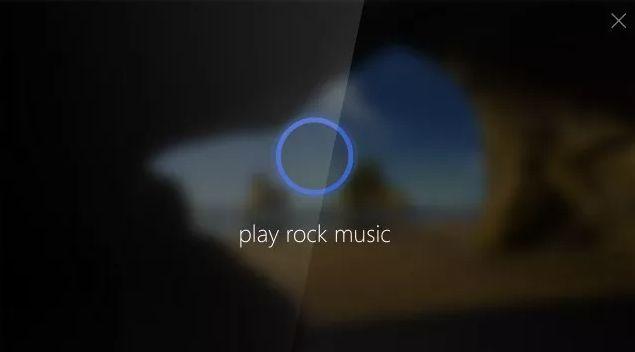 Digital Assistant Windows, Cortana, has appeared in Windows 10 in the past year. Update will work with the assistant directly from the lock screen. You can ask for a recording, play music, and set a reminder to perform a number of other events. Assistant become more intelligent. Now he can make appointments or to send on request various documents to colleagues.
Neskuchniy wallpaper
This refers to the number of new themes, including black design. The company in the past year did not release the right amount so that would please everyone. But now, it seems, the developers corrected. Some of the topics look very good, especially the very different black theme.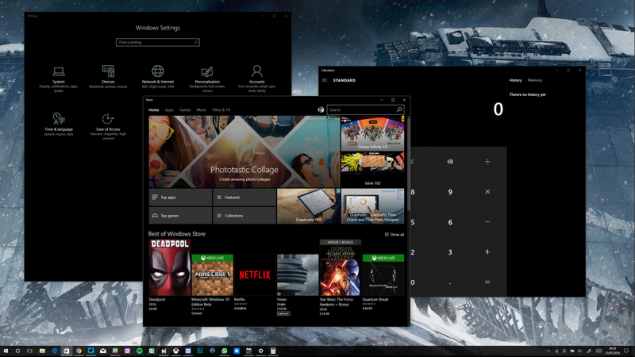 Notification Center is also optimized, with a series of icons in the task bar, corresponding to the various updates. You can change the set of fast action. Total of 14 actions, including fast access to the VPN, run the tablet mode, turning off the sound, Wi-Fi management, and other functions.
When using the tablet, you can automatically hide the taskbar. This leaves more space program on the screen, so that it becomes easier to work with them.
automatic time setting
zone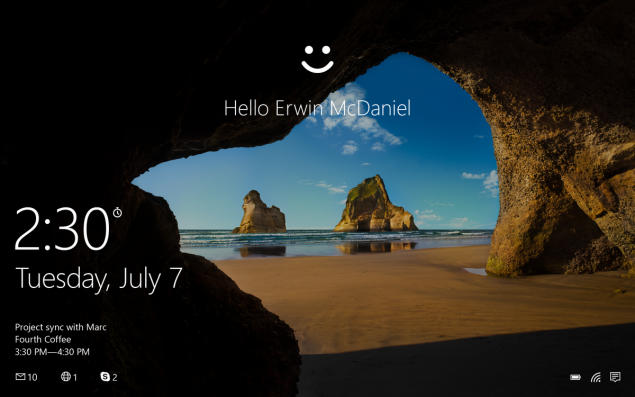 Here everything is simple. Update sets the date and time according to the current time zone, so no need to manually switch. If you do not need this feature, you can disable it. Upon arrival at the new place of the time and date will automatically change some smartphone models. But Windows 10 has to be manually configured. Now this will not be - the setting is performed automatically. If desired, the possibility of the date and time of automatic switching can be disable.
User Authentication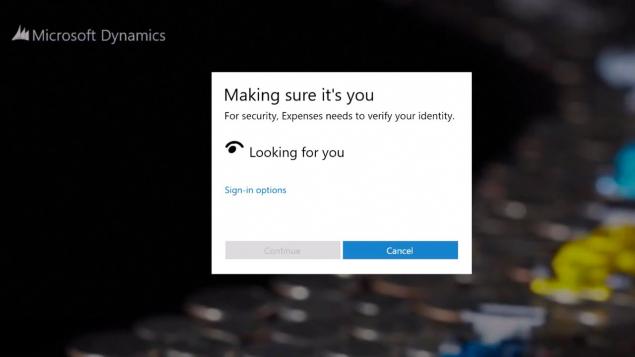 Windows Hello - one of the most useful new features. It uses a webcam to scan the user's face. Then comes the recognition process. If all is well, the system is unlocked independently - do not need a password, whether the logins. Instead, the system can scan the persons fingerprint, if desired, and then the user with the appropriate device.
To access sites and resources Microsof passwords in this case, apparently, are not needed, the system will authenticate the user's face so that it will be possible to do without a password.
Windows 10 on Xbox One
Game console Xbox One finally got Windows applications. Microsoft has promised to add this feature a few years ago, and now promise to become a reality. C release of new updates for Windows 10, the corporation will add some applications for the Xbox One. For example, it will be supported by the same number of new Cortana and universal applications.
Bash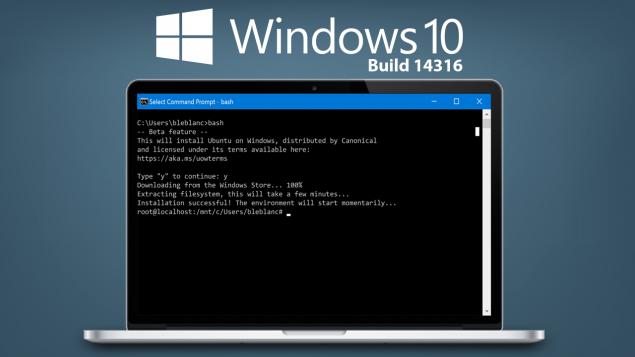 The company Canonical, responsible for the development of Ubuntu and Microsoft earlier this year announced the inclusion of bash and basic tools in Ubuntu Windows 10. Introducing the new features of Windows 10 with Ubuntu members can begin in April, starting with updates 14316. This update for Windows 10 WSL-added layer that translates Linux system it calls in Windows system calls. As a result, in the Windows environment it has become possible to deploy a complete Ubuntu Linux tools without emulation and virtualization. Final integration will be carried out with the release of Anniversary Update.
In April of this year, experts have learned to run and Ubuntu desktop GUI applications in environment Windows 10. Reddit user with the nickname w2qw found a way to set the VIM and Firefox. Now Github user with the nickname Guerra24 was able to run on Windows desktop shell Ubunu Unity.
In addition, you can run Unity and xfce4. In this case, you only need to perform the first stage of "repair» dbus, the second stage applies only to Unity, it is not needed here. Once in the Windows environment begins to operate normally the dbus, you can start the xfce4, while running shell is not too stable.
Project to PC
This is a new interesting feature is also added to the Windows 10 Anniversary Update. Her work in something similar to a conventional remote table, but the possibility of new items is somewhat broader. Images display any compatible phone or PC screen can be transferred to another PC.
After that, the remote screen can work with the target PC using the keyboard, mouse and other peripherals. Most likely, Project to PC will be used most often in a business environment. For example, if you want to show colleagues the document, but did not send all the content - this is what you need
New Skype
.
Now Skype for Windows is available in several incarnations. But for an updated Windows 10 the company released a universal app, which represents the future of Skype. All functions work as before. But it adds one more opportunity - and messages from Skype events are displayed in the center of the Windows system tray, regardless of whether the application is running or not self.
Sync phone alerts with
PC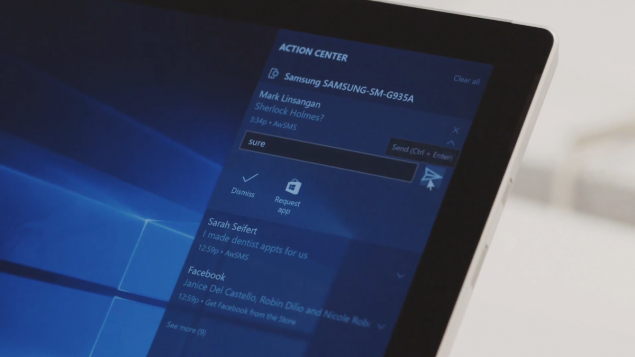 Another great feature that allows you to not only synchronize messages and phone notification from the PC, but also to respond to it all from your computer. All work is done on the Windows notification center. The big plus is also the ability to quickly transfer content from your phone to the PC and vice versa.
Windows as a service
Due to the fact that in a few days, ending the possibility to upgrade to Windows 10 for free, the company introduces a new type of licensing. If desired, the user can acquire the operating system, and pay a small amount per month. This business model and was named Windows-as-a-Service (WaaS).
True, the system with a one-time payment, monthly, and the license will only work for Windows 10 Enterprise. Both versions of Windows 10 - Enterprise E3 and E5 will include other Microsoft services, including Office 365 and Enterprise Mobility + Security
System requirements. Change Windows Anniversary Update system requirements are not too substantial. Back in May, Microsoft slightly changed the system requirements for the PC and mobile devices with Windows 10. Major changes - increase the amount of RAM. Now on the PC, ready to work with the update should be at least 2 GB of RAM. Previously, this requirement was relevant only for 64-bit systems. 32-bit, according to Microsoft, could manage 1 GB.
Remains the same requirements to the main memory - at least 16 GB for 32-bit version and 20 GB for 64-bit.
Furthermore, the minimum size screen that can be controlled by the desktop version of Windows 10 - 7 inches instead of 8 as previously. But for Windows Mobile 10 demands raised - 9 inches, not 7, 99. Permissions displays come in a range between 800 × 480 to 2560 × 1440 pixels
. Even taking into account a large number of innovations offered by the Windows 10 Anniversary Update, Windows 10 will still be complemented and extended by new features in the future. The system is almost standardized for use on a variety of devices, and Microsoft now plans to demonstrate the benefits of this.
Source: geektimes.ru/post/278826/