In our humble opinion, the typical middle-class device 2015 model year must have at least HD-TV, the camera is 13 megapixels and a built-in LTE-modem. What is the price such a model? It would seem that 14-15 thousand cheaper than something like not to find. However Blaster'u able to refute it is a logical assumption: this unit can be bought for 11 thousand. Could be a real Blaster blaster in hand Just5 - this blaster to using it could destroy the competition once or twice? Well, let's learn and understand ...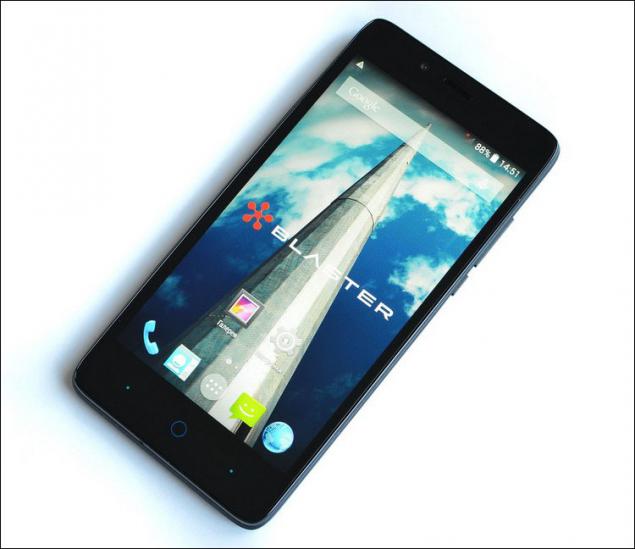 Just5 history began in 2009, the year - that's when the market was launched the first phone of this brand: Just5 CP09. The appearance of this device clearly alludes to the fact that initially focused on brand elderly. In CP09 has implemented a set of functions for these users: SOS-button, large buttons and fonts to them, loud speakers and so on. However, it soon became clear that Just5 phones are in demand not only for retirees: they willingly took vacationers, tourists, gardeners, owners of tablets that are in desperate need of a simple "LP" tube only for calls, and just trendy young people - hipsters, clubbers and other comrades, tired of the "iPhone" and "Galaxy". In this regard, Just5, partially preserving orientation to the elderly, did nod to the users of other ages and released versions of their phones in bright colors. So, Just5 CP09 initially offered only in black, but then followed by a number of more cheerful options, including bright orange and bright red.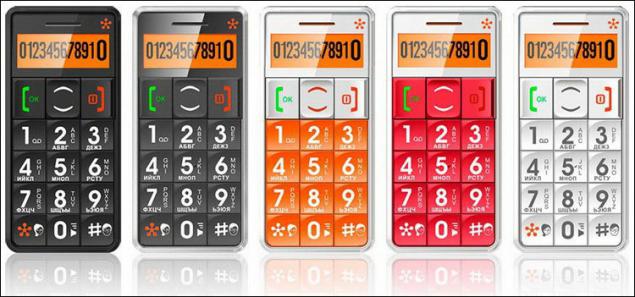 Just5 CP09
Much later, in 2011, the year after the release of several new models in Just5 returned to the theme of CP09 and developed a modification of the "Fifteen". Admire: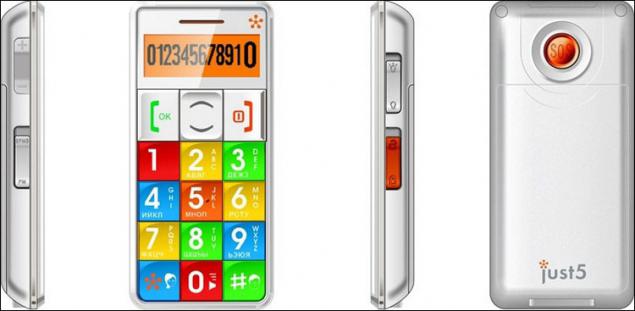 Just5 CP09 «Fifteen»
Model family Just5 CP10 sample of 2010 also were originally only white and black, but in 2011, the market appeared yellow, pink, orange, blue and purple version. Complete the picture of a model with a multi-colored keyboard - it without false modesty called BestInSpace. An important feature of these phones were the body of material, known popularly called "soft touch". Just5, perhaps one of the first in the world used in cellphones velvety plastic several colors other than black.
Just5 CP10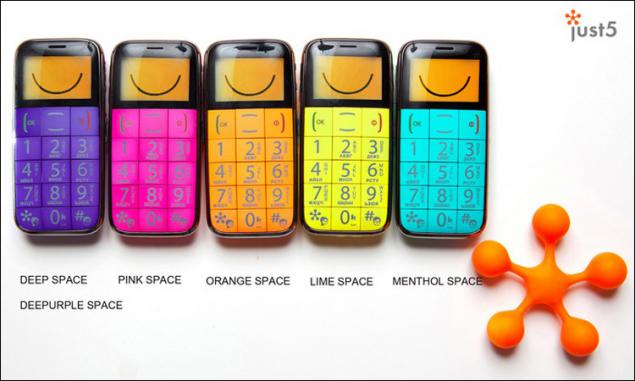 Just5 CP10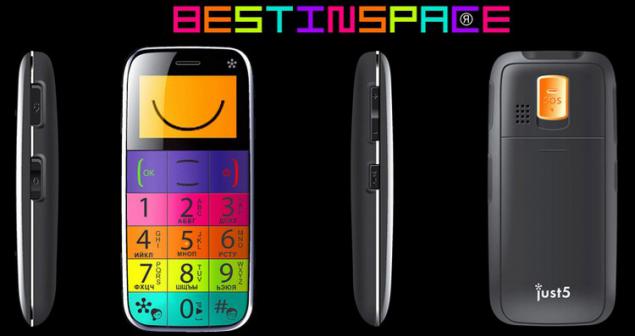 Just5 CP10 BestInSpace
Also in 2010, was released Just5 CP11 - the world's first phone with "jumps" display. He looked as follows: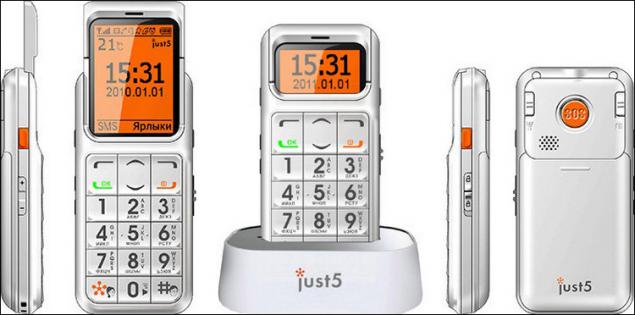 Just5 CP11
In 2013, the year was followed by a series of advanced phones CP10S - with larger screens, completely different fonts and a number of new software options. In this design has retained awareness that such devices is very important.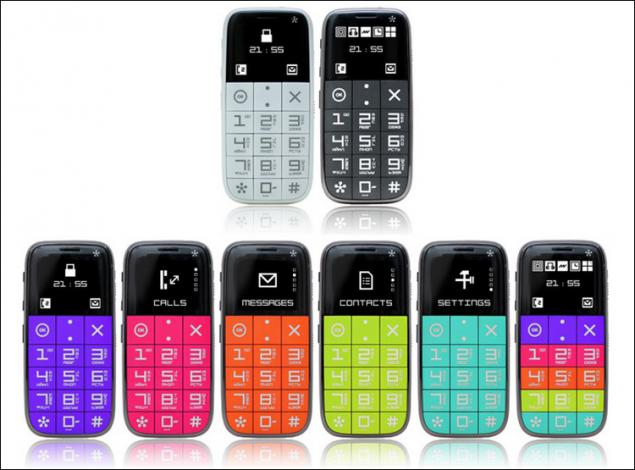 Just5 CP10S
Also in 2013 began selling models Brick (Eng. "Bricks") - your phone in style 90 with a retractable antenna. The design of this apparatus is designed to Lebedev Studio.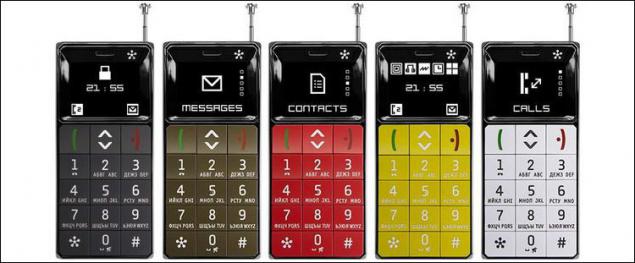 Just5 Brick
Already at the end-2013 came another button model - Just5 Surf. It departed from the designers of the brand given by them earlier canons, but ... Let's just say worse of it was gone. The model is noticeable and definitely has its own face.
Just5 Surf
However, the main event for Just5 in 2013, he became not Surf and not even Lebedev Brick, and the model Spacer. What is special about it? Here's what: in Just5 suddenly decided to move away from the calibrated rate for years to "push" phones and release ... smartphone. This is the smartphone, Just5 Spacer, was the "first" and "most" in several areas. Firstly, at the start of sales of the model was the most affordable 5-inch "smart phone" market - its price was 4,950 rubles (recall that the question of the end of the 2013th year!). Secondly, Just5 Spacer became the first machine in Russia chipset MediaTek MT6582. Now a hardware platform that is known to almost everyone who any seriously interested in gadgets, but two years ago she had a genuine interest. And it is quite justified: the device turned out very productive, especially for its price. How Just5 managed to achieve such cost / opportunity? It's very simple: through direct sales through its own online store, ie bypassing the "cheat" retail chains. Russian Xiaomi? You could say that - and not much sin against the truth. As a result Just5 Spacer cost 5000 rubles, and close analogues on the characteristics of the end-2013 was estimated at 7-8-9 thousand. In Russia Just5 Spacer, which is logical, enjoyed strong demand, and still know that this model
managed to become
one of the best selling smartphone in Latvia.
Just5 Spacer
And now comes the 2015-th year. New "knopochnikov" from Just5 on the horizon is not visible, although the brand does not intend to abandon this direction. In this case, straight from the tin smartphone brand is even prepared - Meet, Just5 Blaster. Let us immediately understand with pricing. The model is estimated at 11 thousand rubles. Yes, this is not 5000, as is the case with the "spacer", but do not forget about the dollar. In fact, 5,000 rubles sample 2013. equivalents 11 thousand samples of 2015. So, roughly speaking, the new smartphone Just5 not expensive last. Moreover, Just5 Blaster is by far the most affordable mid-range smartphone.
Specifications Just5 Blaster and comparison with Just5 Spacer:
| | |
| --- | --- |
| Just5 Blaster | Just5 Spacer |
Display 5-inch, 1280 x 720 pixels, capacitive, TFT-IPS + OGS, multi 5-inch, 540 x 960 pixels, capacitive, TFT-IPS multitouch Front camera 5 megapixel 2 Mp tr > The main camera 13 M (autofocus, flash) 8 M (autofocus, flash) Wi-Fi + (802.11n) + (802.11n) 3G + + LTE + (Cat. 4, up to 150 Mbit / s) - GPS / GLONASS < / + / + +/- Two SIM-card - - chipset MediaTek MT6732 , 1, 5 GHz, 4 core ARM Cortex-A53 (64 bits), graphics Mali-T760MP2 < / MediaTek MT6582M, 1, 2 GHz, 4 core ARM Cortex-A7 (32 bit) graphics Mali-400MP2 RAM / ROM < / 2 GB / 16 GB 1 GB / 4 GB Memory Cards microSDHC microSDHC Operating System Android 4.4.4 KitKat Android 4.2.2 Jelly Bean Battery 2700 mAh < 1800 mAh Dimensions 145 x 72 x 9 mm 5 144 x 71 x 9 mm 4 panel included 3 pieces:
- Dark gray
- White
- Yellow
+ Case-bumper black 2 pieces:
- Dark gray
- White Price in 2013, the year - 4950 rubles Price in 2015, the year 11 000 rubles 5850 rubles tr > Packaging equipment
As mentioned above, low price Just5 Spacer, and now Just5 Blaster is largely due to direct sales through the company's online store, rather than saving on any components of smartphones. The package in which the unit is supplied, once again confirms this version. Yellow and gray cardboard, print quality, which are exactly at their "landing places" nakleechki - everything at a high level.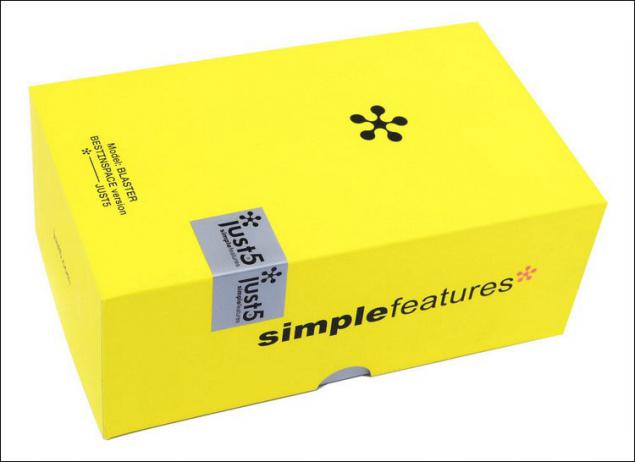 Options are also pleased. Not even so: rather not pleased and surprised. Because in the box found just three rear cover: white, dark gray and yellow. (Do Spacer'a, recall, there were only two.) But that's not all: with Just5 Blaster comes a very decent quality black rubber bumper. This is truly a crisis proposal: to buy a couple of extra sockets and a rear bumper to any other smartphone, you will need to pay thousands of 03.04 rubles. And here everything is included - take so enjoy it.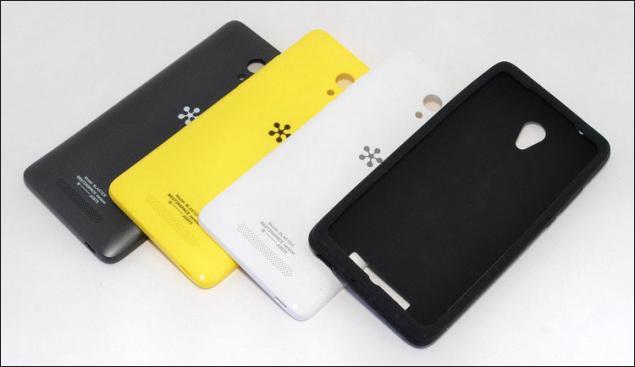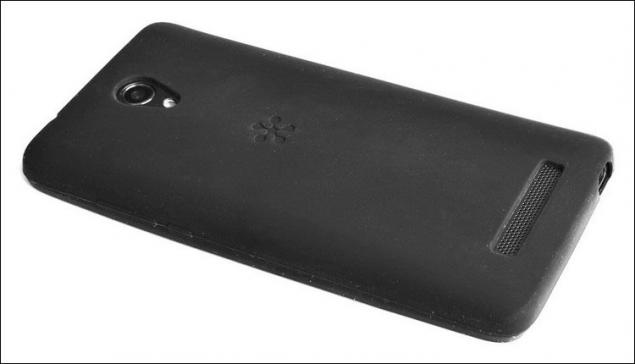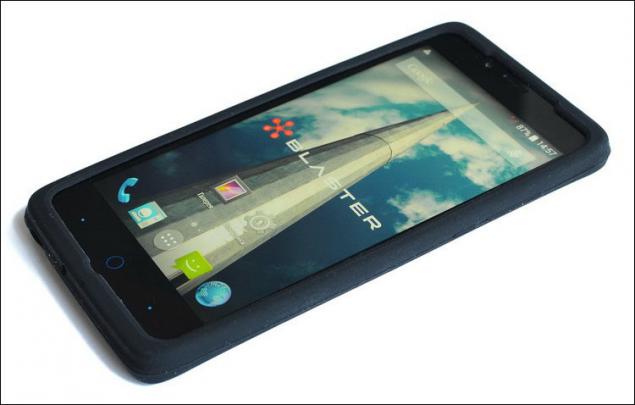 Here are the remaining components of the assembly: Quick start guide, warranty card, a simple wired headset with headphones of the "gag", the AC power charger and USB-cable. The last three components are made of plastic and rubber noble white. A mere trifle, it would seem, but generally inexpensive smartphones are usually equipped with a lot less cute black accessories.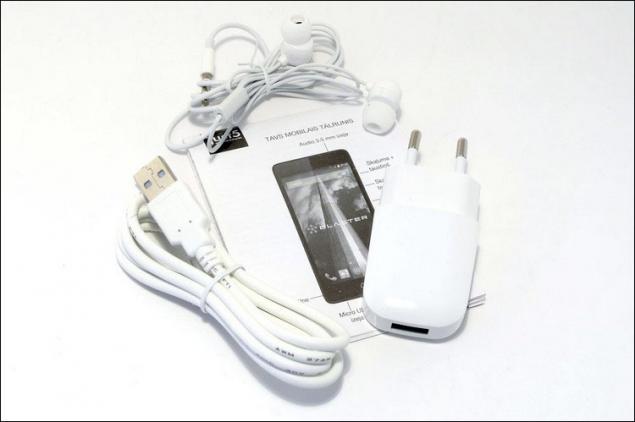 Appearance and usability
Smartphone is neither large nor small - a typical 5-inch device. In this Just5 Blaster quite heavy: 185 grams. On the one hand, it's a bit too much, on the other hand too easy in this smartphone form factor would be felt in the hand as something cheap. In the case of this model is no such problem, it seems qualitative thing.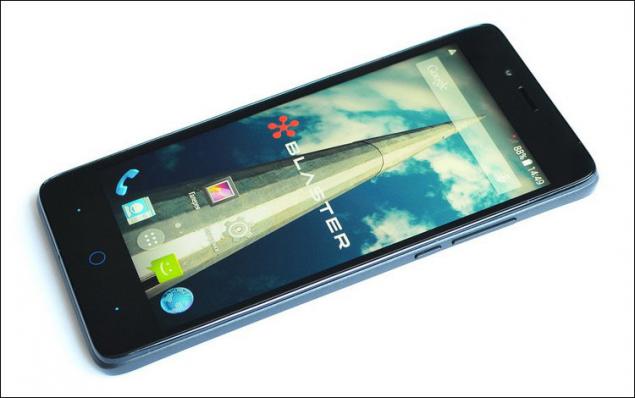 As mentioned in the previous section, complete with a smartphone are three interchangeable back covers. Yellow and white are high-gloss finish, but the dark-gray matte panel. Pleasant to the touch all three, though, of course, I would like to get at least one of the soft-cover stitch. (Its role seems to play bumper.) Also note that we are mercilessly exploited "Blaster" for two weeks, and none of the three covers for this time not rubbed. Yes, glossy yellow and white were micro-scratches, but they are almost invisible.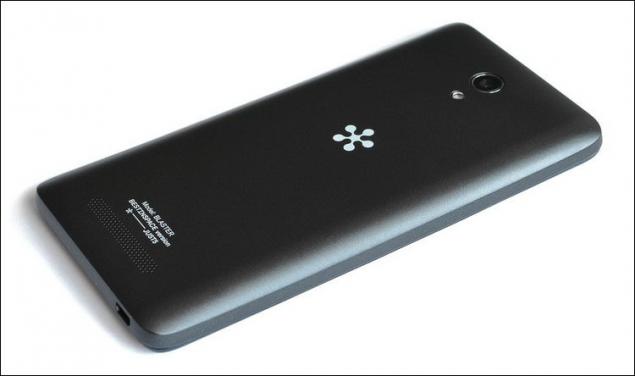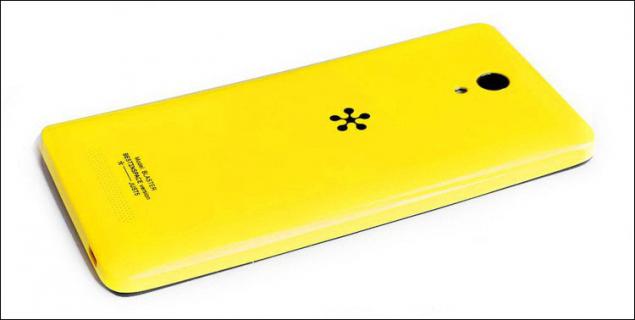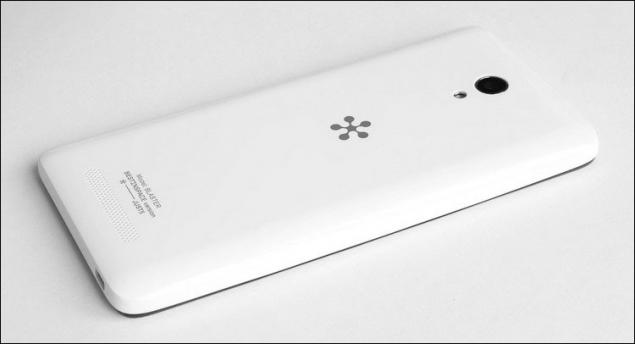 Button and volume control / unlock the screen are on the right side of the casing. These keys are embedded in the rear cover, so that their color changes depending on the color set "back". Buttons generally comfortable - they have a clear course and fairly sharp edges, making it easy to grope their finger. But without the disadvantages still not done: the distance between the keys are very small, only two and a half a millimeter, so trying to turn on the screen, you can accidentally hurt more and the volume key. It happens quite often.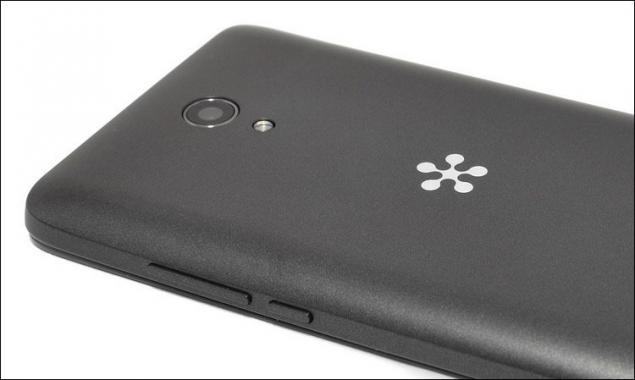 But the build quality of any claims. All three panels sit glued to and after two weeks of regular "outfit changes" (read - the re-installation of caps) they do not become loose. To remove the sockets on the body there is a special recess under the nail.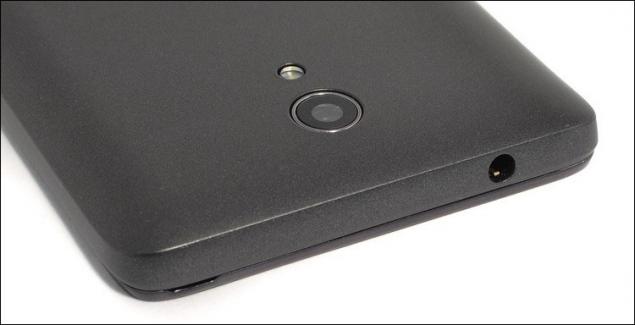 Here, on the upper side, there was a place for the 3, 5-mm jack for headphones.

On the bottom - the microphone and MicroUSB port for connecting to a computer and charger. Proper Location: Located on top of the connector, as some low-cost smartphones - and the machine would not be so easy to talk to the connected charging: would interfere with the cable. And here at Just5 Blaster that there is no shortage.




Above the screen - a standard set of elements: the voice speaker, front camera (5 megapixels), light sensor and proximity.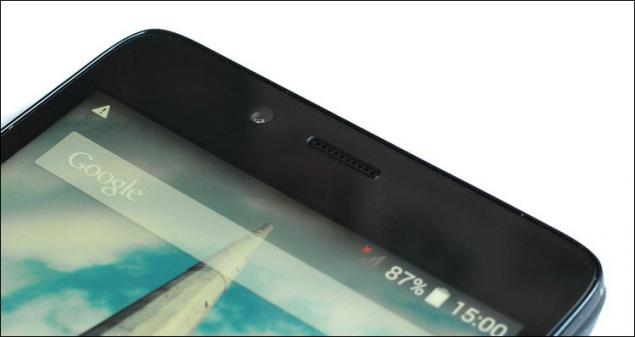 Below the display are three touch buttons: "a context menu", "home" and "back". Two extremes are icons in a very dimly lighted points, the central circle is marked with a bright blue backlight. He also, incidentally, also act as a LED - reports of new messages, personal, missed calls, etc..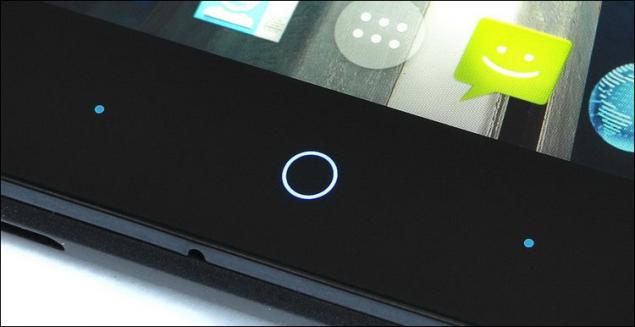 On the rear are the holes for the lens main 13-megapixel camera, LED flash, as well as multimedia speakers.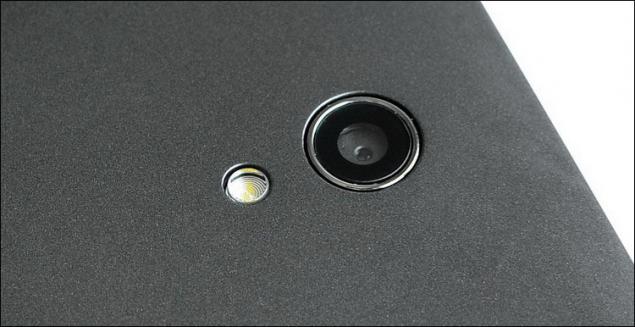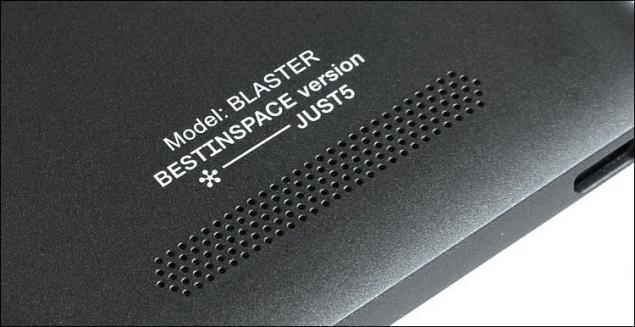 Remove the back cover - and see the slots for two "simok" format MicroSIM, and nest under card format MicroSD. Pay special attention to a removable battery yellow logo Just5. That's the essence of the brand: when others would have saved a couple of cents and would put a black standard battery, "authors" Blaster'a invest in beauty.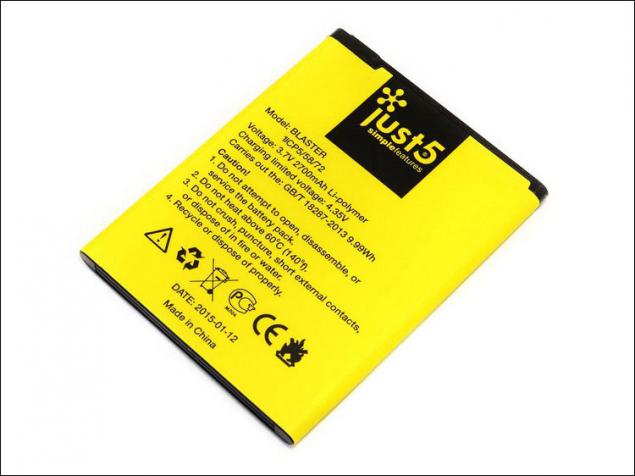 Screen
In Just5 Blaster uses a 5-inch screen with a resolution of 1280 x 720, which gives the density of pixels at 294 ppi. Matrix is ​​powered by technology IPS, And good quality. Wide viewing angles - degrees to face 170 that vertically, horizontally. Purple and orange tide inherent low-IPS-display are not seen. The only thing you can complain - care in shades of cool colors. That is the white color looks like off-white, but rather a light blue. However, this point has almost no effect on the perception of the image - it is clear, bright and pleasant to the eye. Also note that in display technology is used Just5 Blaster One Glass Solution (OGS), that is, the LCD matrix combined with a touch layer and the protective glass in a "sandwich". This further improves the image quality - though it lies on the surface of the front panel.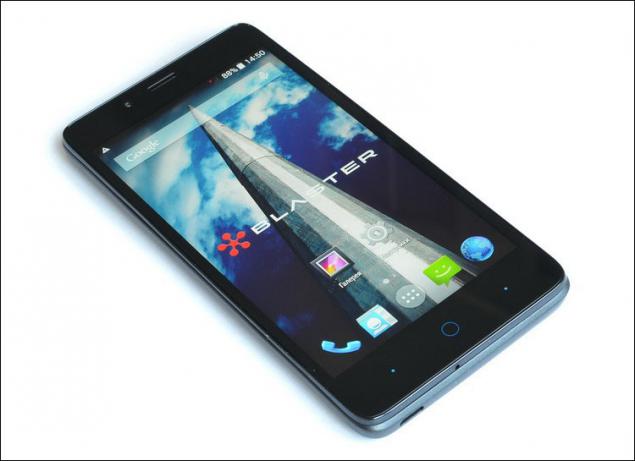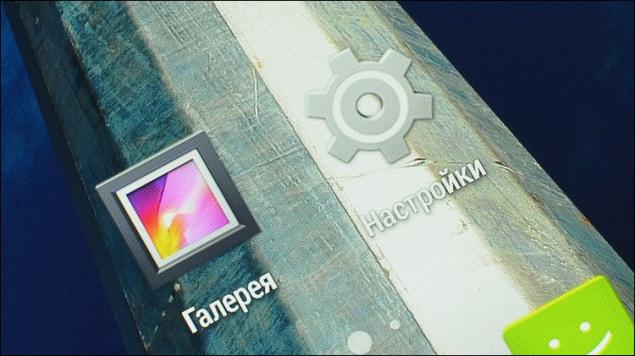 In tinctures display, a curious item - MiraVision. This proprietary technology from MediaTek, developer chipset, which is based on Just5 Blaster. MiraVision increases the sharpness of the image when displaying various multimedia content on the screen. This is achieved by adjusting the intensity of the display backlight depending on the brightness of the surrounding space and the color gamut of content displayed on the display. This saves battery power devices, plus vision by less tired during prolonged viewing movies or 3D-gaming. For example, if the room is dark, the technology MiraVision automatically reduce the intensity of the backlight. Less light will hit in the eye, and entertainment games of this will not suffer.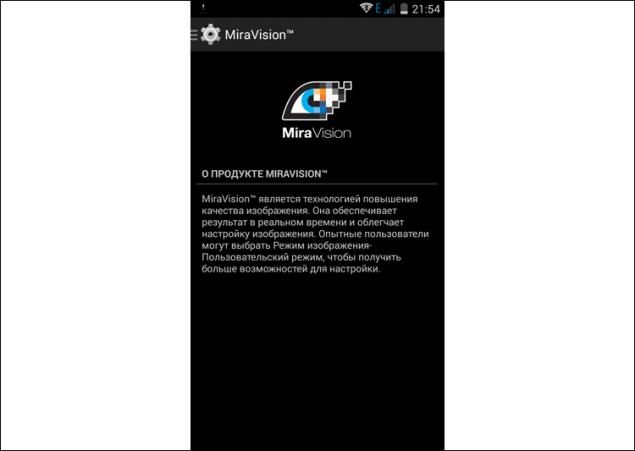 However MiraVision offers a set of tools to adjust the screen settings - sharpness, color temperature and so on. All this is available in the "user" mode, while there are two options with fixed settings: "Standard" and "bright».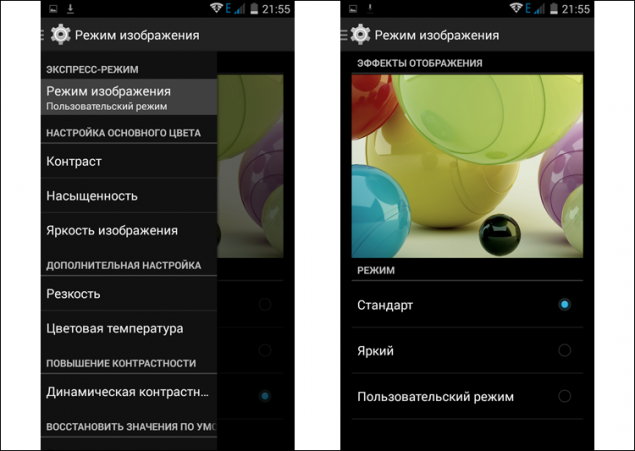 Display Just5 Blaster covered with glass, however, is not Gorilla Glass and Dragon Trail, but something unnamed. However, with their tasks copes glass: finger glides over it easily, plus on the surface of the screen is a tolerable oleophobic coating. Touch capacitive layer is formed on the technology that supports up to 5 simultaneous keystrokes.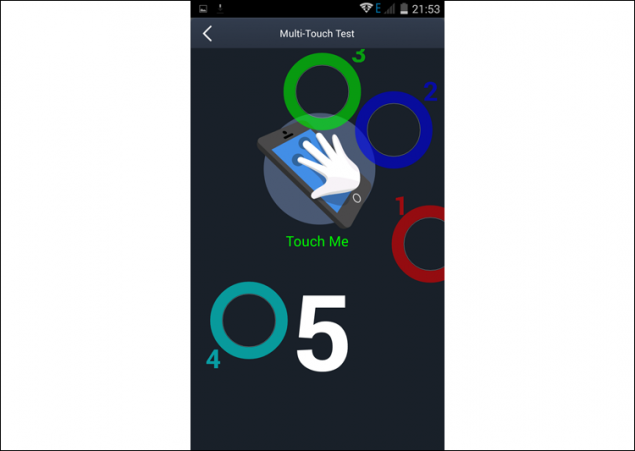 Sound
Multimedia speaker located on the rear panel provides average quality music playback, but it is very loud. Call will not miss. Music in the company via Just5 Blaster can listen to, but any wired or wireless speakers, he still will not replace. Preset ringtones sound quite acceptable, although in order to maximize the quality and volume should "play" with various MP3-files. Thus it is possible to achieve a better result.

Complete headphones stars from the sky is not enough, and for the pleasure of listening to music is better to replace them with something more sophisticated. In the music player, it is standard for the operating system Android, provided the equalizer.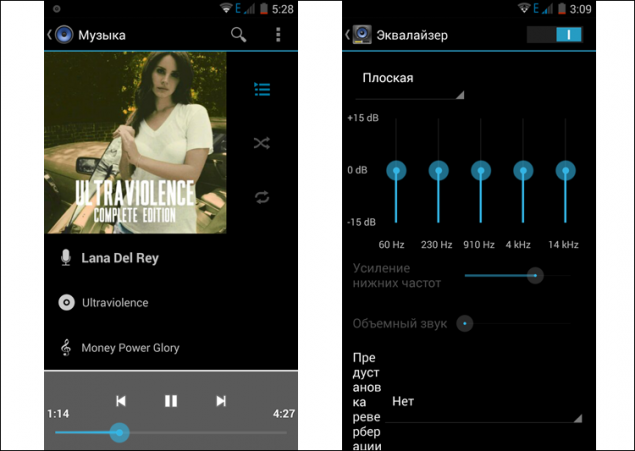 The audio settings are found several "uluchshayzerov." We can not say that because of them begins smartphone "sing" at times qualitatively - just the sound is slightly different. Experiment with the data box is checked - it may be that a specific user after that sound really become more like.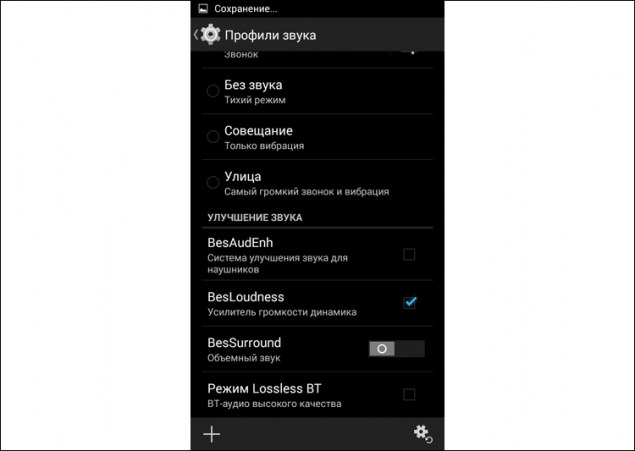 As for voice quality, there is talk specifically about it: the vast majority of modern smartphones is standard on-high, and Just5 Blaster is no exception. Yes, artful noise reduction systems with multiple microphones in the model is not provided, but it is absolutely normal for this class of devices.

App to listen to FM-radio nothing special, except that it generally is. And in recent years, this's a useful option for some reason disappeared from many flagship smartphones - for example, Samsung Galaxy S4 and S5. A Just5 Spacer radio not only what to eat, so it also allows you to record broadcasts. As is usually the case, listen to the stations you want to connect headphones - they act as an antenna.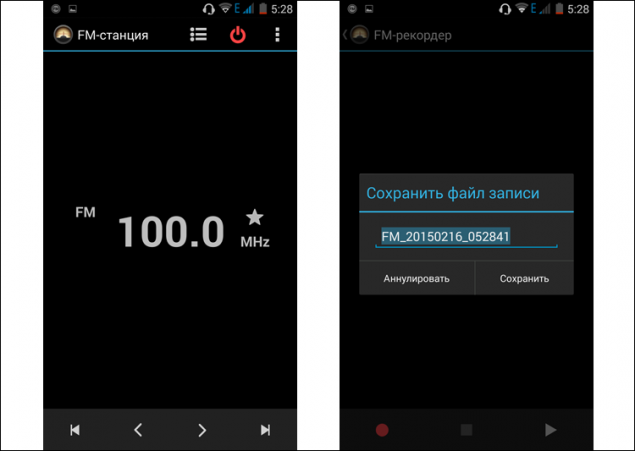 Camera
On the one hand, 13 megapixels from the Japanese Sony - this is serious, and from this chamber can expect an acceptable image quality. Actually, it is - reasonable - the quality of the camera and provides Just5 Blaster. It is not necessary to require it too much: some landscape or kitten in good light, it will seal without problems, effortlessly cope with the text. But now take a picture of any flower in absolutely every detail and even more so any scene at night in low light with the help of this smartphone, alas, will not work.

By default, the camera takes pictures with a resolution of 13 megapixels (4160 x 3120), the pictures in this case have an aspect ratio of 4: 3. You can also choose other options: 12, 9, 5, 8, 6, 5, 4, 3 and 2 megapixels, and in the latter case, the proposed format 4: 3 and 16: 9.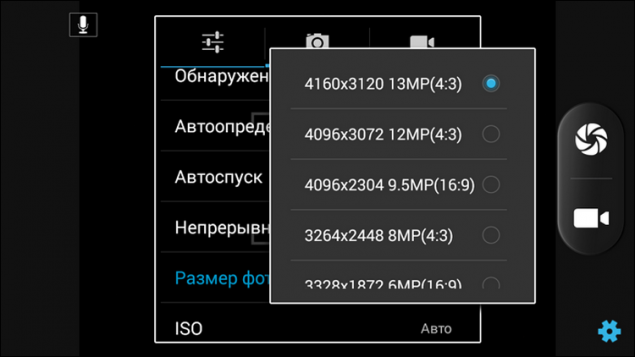 Examples of images: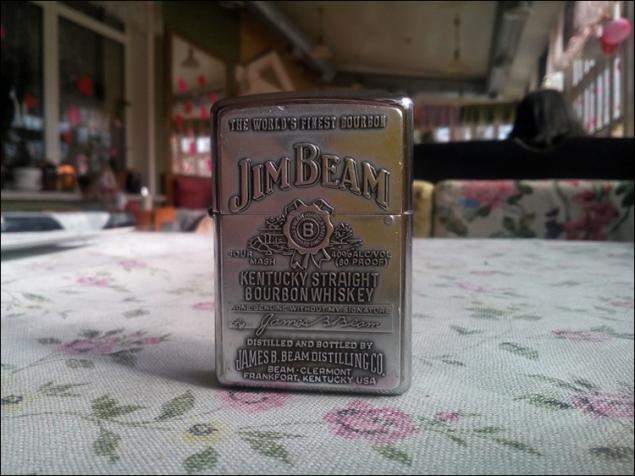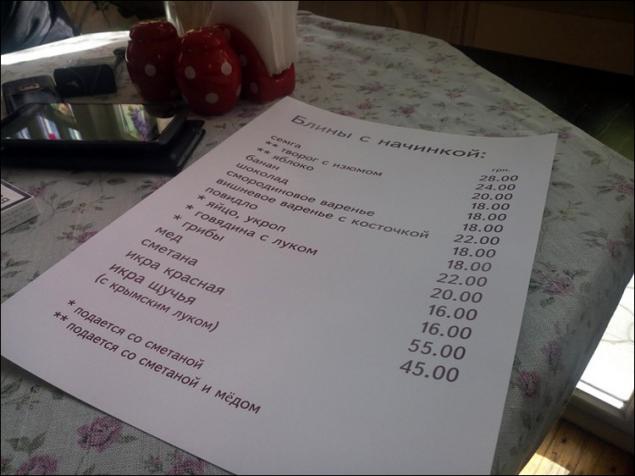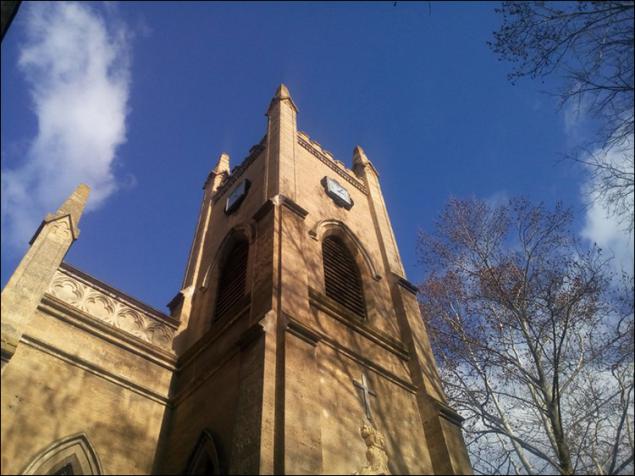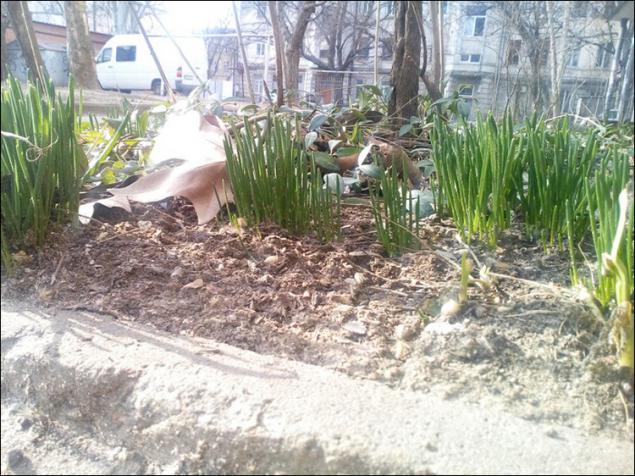 Video Just5 Blaster records at a maximum resolution Full HD 1080p. With its quality, all about the same as with photo: tolerable, but would like more.

As for the front camera, then it has a resolution of 5 megapixels - just in accordance with the fashion for self. Again: in good light in consideration of the smartphone are obtained quite decent pictures, but it's worth the light dimmed - proportionally reduced and quality. By the way, a curious fact: front camera at the "Blaster" with autofocus - this option is found in "frontalkah" smartphones are not so often.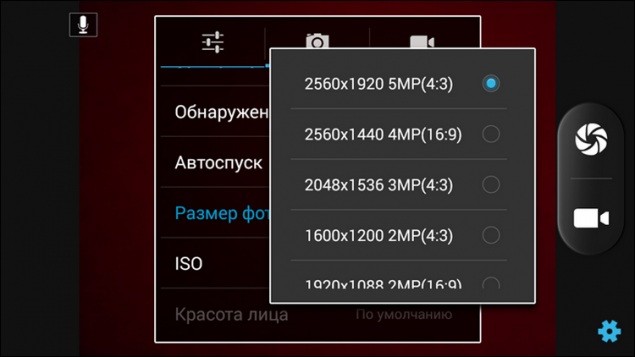 The camera interface is typical for most vehicles on the chipsets MediaTek.