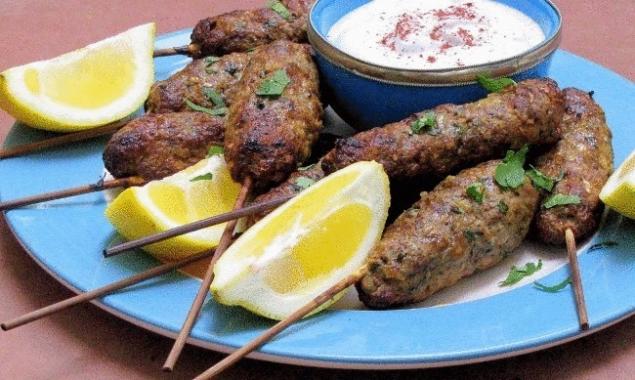 Classic Oriental cuisine
. Photo: pinchseasonings.co.uk
Toasty skvortzowii of Pulaski, as they are called famous chef, in the original batter, plus amazing pickled cabbage and super fresh easy salad.
The final touch: effective presentation on a thin Mexican pancake or usual Armenian lavash and household quotes a classic of German literature: "Stop the moment! You're beautiful!".
RECIPE KEBAB FROM JAMIE OLIVERWhat you need:Pickled cabbage:
a quarter head of red cabbage
2 tbsp. vinegar
a small pinch of sugar
salt, pepper – to taste
Kebab:
400 g of minced mutton
50-70 g of bread crumbs (you can take breadcrumbs)
marinated chili pepper – optional
sweet chili sauce
1 tsp fennel seeds (you can substitute caraway or anise)
small pinch of cumin
a large handful of pistachios
salt – to taste
Diet salad:
1 head of lettuce "iceberg"
a quarter of a large cucumber
small bunch young radish
salt, pepper, vinegar, olive oil – to taste
4 tortillas (you can take an ordinary Armenian lavash) – for filing
natural yogurt – for serving (optional)
How to cook Lula-kebab from Jamie Oliver:
1. For pickled cabbage shred the cabbage as thin as possible. Season with salt and pepper, drizzle with vinegar, season with sugar. How to mash the cabbage in order to give it an amazing sweet and sour taste.
2. Heat the grill pan.
3. For lyulya-kebab of lamb mince mixed with bread crumbs and knead thoroughly. According to Jamie, lamb is the most high-quality meat, so the kebab you need to do exclusively.
4. Divide the meat into 4 equal parts. Each part of the plant on a separate skewer or skewer and form elongated patties with a length of 20-22 cm Fry pan-grill, turning them over frequently and making sure the kebabs don't burn. At the end you can put into a frying pan pickled chillies and lightly fry them. Lubricate toasty ready lyulya kebabs sweet chili sauce (or any spicy-sweet sauce that is at hand).
5. Lightly fry in another hot pan, fennel seeds, cumin and pistachios – no more than a minute, then pound them in a mortar (don't need to get involved, it is desirable that some pieces of nuts remain quite large). Pour the mixture on a work surface or cutting Board and evenly roll the kebabs.
6. Quickly cut iceberg, cucumber cut into thin slices, and radishes – halves. Season the salad with salt, pepper, vinegar and olive oil, mix well.
7. Slightly warm tortillas on the grill pan, place each kebab on a hot tortilla, next put the pickled cabbage and a light salad. Decorate with fried pickled chili and a spoon of natural yoghurt. Serve immediately! published
P. S. And remember, just changing your mind — together we change the world! ©
Source: www.jamieoliver.com/