Irene Lisinski — Ukrainian athlete, silver medalist of Olympic games 2008 in Beijing, bronze medalist of the world championship 2007 in Osaka. Multiple champion of Ukraine. Now Irina is a coach in the running club RUN BASE in KYIV. Champion tips on how to do Jogging, read in our material.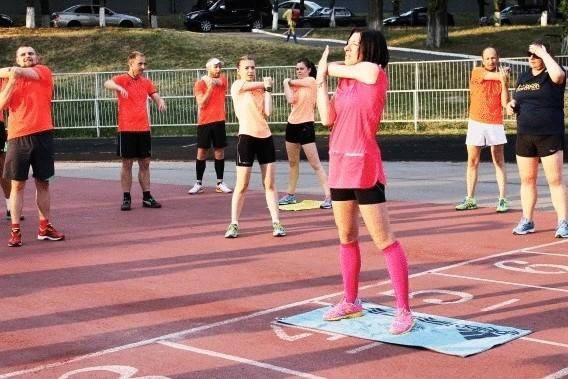 Irina is a very positive and cheerful person. Communicating with her, you know, running is life. And, frankly, after 10 minutes of being there, I want to put on your running shoes and run. If not in order to improve the figure, in order to overcome themselves. We met up with Irina before a training session to chat a bit about the intricacies of Jogging.
Irina, tell us where to find motivated people who will never be professional athletes, but I want to go Jogging?
You need to think who You want to see yourself in the future. Running is like therapy, and I agree with the opinion that it is better to run in training, than to run to the pharmacy. Running perfectly strengthens the body. Moreover, it is a very pleasant feeling when at the end of the workout tired body, but inside you're proud of yourself, because you managed to overcome yourself. Something small, but overcame. In addition, running helps to relieve stress, which is important for the modern man.
Tell me, Jogging
is
a good way to lose weight?
You know, there are people who want to run to lose weight. And there are who want to lose weight to run (laughs). Seriously, with running you can lose weight. But keep in mind that this is not a quick process, it is labor intensive and time consuming. But the result is worth it. So, if You shed weight artificially: for example, through diet, the result will not last long, because You will not be able all my life to limit itself in everything.
If You lose weight through running, then You change the style of life in General: can You change the metabolism, there is relief. Yes, slowly but surely, it will form a beautiful figure.
As for the food? Yourself need to limit if you regularly exercise?
You know, there are people who think: "now I run a bit, then come home and eat a huge bar of chocolate". This, of course, makes no sense. You must try there is useful and correct eating. Of course, we're all human, and sometimes you want and chocolate. In General, why not? Just everything needs to be a reasonable approach: no extremes, but with rationality.
And specifically, how to eat the person who runs regularly?
You need to divide the daily amount of food into 5-6 meals. Eat more protein and complex carbohydrates. If we talk about the people lose weight, they need to remove from the diet unnecessary products that do not carry the special energy and do not give any nutrients to the body, and just "stuffed" it full. You need to remove meats, pickles, bread, mayonnaise. Of course, sometimes you want and sometimes you can afford some Goodies. But, in General, you should strive for proper nutrition. This diet that You get pleasure from it and to bring maximum benefits to the body.
If the person decided to go Jogging by yourself, where to start?
The first thing you need to buy a pair of running shoes.
That is, it is very important?
Yes. From improper footwear may lead to injuries. To be honest, at first it is better to work with a specialist. Just to put the correct technique. Because improper technique can cause injuries. If the coach You do not, then remember, running should be natural: if You took off his shoes and ran. There should not be any excess voltage. Any unnecessary strain can cause injury.
Be sure to read thematic literature, to understand how to run. Also, training should be gradual, little by little. The main mistake of beginners: they begin to run too fast. Here they want to run fast, "not enough", there is shortness of breath. All, they stop and already hate running, I never want them to do. Running should be fun. If You have never been a runner, alternate run-walk-run-walk. Then gradually reduce the walking and increase the Jogging. Each week add 10% already achieved.
Whether the body is resist what he is forced to run?
Of course. The first month you just need to endure: will hurt your muscles, the body will come up with 1000 reasons to miss workouts. Cold, damp, hot, wet, something, such thoughts are bound to be spinning in Your head. So you need to make a decision to deal with them and move on.
As for the breathing. Usually, when people begin Jogging, the breathing becomes a huge problem.
Catching up with fans, I noticed that many while running, breathe only a nose. This cannot be done, you need to simultaneously breathe and my nose and mouth. If You are tired, respiration will become deeper, if not more superficial.
If you breathe only a nose, and You suddenly become hard, You just do not have enough amount of oxygen to be supplied to the body. You quickly bidognetti.
Irina, what is Your secret to success: what you need to do to reach your goals?
Need to be hardworking, motivated and have a good trainer. When you know what you want to achieve, everything will work out.published  
P. S. And remember, only by changing their consumption — together we change the world! ©
Source: hochu.ua