The city of Fujisawa is an architectural complex, built with the latest achievements of science and technology. Every roof has a solar panel water consumption was 30% less than usual, and instead of gasoline cars and public transportation residents are using bicycles and electric vehicles. The city administration is carried out from the Central square Fujisawa SST Square. Fujisawa and can accommodate 3 thousand citizens and has a 1,000 homes. The city has already settled the first inhabitants, and the completion of the construction project is scheduled for 2018.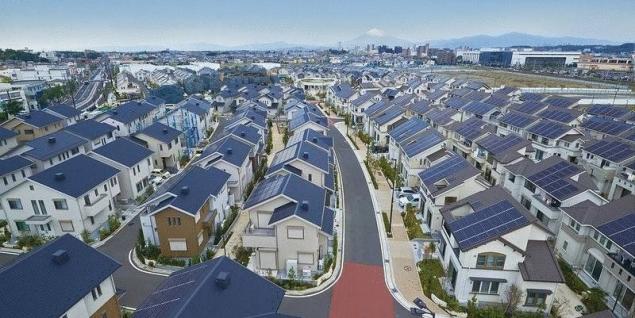 Energy balance Fujisawa 30% consists of electricity generated from
alternative sources
. First and foremost is the energy of the Sun on every roof of the city installed solar panels. All devices of urban infrastructure was developed based economy. The town has no petrol pump. The designers put on the bikes, electric cars and other green transport. Instead of gasoline – developed network of charging stations for electric cars, available for rent. The system is controlled by sensors and sensors that control energy consumption in a time when the streets are people, the system activates the backlight off when no one.
According to specialists, this approach to construction helps
to reduce carbon emissions by 70%
. The system was designed with the frequent earthquakes, the city will be provided with everything necessary for three days, even with a complete cessation of electricity supply from outside.
The city is equipped with security system with video surveillance systems in public places.
The total cost of construction amounted to 500 million dollars. Despite a substantial budget model for the city of Fujisawa will be distributed: some things – human health, minimization of damage to the environment – cannot be included in the return. However, the project payback since the cost of energy in Japan is high.
The construction project was entrusted to the consortium, Fujisawa SST Council, the customer was made by Panasonic Corporation.published  
P. S. And remember, only by changing their consumption — together we change the world! ©
Source: newsland.com