These refills for fresh vegetables will give a unique taste to your dishes and will help to diversify the flavor.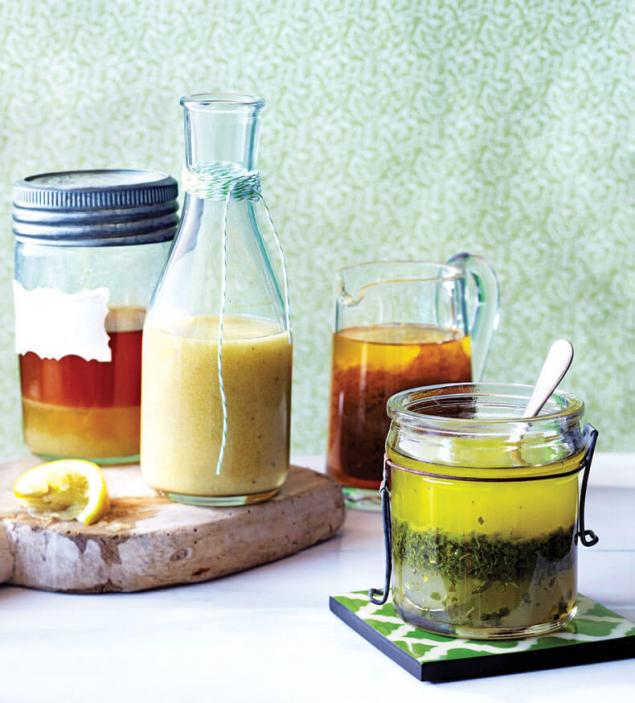 Lemon dressing for fresh vegetables
1 lemon
3 tbsp vegetable oil
1 tbsp chopped green
Squeeze the juice from the lemon, strain it. Drops add it to vegetable oil, all the while whisking the butter. When the mass thickens, add the greens.  
Lemon vinaigrette for salads
2 lemons
0.25 l vegetable oil
2 cloves of garlic
a pinch of mustard powder
Squeeze the juice from the lemons. Gradually pour it into the vegetable oil, whisking continuously with smashville. Then add the chopped garlic and mustard powder, mix everything carefully.
Lemon vinegar for salad
15 g lemon peel
15 g fresh mint
1 bottle Apple cider vinegar
Zest the lemons cut in a thin layer and finely chop. Mint finely chopped, to wash it down with Apple cider vinegar and put in a warm place for 2 weeks, then strain and pour into bottles.
Helpful dressing for a sweet salad
juice of 1/2 lemon
2 tbsp. honey
0,25-0,5 tsp cinnamon
To connect juice and honey. Mix thoroughly and add the cinnamon.
Dressing with lemon and honey
6 tbsp vegetable oil
3 tbsp lemon juice
1 tbsp honey
salt and pepper to taste
Sesame dressing
Lemon juice — 2 tbsp or
Red or white wine vinegar — 2 tbsp
Olive oil — 4-6 tbsp
Mustard — 1 tsp.
White sugar — 1/8 tsp.
Honey — 1 tbsp
Fresh ginger (chopped) — 1 tsp
Sesame seed — 1 tbsp
Fresh parsley (chopped) — 1 tbsp
Salt and ground black pepper
Dressing "Vinaigrette"
4 tbsp lemon juice or wine vinegar
2 tbsp French (Dijon) mustard
1 clove garlic, minced
salt and pepper to taste
2/3 Cup vegetable oil
Whisk together the lemon juice (or vinegar), mustard and garlic. Season with salt and pepper. Slowly (dropwise) add the oil, continuing to whisk.
In this filling can be changed vinegar (red or white wine, cider), mustard (sweet or grain, with or without mustard), you can add sweetness (honey, sugar, maple syrup) or soy sauce.published  
P. S. And remember, only by changing their consumption — together we change the world! ©
Join us in Facebook , Vkontakte, Odnoklassniki
Source: www.facebook.com/ReceptySyroeda/posts/419589441564648