I just saw the Rangers went into the forest with almost empty backpacks. And not for a day or two, and a week or more.
You say that the fall of wonder to live on mushrooms and berries. But knowing man will find in the taiga food and spring.
Taiga will wear, will warm and will feed anyone. Another thing is that we have forgotten the secrets of the ancestors, lost recipes of their ancestors.
True Rangers, going into the forest, mined there bread, milk, butter, cook tasty porridge, jelly, cook the carrots and prepare yourself salads. Yes, such that yum.
If you read the story Zabaykalsky writer Victor Laurinaitis "Golden Pad", you could not pay attention to a scene in which grandpa and when he had treats guys taiga food.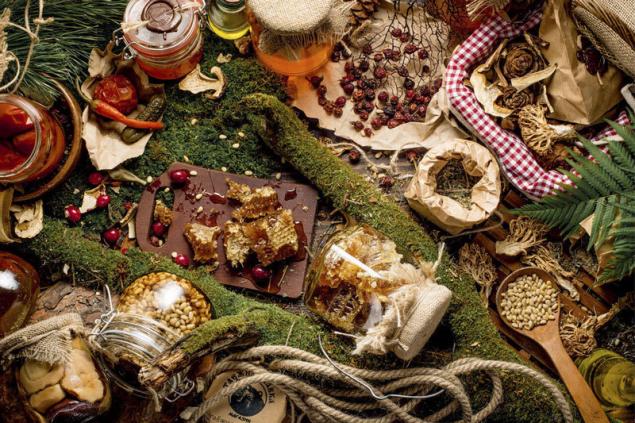 "On the table there were cold meat, potatoes, drenched in butter, gingerbread and some unfamiliar dish: round, light yellow balls.
Especially the kids liked the butter. Amazing oil! The color of it was like melted butter, but much tastier and more aromatic. Gingerbread smell and taste is also reminiscent of this oil. Smelled very familiar, but the boys could not understand it.The cakes were so rich that, whatever they were tasty, more than two one to eat couldn't. Bob gazed at him this way and that, trying to uncover the secret of the best dishes.
— Eat, eat— treated Mikheich.— And milk? Why tea without milk drink?
— Milk I love, revived Bob.
— Where's the cow? — asked Natasha curiously.
— Heh-heh-heh! Cows have a lot. Belite, Belite".
Then finally when he had explains to the guys that rich cakes, and a wonderful oil, and magic balls were made from pine nuts.
The guys calculated that each hectare of cedar forest gives half a ton of carrots and two hundred pounds of butter.
To get that much butter from cow's milk, it is necessary to hold at least three cows. And the cows need tending, they need to be milked, mow them for hay. Because of the taiga "cows" don't need any maintenance, just collect the cones.
"Cedar cream" almost three times more nutritious cow, three times — beef and four eggs. Even the bacon-bacon is inferior to them. And about the taste and can not speak.
Harvest nuts in the forest is great. V. only one chikoisky the forest you can collect more than ten thousand, and in Siberia, experts say, is growing every year three million tons. (Careful, people call the number in half.) And complain that the nuts produced are still small.
Can agree with this, but with a caveat: the animals also need to eat. If you want to wear fur, you have to think about food and squirrels and Sables.
His young friends grandfather when he had not said how to make nut butter and milk, but there is no secret. We need to crush them well in a bowl and pour boiling water. Get milk.
And the oil from the nuts of the press as well as sunflower seeds. But the butter and milk good to have bread and cereal. This kind of taiga is also rife.
Pine nut has a high nutritional value, it contains a lot of vitamins and minerals. Cedar oil, which has unique medical properties (promotes healing of wounds in the gastrointestinal tract and on the skin surface). Has a rejuvenating effect, helping to accelerate cell regeneration.
A hundred years ago TRANS-Baikal correspondent of the Imperial Free economic society M. A. Zenzinov wrote: "Croup dodder, boiled in milk, gives pricesnew porridge, better than buckwheat, barley and even millet". Incidentally, the dodder is a very "hot" plant in the world. (On cloudy days its leaves are much warmer than the air.)
On the shores of lakes and thickly growing reeds. And this is just what we need: jungle bread is very tasty and quite hearty. In the spring the rhizomes of reeds lot of sugar and flour. As we grind rhizomes, dry them and then to get the flour the same way you extract the starch from a grated potato: let's settle water. And if the juice to boil, the tea will the sugar.
The roots of V are also suitable for making bread.
The roots of the bells going to bread and porridge.
The stems and leaves of a young sorrel completely replace the cabbage.
And manger and wild garlic many people love even more than homemade garlic and onions. Wild garlic is a wonderful plant (it is also called the onion bear, victory, calboy). But it grows only in the southern part of Siberia. Very similar in taste, the plant is grown in Central Asia, but with wild garlic he can't match.
It is in the forest the first grass ramsons appears as soon as the snow melts. It grows very fast, sometimes even Lithuanian mow. On one hectare it grows up to ten tons!
The leeks are a lot of essential oils and volatile production, a hundred grams of leaves of vitamin C more than in a kilogram of lemons.
About the taste and can not speak. In our country grows almost a hundred species of wild onions, but the most delicious of them — wild garlic. Eat it in salads and vinaigrettes, soups and dumplings. But it is with bread and salt.
If you came into the forest not in the spring and in the fall or summer, look for the plant Ivan tea. We have it is not difficult to find, especially nabivshih burned.
Now you can go for pine nuts: Ivan-tea will provide you for lunch everything you need. First, from its roots you will produce flour for bread. Secondly, the roots boil and you will have a second dish.
Young shoots are a good alternative to cabbage. Fresh leaves go in salad (and if to them to add leaves of a dandelion, it will not a salad, but delicious).
The dried leaves give a fragrant tea leaves — no wonder the plant is called Ivan-tea. Finally, from the seeds you will receive vegetable oil.
When you make a salad with dandelion leaves, don't forget to remove the bitterness. To do this, douse them with boiling water and wash. Foodies, a few days before the dandelions to disrupt, cover them with sacking or matting.Without light the leaves turn white.
In many Western countries, salads, dandelions are highly valued, and in France, the dandelion is grown in gardens.
A great salad is obtained from the leaves of the primrose and asparagus in Siberia it grows on the protected meadows. And above all praise — from the leaves of the great plantain. Them as wild garlic, can be salted for future use.
What else is missing to our table? It would be nice to have a carrot, parsley, jam. Both that, and another, and the third will give you the roots of the burdock, the leaves of which children make themselves hats and skullcaps.
The cooking method is also simple: boil the roots will get a substitute of vegetables, boiled — eat jam, dry — will be in reserve flour, fry — drunk coffee.
Speaking of coffee. If you cook it from the roasted roots of dandelion, you can hardly distinguish from the natural. Such coffee can't even serve sugar in it it has enough.
Well, who do not like coffee, he can cook jelly from the roots of Saranac. They are also suitable for porridge and cakes.
Compote of rhubarb and delicious, and quenches thirst. If slightly to add to the cranberries or blueberries, you get excellent cuts.
Once the rhubarb was considered almost the main medicinal plant. It has been bred in the gardens, bought in China, Sables and gold. And now I forgot about it, and its broad green leaves until autumn lonely hang on fleshy stalks along the ridges and roads.
If a field Desk desired spices, in a way they can gain anything. And for the first dishes, and second and third.
The leaves of the core meadow have a peppery taste. You can find them almost.on any wet meadow.
Yarrow, tansy, wormwood leaves, juniper berries give poultry, fish and meat unique attractive taste.
Calamus refines the drinks — they are tasty, dukhovity.
And mint, thyme and sweet grass scented can decorate any dish.
Welding for boiling water can be found in the forest at any time of the year. Summer — the leaves of raspberry, strawberry, currant. Currants can be brewed with the kidneys, and a sauce of raspberries or strawberries add berries or rose hips.
A wonderful sauce of oregano, mint, St. John's wort. But early spring or late fall do not find.
But in the forest, often on rocks, you can always find Badan. The leaves, long since killed by the frost, rain and reworked dozens of times dried up, shriveled and black, to hang on the mother plants.
They are not only dried, but washed out.them tannin and bitterness, they are ready for the welding on one hundred percent. The brew turns dark brown, slightly astringent taste with unique aroma of the taiga.
In sales sometimes found Mongolian, or chagirsky tea. This is just crassifolia bergenia and there, its old blackened leaves.
There in the forest is another amazing plant from which is obtained a fine tea. It's not even a plant, but a fungus that grows on birch. It is called chaga.
Chaga grows, as sometimes asked, on a living trunk of birch (occasionally aspen or alder). Birch this fungus gradually kills. He also dies. But before his death, the first and last time in my life, gives a great number of spores. The wind carries them and if they will get in. the wound on the trunk of a birch (say, the wind broke off the branch) — again start to grow chaga. If you artificially infect the tree — nothing happens. Not growing this mushroom.
Taiga men love calowy tea, it is really tasty. Left in the kettle, it not moldy for weeks.
And most importantly — it is also a good remedy for sore throats. A piece of mushroom flesh suck like candy, but if ache tooth — put the cheek.
One of the biologists tried to pour the powder the fungus brought to Siberia South the fruit. Unripe — ripen quickly, beaten — ceased to deteriorate!
About chaga have long argued: a myth or it actually helps in many diseases. Now you can buy in the pharmacy: taiga medicine is recognized by all. And our best refreshing drink "Baikal" necessarily includes aqueous extract of the fungus.
Taiga tasting food, grab some groceries home to entertain friends and acquaintances. It does not matter if you have a backpack, you can weave a good mesh of fibers of the same fireweed. They are strong and durable, they can not only twist, but also to weave the material.
At worst, you can take nettle — you gonna meet her in the wasteland. Residents of Kamchatka from the fibers of nettles for hundreds of years was making clothes, sails and knitting the network. In strength and ability to resist rotting such networks.to compete even with nylon.
On one of exhibitions in Moscow, I recently saw a fluffy rug, woven from nettle. Even bright colors for it was derived from nettle. I'm not talking about casseroles, soups and drinks from this amazing plant — the people they have long been known. It is a very healthy oil.
And Novosibirsk scientists have proven that spreading it to cattle more profitable alfalfa. Yes, and the animals are happy to eat its young shoots, although they are very hot. They have a lot of trace elements which are lacking in animals.
But we forgot about mushrooms and berries. In the taiga you'll find blueberries or cranberries. That we have blueberries growing in the wild, and in America, in Alaska and in Canada it bred on plantations like grapes. Her name is blue berry blue grape of the North.
In any kind of good blueberry, and especially tasty with taiga milk. Of cranberries can be cooked jam, you can dry, freeze, soak. You can finally eat in the woods, by the handful — it seems tastier than at home.
In the forest you will find strawberries, honeysuckle, currants, Mochovce, Boyarka, toranoko, wild rose, raspberry, mountain ash, stone bramble, raspberry. But if you pick a cherry and very good. It can be crushed with seeds, bake amazing cakes — Korsun. In the wild berries more nutrients than cultural.
The doctor All of the Swiss research Institute of transport medicine claims that those who eat blueberries, the night sees better.
It is known that during the war it was specially issued to British pilots night aviation.
The drivers, some doctors suggest there's blueberries: it also improves vision. Every year the forest Matures six million tons of cranberries, blueberries, blueberry, cranberry — fifty pounds.
From the book of D. P. Zueva "Gifts of the Russian forest." published
P. S. And remember, only by changing their consumption — together we change the world! ©
Join us in Facebook , Vkontakte, Odnoklassniki
Source: rus-health.info/O-lesnom-moloke-i-bolotnom-hlebe-60.html