To begin with, where is the next workshop, which teaches people one simple idea: to build a house is easy. You just need to temper their foolish appetites and to change the philosophy of life.
In the United States (the country of contrasts) is such a fabulous Peninsula, almost — Lukomorye. The island called Olimpik (Olympic Peninsula). The largest and perhaps, the only city which lies on the Peninsula – Port Angeles and this city has a University, the American College. Here students of this College and build their wooden house. This is not a House-2 is another story.
The city and the Peninsula belongs to Washington. In the centre of this mountainous Peninsula – mount, dubbed Olympic, it gave name to the Peninsula. Well, the main attraction of the Peninsula is a large Olympic national Park, in our reserve.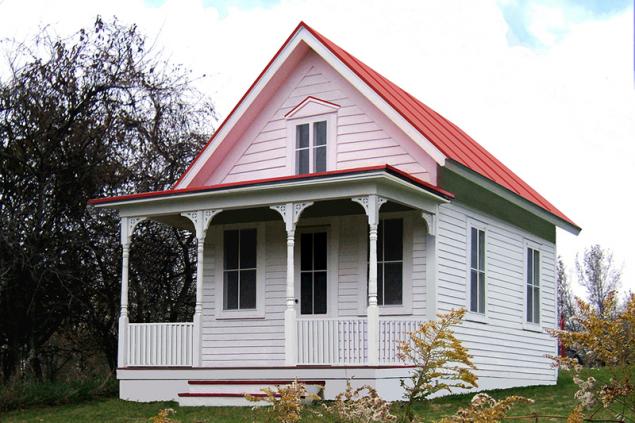 It is in this place and could have been born this environmental project – the workshop on self-construction of wooden houses. Places almost promised. Like the pioneers, their prapradedushka – young Americans and their assistants-instructors, including: Erik Fullingim, Mitch Breece, Patrick Nickerson, and others – building a wooden house with his own hands. They want to prove that to live in a concrete monster in the pit for a thousand apartments don't have to feel held cool dude.
From February to July of this year a group of students from the local University on-site Lincoln Center (Lincoln Center) building a house. The experiment is in the "green" green building programs. Company Tumbleweed Tiny House Co. can rejoice, her ideas come to life!
Tumbleweed- a new philosophy of life of Americans.
This is what the U.S. Agency Tumbleweed Tiny House Co. for a long time and the talent moves to the us (yet) the idea of mass construction of small houses not more than 65 squares of total area. The home is expected: kitchenette, a small living space, bathroom and two loft bedrooms which are American style now fashionable to call "lofts". Well, the lofts, the lofts – the number of two pieces.
Listen and watch as Jay Shafer – the representative of the company Tumbleweed says about the new concept of houses for modern Americans.
"The home is a self-portrait of a man, says this beautiful man with an intelligent face, is to Live in a tiny wooden house for Americans, this is actually tradition. So we will help them to remember!"
Watch the video and you will see that the Americans are not such monsters, what we love to imagine. Well, what else can be a person promoting among Americans the idea of living in a tiny wooden house?!
Tumbleweed Tiny House Co. promotes a variety of wooden houses is in the range, and holds them constant workshops to the inhabitant understand is to build your own small wooden house as easily as to have a son, plant a tree and to assemble a shelf from IKEA...
If you have a decent understanding of good English speech, we strongly advise you to look at another, slightly longer, but very interesting video
Why the need for a wooden house?
Jay Shafer (Jay Shafer), a representative of the company Tumbleweed, say: "We want to wean the modern American from potreblenia. We want to give him the opportunity of freedom, freedom from consumption. In such a small house, he will put only what they REALLY need and what no need in this house does not fit."
Idea wooden mini house (a program of reducing the living space of the average American) recalled the procedure "podseleniya stomach" to reduce its volume. Such operations are made for those who suffer from food addiction, and overeating, dilate the volume of your stomach, so that he is never satisfied and keeps on asking is.
This project (wooden mini-house) – more serious. Company Tumbleweed Tiny House Co. It does not stop the promotion of your product on the market, never stops fascinating workshops.
Wooden houses is the future. That is why the Olympia Peninsula University Peninsula College opened a new specialty.
So, again, attention: now the University of the Peninsula of Olympia, you can get qualification which will allow you to become a master of ecological "green" construction and to obtain other necessary skills, including skills of a carpenter. All that is necessary to become the American pioneer and to get away from civilization, with its excessive consumption.
In English this specialty called something like "green building program and basic carpentry".
And so you imagine it: a wooden house of the future, made in the USA – here is a short and dynamic slide show about how it looks like this is a mini house made of wood.
Better our panel two, stuck in the epicenter of the sleeping area, for which we kill their lives. And, believe it or not – in this mini-home with the most-the top "renovation" and stylish design has a place... they are yum!published    
P. S. And remember, only by changing their consumption — together we change the world! © Join us at Facebook , Vkontakte, Odnoklassniki
Source: www.1000ideas.ru/article/biznes/dizayn-i-arkhitektura/biznes-ideya-2947-dom-iz-dereva-dom-budushchego/