Erin Boyle is a famous lifestyle blogger living with her husband in a small apartment and not by hearsay knowing about the pros and cons of such a life.
In his blog, Reading My Tea Leaves (and in the newly released book, Simple Matters: Living with Less and Ending Up with More) she gives advice on how to feel comfortable even in a tiny house.
Some of them we decided to share with you.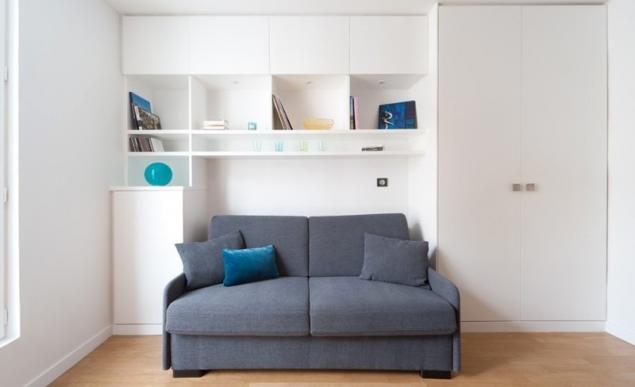 Buy a can of white paint
Last week we bought a can of white paint and painted over the weekend, dressing table, door jambs, two picture frames, the bottom surface of the sink in the bathroom and terrible silver pipe there. The important thing here is to be limited to small projects. No need to paint the wall, just to patch up here and there, and the apartment will look much fresher.  
Use the bags
Keeping things on the spacious shelves or in large boxes requires the ability to keep everything in order: even the emerging chaos will be evident. To make your life easier, try as the minimum storage space to use cloth bags, and put them in the small things of the same type. For example, get a bag of drugs, a small, separate makeup bag for paints, plastic bag, zip bag for the collection of aromatic oils.  
Collect wildflowers
Bulky items look out of place in tiny spaces, and bouquets, too, so that large armfuls of flowers split and spread around the house. And even better — buy or collect small wildflowers. Tiny bouquets in small vases or decorative jars can be placed in different rooms: in the bedroom, and the kitchen and living room. Believe me, the festive mood they will give more than the lone big bouquet of hundreds of roses.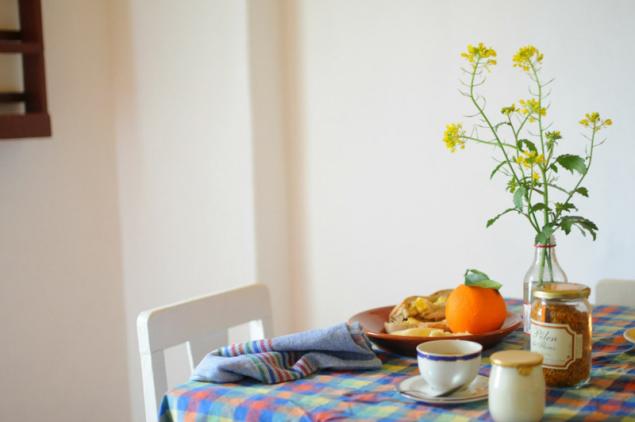 Find a space for your hobby — make dust jackets for books
Make book covers — a bit of strange advice from the same series, and offers to arrange them by color or to choose the style of the interior. But, maybe a huge edition in the red cover is really too distracting from the rows of books in pastel colours? Or you don't want to throw away the old and very worn edition, decorated, besides, terribly outdated? Just do for them the paper covers — and your bookshelf will look a lot neater and smoother than before.  
Buy white sheets
Stop to hope that one day you will move to a bigger apartment, buy a normal bed and then spend some money on a great lingerie. Go to the store and buy a good set of white textile now. Sheets is also part of the interior, and better to their color and quality were not chosen randomly and organically fit into the interior even when the bed is not made.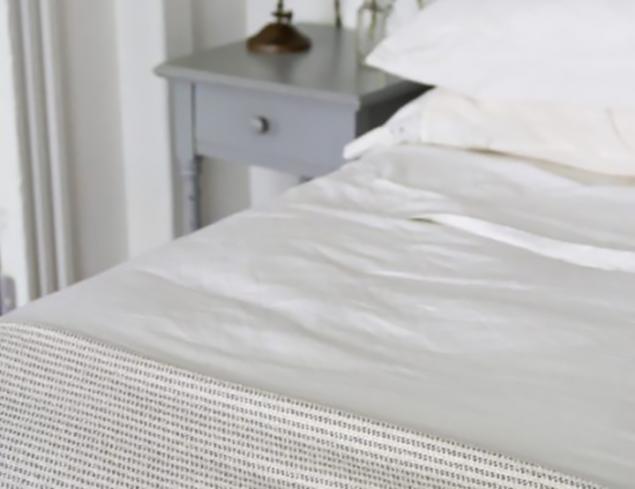 Get house plants
Like flowers in vases, plants in pots added to the interior of freshness and life. Choose the ones that are not too grow, plant them in small pots (but not tiny roots will be crowded, and watered more often) and choose a place where they will look more spectacular. Green plants in and of themselves a bright accent, so pots it is better to choose white or light terracotta color, not to raise excessive variegation.  
Please note the curtain
The simpler and lighter the curtain in your bathroom, the better, because we all know that the colorful prints visually reduce the space. Perfect transparent plastic curtains that do not conceal the space. However, it is not the most eco-friendly approach: they will inevitably get dirty and once in six months or a year requiring replacement. The alternative — plain blinds from natural materials (Yes, they are even made of cotton) that can be washed, and once they finally wear out, recycle them. published  
Author: Daria Maslennikova  
P. S. And remember, only by changing their consumption — together we change the world! ©
Join us in Facebook , Vkontakte, Odnoklassniki
Source: kvartblog.ru/blog/pravila-zhizni-v-malenkoj-kvartire-ot-erin-bojl