Chutney is an original Indian spice, like curry. It is prepared on the basis of fruit or vegetables with vinegar and spices.
Its consistency is such seasoning must always be homogeneous.
For the most intense flavor, directly before eating, it should be given time to infuse, at least for one month.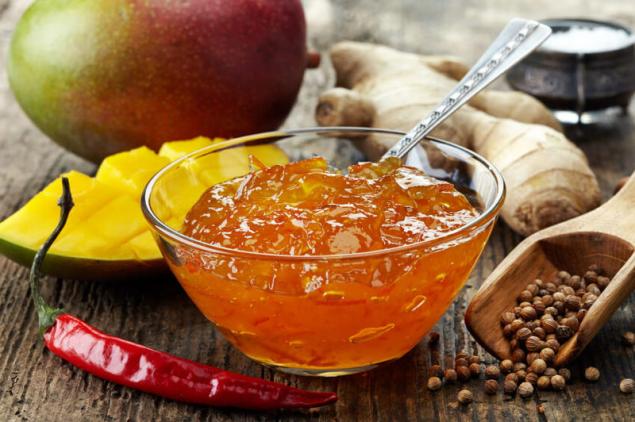 The recipe for a delicious fruity mango chutneyIngredients:
butter – one teaspoon;
mango – one thing;
red chilli pepper – one thing;
garlic – one clove;
vegetable oil;
salt, Apple cider vinegar, curry – to taste
Preparation:
Mango should be cut into halves, remove the fruit from the pit and very carefully cut the peel from the pulp.
Then cut it in small cubes and fry for five minutes in the butter.
At this time you need to grind the slices of red small chili pepper and add it to the pan along with the mango.
Squeeze with the press a clove of garlic.
This mixture should be given time to cool, and then grind all using a blender, adding sugar to taste, salt, curry powder, vinegar, and vegetable oil.
Serve this sauce with fish or meat.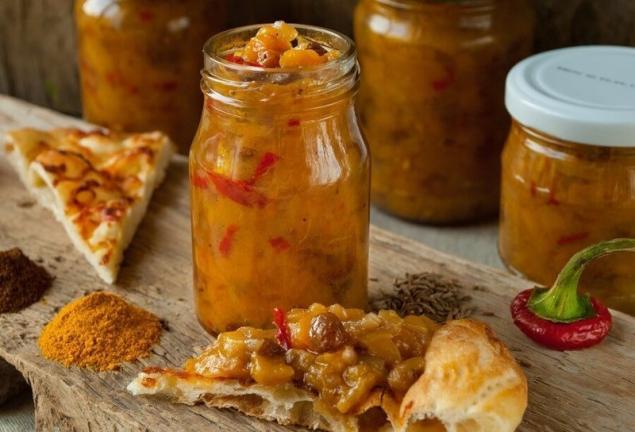 Recipe of chutney from the pumpkin
Ingredients:
pumpkin – half a kilogram;
lemon – two pieces;
vinegar is five percent – a hundred milliliters;
sugar – hundred and fifty grams;
salt – two spoons canteens;
onion – three pieces;
garlic – three cloves;
the fresh sage.
Preparation:
Pumpkin must be cleaned and cut into small cubes.
Then fill with sugar and leave for whole night.
Peel the onion and finely chop, garlic squeeze with the press, and lemons cut into two halves.
In a large pan put the pumpkin, add the lemons, garlic, salt, onion and vinegar. Place on the stove and let the mass boil, while proviva on low heat for about one hour. In the end, put finely chopped sage and cook for ten minutes.
Ready to serve Indian chutney should chilled, preferably to the meat. 
Beetroot chutney
Ingredients:
beets – four of them;
Apple cider vinegar – three tablespoons of canteens;
onion – two heads;
sugar – two tablespoons;
coriander seeds – one spoon;
vanilla – small pinch;
the taste of pepper.
Preparation:
The beets must be roasted in the oven, peel and then cut into cubes.
Onion clean, finely chop.
Heat vinegar in a pan, add the sugar in the sand, grains of coriander, vanilla and sprinkle with black pepper.
Stir until the sugar dissolves, and then place the onion. Sauté for ten minutes, stirring constantly.
Add beets, cook for five minutes.
Remove beetroot chutney from heat and let cool.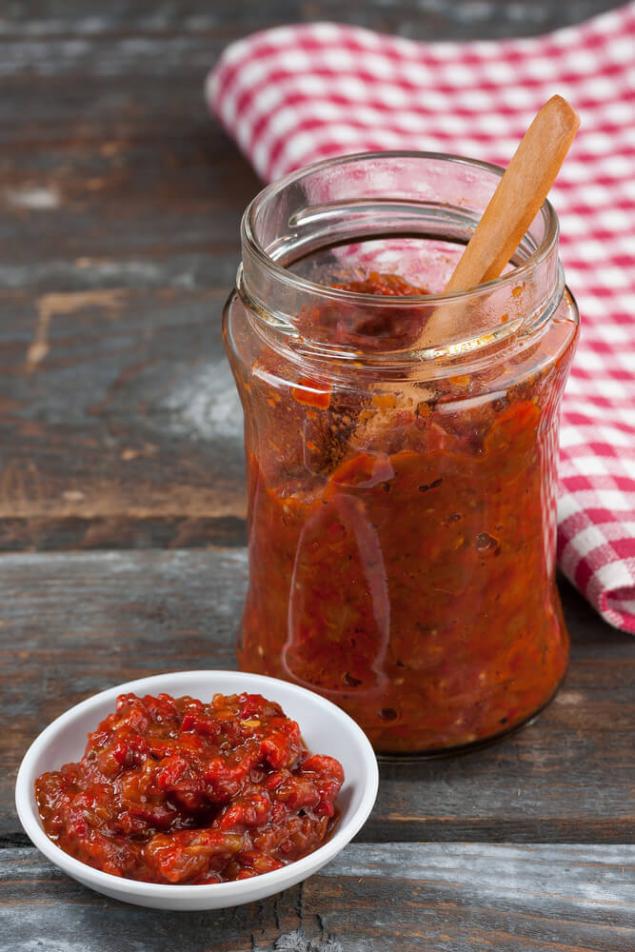 Chutney with tomato
Ingredients:
chopped tomatoes – 2 tbsp,
water – 3 tbsp.
ghee (clarified butter melted) – 1,5 S. L.,
green chilli – 1 pod,
sugar – 2 tsp,
salt – 1 tsp,
cumin seeds – 1 tsp
Preparation:
Chili should finely chopped.
Melt the ghee and fry it in chili along with cumin seeds.
Mix all ingredients and cook, while stirring constantly, until, until thickened the sauce and become soft and creamy.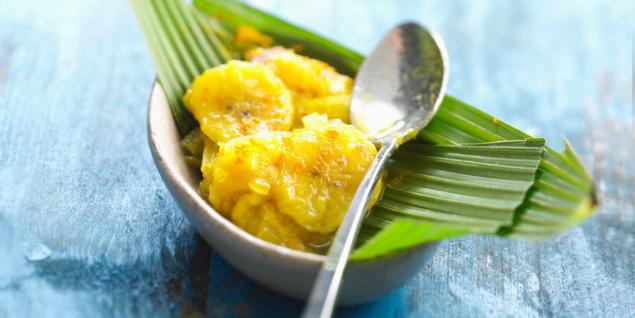 Sauce chutneys. Recipe banana chutneyIngredients:
chopped bananas – 1 Cup
water – 6 tbsp.
sugar – 2 tbsp,
ghee – 2 tbsp,
green chilli – 1 pod
cumin seeds – 1 tsp
Preparation:
Ghee should be melted in a skillet.
Then finely chop the chili and fry it along with cumin seeds.
After, mix chopped bananas, sugar, water, roasted spices.
It should cook until until the sauce becomes thick and acquires the consistency is nice and creamy.  
Cook with love ! Bon appetit!
P. S. And remember, only by changing their consumption — together we change the world! ©
Join us in Facebook , Vkontakte, Odnoklassniki
Source: womanjournal.org/kulinariya/743-chatni-recept-prigotovleniya-indiyskogo-blyuda.html