And so spring is in full swing, on the threshold of summer. Work is work, but the rest of the weekend and the time of vacations (more fortunate) has not been canceled. Not bad to collect the merry company, to leave the city, active and happy to spend a couple of hours, enjoying the nature, barbeque... but at the same time, we are all people tired during the week, so I want to spend less effort on preparation to the holiday. Would like something marred the entertainment. We will focus on the developments that will help significantly to simplify our lives "weekend".
So, that might be useful.  
All fans of "shashlik" and a tasty meal посвящается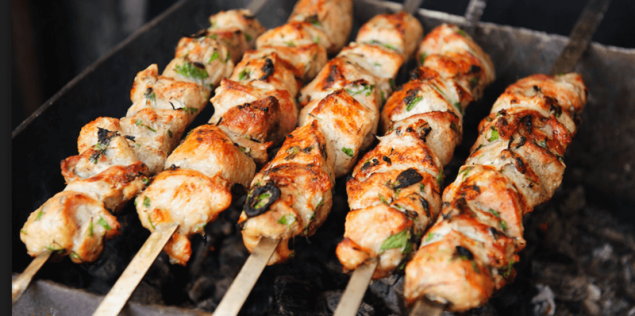 Electric vacuum food marinator
As the name suggests, it is not difficult to understand why it is needed. This kitchen appliance produces Marinaccio products in a short period of time, allowing you to significantly save your precious time. In our market this unit appeared relatively recently, but has already become quite popular.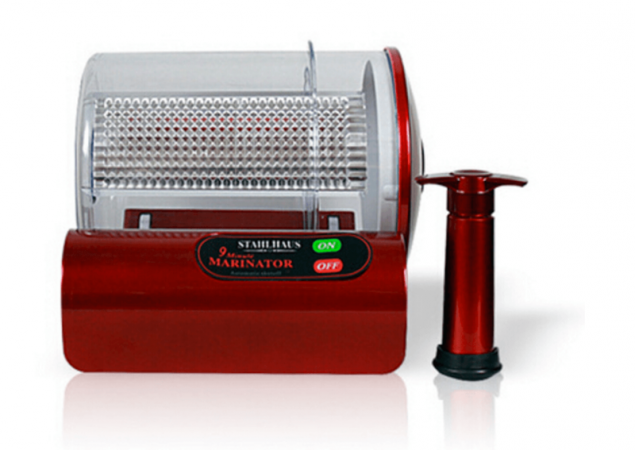 The principle of operation of such a device is simple: by being created inside the vacuum container, the fibers and pores in the products are revealed, and very quickly begin to soak up the marinade. The container while rotating, thereby constantly re-arranging products, promoting their mixing. The base I has an electric drive, so that the container rotates. The meat for the kebabs can be marinated for 2-4 cycle for 9 minutes. For vegetables will suffice and one such cycle.
Basically, she intended to feed a juicy kebab (and not only) group of 4 — 6 people. It is also ideal for preparing delicious dishes from mushrooms, vegetables, fish, poultry, beef, pork, will allow in the fastest time possible to cook Korean cuisine with the addition of carrots, tomatoes, zucchini, corn. For the impatient and not wanting to wait, I think that thing will become indispensable and useful in any way. By the way, thanks to its ability to create a vacuum, the device is ideal in order to make preparations for the winter.
Electric portable BBQ grill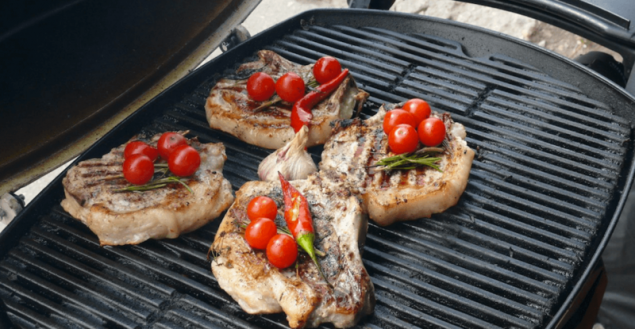 The summer season associated with grills. Whether it's a family outing or celebration, flavorful BBQ or fish on the grill will never place.
The barbecue lovers are now offered a huge selection of equipment and suggestions. Many prefer to grill, through which the cooking will be as comfortable and meals delicious. Now there are various types of this useful device and gas, coal, wood and electric grills, grill pans, stationary and portable grills, open and closed.
Electric to take anywhere to nature fail, but they perfectly cope with their tasks in the country or even a city apartment. Electric grills can be portable, table and large sizes. Most common are electric grills, which can be easily transported. The features and advantages of this electrical grill – the possibility of cooking and warming food at low temperatures. The grill is powered from an ordinary electrical outlet 220. Care is extremely simple as there is no open flame, soot. Heating element in high-quality models are self-cleaning.
Portable solar grill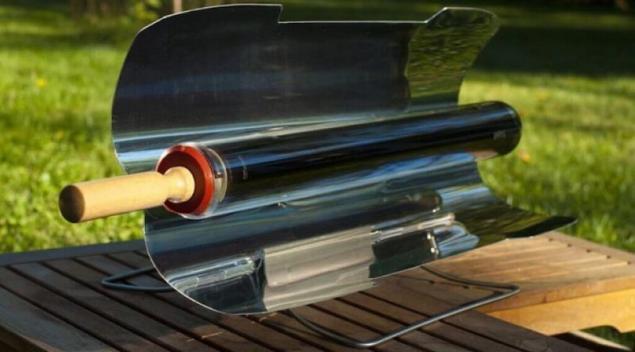 This amazing device uses only solar energy, allows you to cook virtually anything from meat to biscuits with the help of the sun, lighting fires, using propane, liquid fuel and other things. Such a device is absolutely safe, does not cause fires that can happen when using gas cylinders and bonfires. The food at this grill does not burn.
This device is simple, it is polished to a mirror surface of the curved reflectors that redirect sunlight to the surface for frying. In preparing it, the food is enclosed in a glass vacuum cylinder, allowing you to keep the humidity of the product and to insulate the heat within the system, at a time when the external side of the container during cooking remains cold. The temperature inside the cooking chamber can reach 200 degrees, even when the sunlight is absent.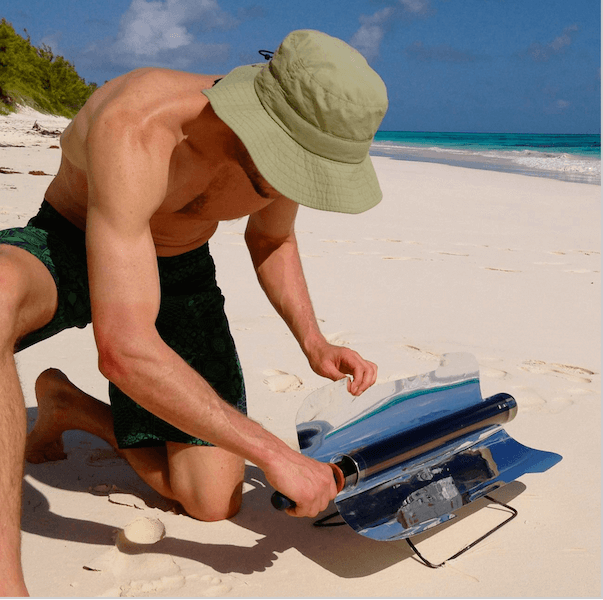 Solar portable grill specifically designed for travelers and for those who love picnics in nature.  
No pests and insects!
What can ruin a long awaited vacation in the country, where the closest thing to mother nature? The answer is simple — insects and other pests. But here technology will take care of our nerves, intact.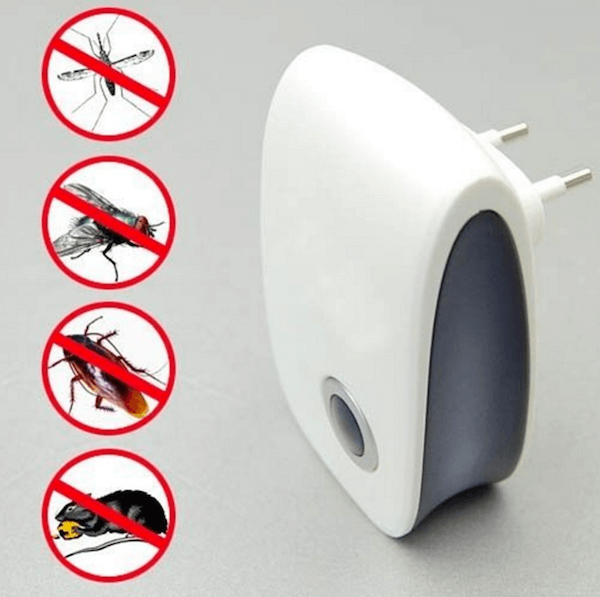 Electronic ultrasonic repeller "anti-pest", it applies to 20-50 meters from the place where it is installed. Environmentally friendly and completely harmless to humans and Pets device in the control of rodents and insects. As practice shows, this is a very effective way of dealing with animal pests in agriculture and households. Of course, you can resort to antiquated methods to get traps, traps. But this will not solve the unsanitary environment, and who will be a pleasant process of "liberation" from the mousetrap.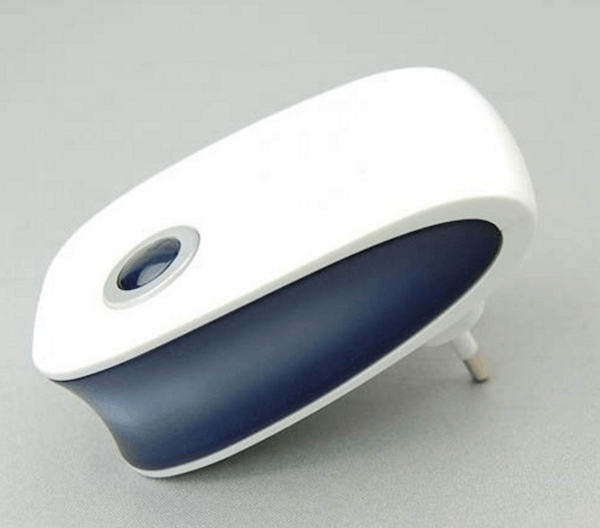 All you need to do if you decided to deal with rodents, using an ultrasonic repeller, just to put it in the approximate location of their habitat and include. The device can operate for several weeks.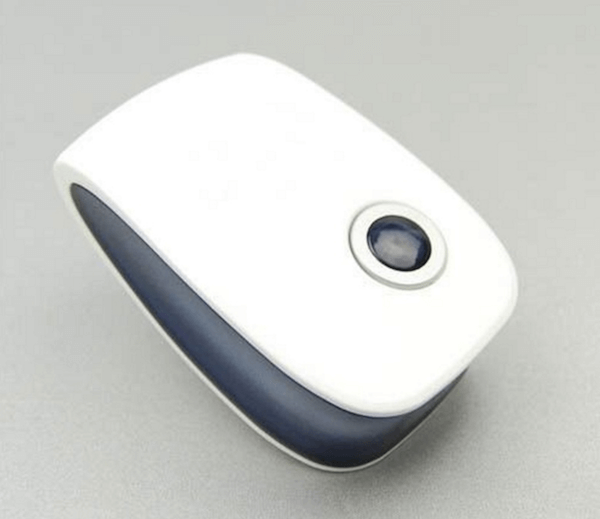 Scarers tuned to a special frequency ultrasound only audible to rodents, insects; pests are unable to breed and eat when the apparatus is switched on, so just leave this place.
Ultrasonic solar pest repeller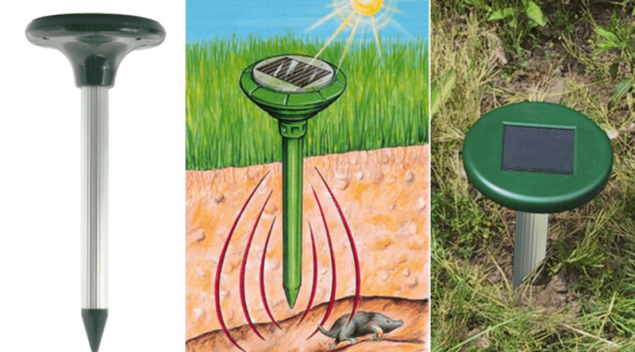 This machine is a multifunction protection against earth pests on solar panels. Repeller protects your garden plot, vegetable garden, lawn and flower beds on an area of 8 acres. Such devices are environmentally friendly, do not affect the environment, on plants, and only affects the pests. Energy consumption is very small due to the intermittent operation. Repeller recharged by the sun. For this you need to put the device under direct sunlight for at least 48 hours.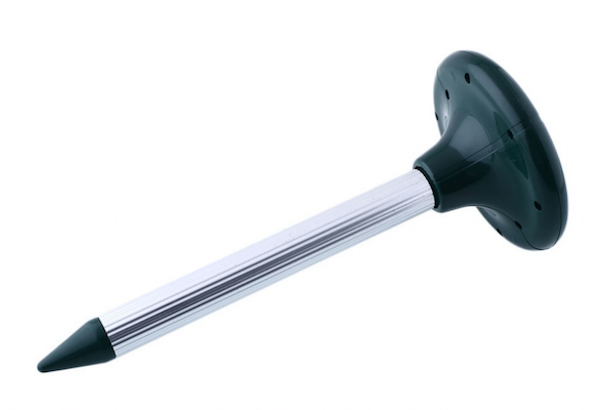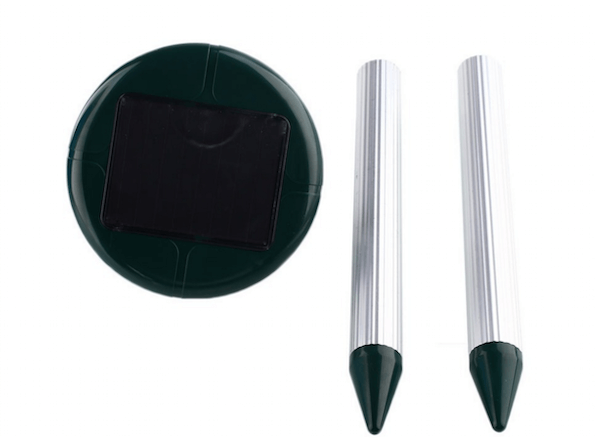 Ultrasonic solar animal repeller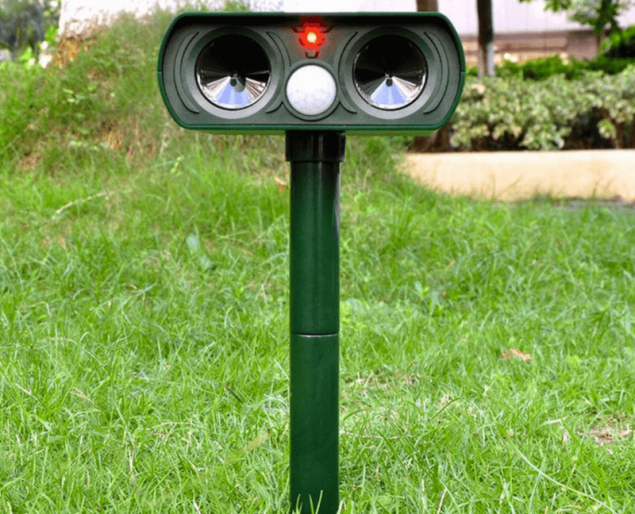 The ultrasonic repeller dogs and other animals, will protect the territory in which it is installed, from cats, dogs, wolves, foxes, pigeons etc, etc.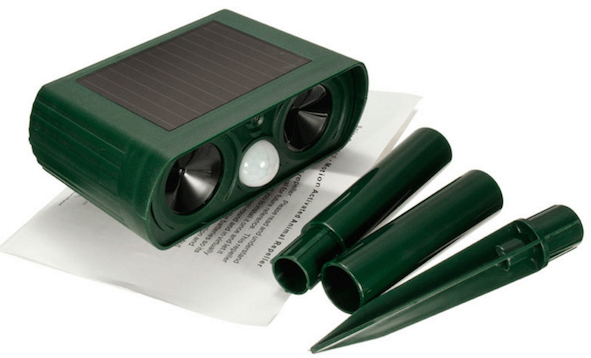 Charging the battery comes from solar panels, due to the presence of an infrared motion sensor, the ultrasound is activated only at the appearance of movement in a secure zone, which saves energy consumption from the batteries. The sensor sensitivity can be adjusted, which allows you to choose a threshold of the ultrasound specifically for small animals and large.
A Scarecrow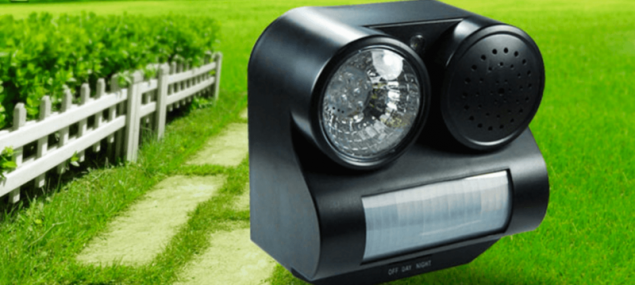 The device uses 2 modes: constantly changing ultrasound and flashing led. Built-in infrared motion sensor reacts to the approach of the birds, the coverage area of 50-100 m2.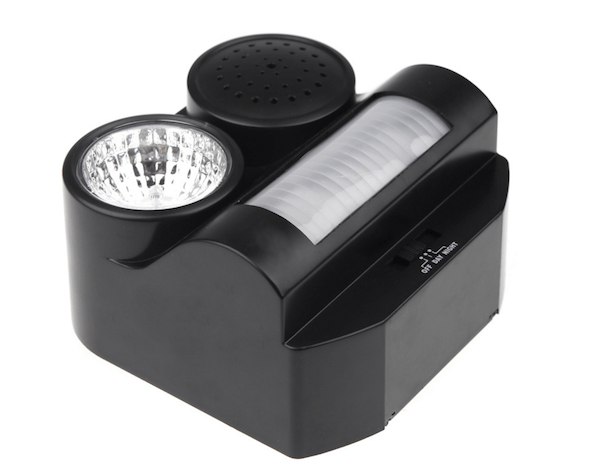 Lawn the envy of the neighborRobot mower
An excellent result without any extra effort. This waterproof robot mower* 4 generation on the remote control will take care of your lawn. Such devices are equipped with various sensors: tilt sensor, lift sensor, rain sensor, pressure sensor, touch sensor.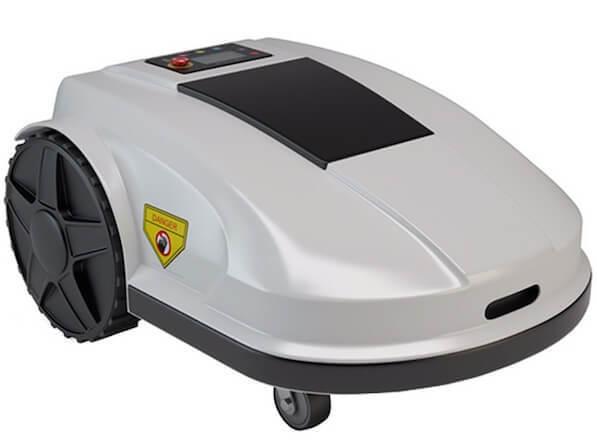 There is a clever robotic lawn mowers, so to speak, with extended functionality.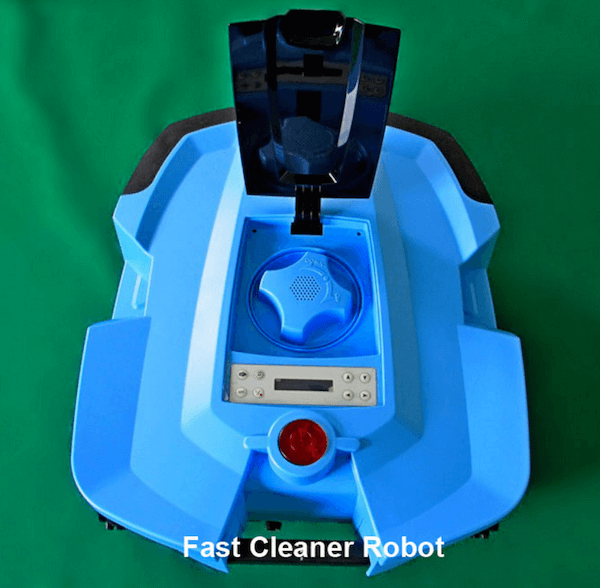 Compared to traditional mowers, they are not as noisy, there is a braking function, set the time, LCD display, automatic charging and many other "buns".  
Something else that might be useful to vacationers in the countryManual heater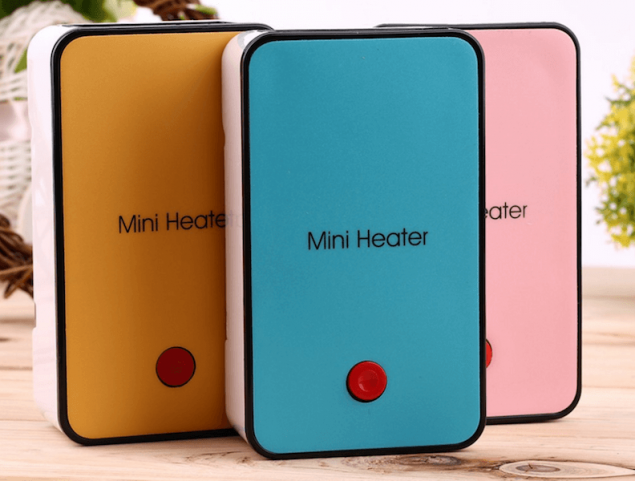 Has not yet reached a truly warm summer evenings, and the hands get cold, specially was developed is such an interesting thing as a portable mini-heater running on battery.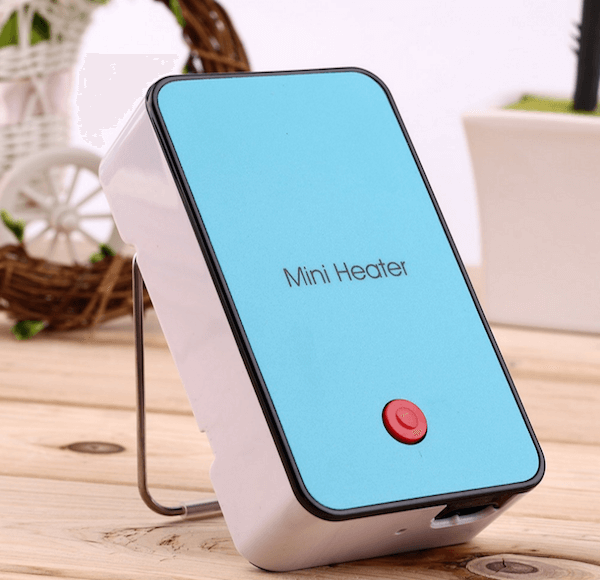 Manual heater is considered the most extraordinary invention at the moment, and most importantly — a real Savior and not only in the freezing cold.
Portable solar panel (waterproof)
Portable solar battery in contact with them to sunlight generate electricity.
The solar charger consists of solar battery, storage battery, inverter and charge controller. Despite the versatility of solar charging working principle is quite simple: a solar panel falling on it catching the sun's rays, converts them into electrical charge which is stored in the battery. They are waterproof, shockproof, stylish and compact.
Technically advanced solar panels ensure superb power and reliable performance. Modern portable systems are suitable for many devices: phone, tablet, laptop, camcorder, camera, GPS. It's like alternative energy, which allows you to always stay connected.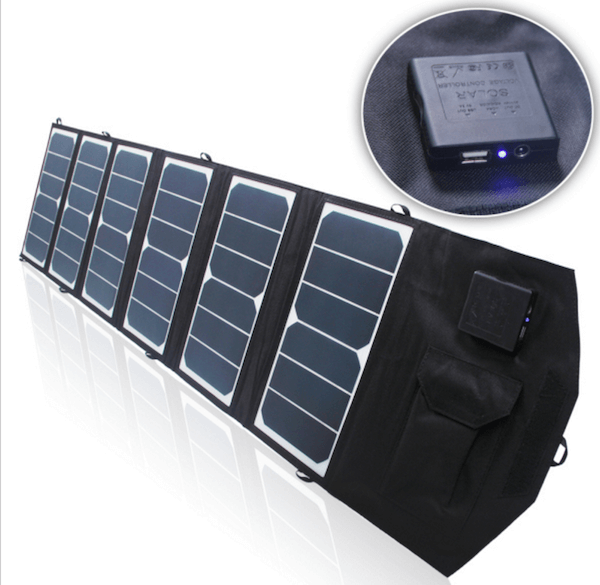 Solar panels are of two types: with internal battery and without internal battery. Solar charging with built-in battery for charge mobile portable devices (phones, tablets, laptops). Modern portable charger used Li-ion and Li-pol batteries, they are able to hold a charge.    
P. S. And remember, only by changing their consumption — together we change the world! ©
Join us in Facebook , Vkontakte, Odnoklassniki
Source: geektimes.ru/company/dronk/blog/276224/