1. Think about the style of travel.
To make it easier to decide, answer for yourself these questions:
Are you ready to organize everything yourself, or trust the Agency?
Whether you need car maintenance?
Go lightly from hotel to hotel, or take camping gear?
What attracts you the most: wildlife or of the beautiful city, the sea or the mountains?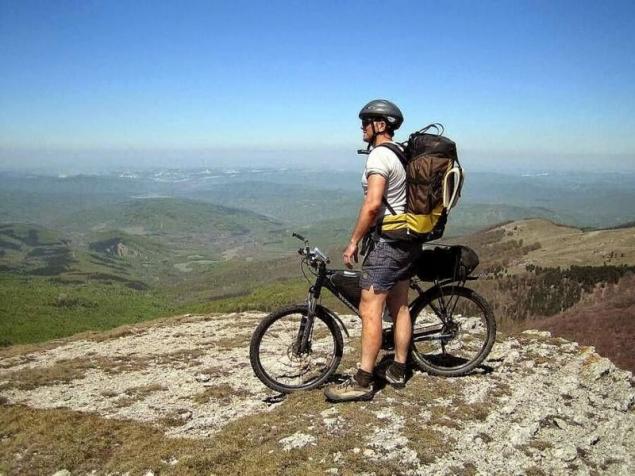 2. Check out the weather.
The best way to learn what to expect to see graphs of temperature and precipitation that exist in Wikipedia in English. Don't forget about wind: Mistral, catching you in the spring in Provence, you'll spoil the whole trip.  
3. Take a pump and repair kit chambers.
To seal the blown out wheel in 15 minutes, don't forget to practice at home before leaving. In serious Cycling take the tools and spare parts on all occasions.  
4. Select quality clothing.
Sports clothing made of modern synthetic fabric breathes well, wicks away moisture and dries quickly. Don't forget the sun hat, and about the jacket and pants of waterproof membrane or fabric from rain and wind.  
5. Prepare for the transportation of a Bicycle.
The easiest thing is to rent a bike on site. And if you are going to go on his own, before the plane, train or bus it need to pack.
6. Don't forget about navigation.
To navigate the terrain will help GPS Navigator or smartphone GPS app like MAPS.ME or OruxMaps. Verify that installed cards are working without the Internet. View our selection of useful apps for travelers.  
Also interesting: Created the weirdest bike Biking is the best recovery from a heart attack
7. Relax.
Just start with the route that you can afford, and tune in for a great adventure.  
P. S. And remember, only by changing their consumption — together we change the world! ©
Source: www.skyscanner.ru/news/10-otlichnykh-marshrutov-dlia-puteshestviia-na-velosipede