Do not have considerable knowledge in electrical engineering, as well as any knowledge about bikes and biking trips, I asked my friend:
- What if we assemble bikes with an electric motor and a ride on the Ukraine?
And a few days later I took the next train ticket to Kiev, where I was waiting for a man versed in this type of equipment and able to help me collect the appropriate bike for the trip. We would like to collect special electric bike to travel and to prove that such travel is possible. Here's what came of it.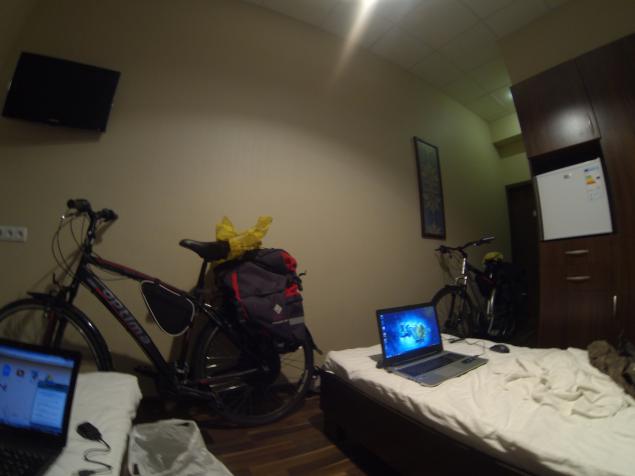 Carefully, mnogobukv.
From Kiev, we just going to go to Melitopol for several reasons:
- Mileage and route seemed to us quite impressive for the first time (& gt; 650 km)
- Also at the moment we have been developing a startup
Human Links
, and most of his team lives there, so I decided to move to this glorious City, arriving there on electric bikes.
I'm going to go with a friend, but last week he is hopelessly lost communication with and I decided to go alone. When the ticket has been purchased, the hotel booked and scheduled a meeting in Kiev - one on the phone again. By the time I turned booked a room with two beds (so as to share it cost as single) and of course I shared the information that I have paid for a week double room, so that he can just to come to Kiev and make me company while I'm getting ready for the trip.
He agreed to unwind, but I think we both knew that the train from Kiev, no one will leave ...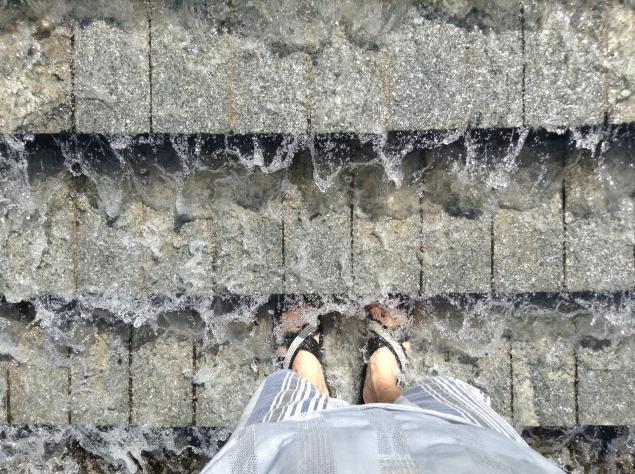 Chapter 1. H4>
Fees:
Everything was not so simple. First, we wanted to buy quality roadster and hang on their equipment, climbed all shops and decent prices on cell phones exceeded our financial desires and equipment the cost of a bicycle came out about $ 2000 (60 000r), and this without the necessary equipment, which eventually came too in "a lot of money."
(Looking ahead to say that in the end for all the equipment we spent ~ 140 TR, the truth is including GoPro and a new laptop).

A week later we gave up and decided to take the easiest bikes and leave as soon as possible. Our new friend, specialist in electric bicycles , said that he has the appropriate option and the next day he would be able to get one more of the same. With the equipment turned out pad and had to order a little different engines, one for 500W 48v, on the other 1000W 48v. Speed ​​and battery consumption, they almost did not differ in theory, but at the request of 1000W was supposed to be a high-torque the hill.




Our expectations were violated when we received a call and was told that there is a second bike, or rather their not at all, and probably none at all removed from production. After a long search, we bought another great in Kharkiv and the next day he was in Kiev (Ukraine mail pleasantly surprised), but further problems started, first we waited for 2 days since the weekend, and on Monday we were told that led not got in the car, so that will deliver the next day. We disagreed and insisted to take large warehouse. Next, find out address of the warehouse and went to look for our big. I must say that in stock, we are not particularly happy, warned that they could not find our led, but still found and brought us a rectangular box, where there were parts of the bike.

Tearing open the packaging hands, teeth and Allen we started to collect the bike. Designer be affordable even to us, so that in 10 minutes went great, no rear brakes, but went. Pasha (the one from Minsk) volunteered to remember the map of Kiev and the memory to come back to where our friend will help with the installation of electrical equipment, but in the way and eventually lost hour and a half back to the same place where he began his career. Having strayed a little more, he still reached the place late at night and gave the bike. Had only to wait for the installation.




The Journey Begins. Then came the day X:
Pick up the bikes and overtake the hotel on the outskirts of the city.
The task was extremely simple. Pick up and overtake. Driving should be of the order of 10-15 km, but we had only a paper map, and it was getting dark very quickly. We sat on our "stories" and happily drove home. Only here with joy forgot to take charge of the batteries, so we had to go back and move out to the new one. To return a bad omen? Yes, it's all nonsense ... yeah ...

What happened next can be called differently, but overall it was a euphoria that engulfed us and led to believe in yourself and your "bike" at 100% and it seemed that it can be anything you want and how you want.
It started to rain. Dark.
We raced through the unfamiliar avenues, overtaking all pedestrians - on pedestrian crossings, cyclists - on cycle lanes, car - on the roads. Rain intensified, the road was wet. Despite the weather - it was indescribably until something happened, what might be called the antics of a guardian angel.




Steep descent, the high-speed, sharp turn, a steady stream of cars and then I realize that my highway tires and the wet asphalt will never be able to catch a decent grip, and ahead of a sharp turn ... I press the brake and ... nothing happens ... the bike does not fly reducing the speed ... a moment later I see in front of a huge pit (or hatch?) and a self-get right into it.

Front wheel miraculously flies and jumps her, but gets back so that the blow throws me on the sidelines.

By some miracle I'm still on the bike, but he completely refused to go ... like a hammer something blocked the scrolling wheel and the rest paid off after hitting speed.

It is likely that all it saved my life, but I did not think about it and therefore was upset that I had a wheel with a figure eight that some needles fall off and spun around the other spokes.

Moving away from the shock, I thought my friend Pasha has gone off very well and I did not catch. After removing the rear brakes and arranging repairs feet, I made sure that the wheel is as cool - I went for a turn and was surprised to see that Paschke 100 meters from my picks with my bike, which is also in an unnatural state.

A little later, I learned that in the second turn still fit was quite real, so Pasha caught bump while miraculously escaped with a couple of scratches and wheel tied in a knot.

It should be noted that we were able to bring our horses to a working state (so far as possible) and still made it to the hotel.



But went to the hotel is not without problems. Pashkin elektrovel unexpectedly wound up and smashed a huge pot in the lobby, very upset than the hotel manager, who had just persuaded to put us in a room with bicycles.

After paying for the damage we had gone to bed and think about the lessons of the day.

The conclusions of the first day:
What can I say, all this was a good lesson for us all journey, the throttle at full now, we squeezed in a straight line and on dry pavement, but at that time there were washed that we are not ready for the journey of this level and the level of danger We clearly underestimated. We stayed for one more day in Kiev, replaced the steering wheel and the wheel on our bikes, and ahead was still 10 days of adventure and 700 km journey through uncharted roads.

Our itinerary:


Kiev - Borispol - Pereyaslav-Khmelnitsky - Sofievka - Zolotonosha - Cherkasy - Chyhyryn - Svitlovodsk - Budapest - Verhnedneprovsk - Aula - Dnepropetrovsk - Upper Khortytsya - Zaporozhye - Vasilevka - Melitopol

Our bikes:
Pashin:
Frame: Aluminum Optima
Wheels: Road 28 inches
Drive Wheel: 48V 1000W
Battery: 48V 20ach

My:
Frame: aluminum Ardis
Wheels: Hybrid 28 inches
Drive Wheel: 48V 500W
Battery: 48V 20ach

Technical features:
- Charging the battery on 20Ach lasts about 8-10 hours.
- Weight bike with things turned about 30-35 kg
- Cruising on 1 charge of 70-80 km



* All equipment Chinese


Chapter 2. H4>
We rode bicycles ready, telephone Navigator shows the direction the batteries show a full charge. It has come to pass, we go, we really going on electric bicycles and in front of hundreds of kilometers of roads. Euphoria gone, but there is already a very necessary experience and we neatly kradёmsya first 80 km for the first spending the night before the first charge our batteries ...



Details of Travel:
To save your time going to quote posts that we wrote while traveling to the forum. And in the comments tell us more, if it will be interesting. B>




Day 1: Kiev - Pereyaslav-Khmelnitsky h5>
Finally made it to the first point of our route - the city-museum Pereyaslav-Khmelnitsky.
We drove about 70-80 km. Average speed - 20km / h.

During the journey on a bicycle changed / pasted chamber 5 times, and maybe 10. Tomorrow will need to find a new tire and purchase new cameras.



Weather we tested it rain, the pleasant sunshine. Once again regretted that have not paid enough attention to the search for raincoats.

The road at one point turned into a fairly narrow space, so go all the time on the asphalt did not, which is a pity. The asphalt is a pleasure to ride.



In the city center have found a nice cheap hotel and nearby cafe with more than affordable prices. For 50 hryvnia (200r), we ate first, second and kvass. Everything was very tasty


Day 2: Pereyaslavl-Khmelnitsky - Cherkasy h5>
Today drove 90 miles out of 100 without any problems. And then the fun began. To begin with I broke the camera, good miracle bought last city that you need for the other led, although this thought that we all have



Further, for long journeys across the Dnieper, at one point something happened that I did not expect - fell off the trunk, of course, along with a backpack and of course the battery cables to the controller, which hung on the frame - collapsed. Accordingly, the engine until I lost and until the problem is not exactly identified.

When I saw the city of Cherkassy and was going to move to the last bridge - was suddenly stopped by a man with a form and with an AK47 on the shoulder. It turned out that cycling and walking to cross to the other side it is impossible, because there they have a "strategically important object," and I have to wait for 22.00, while some will go to train or something like that.
Encounter with the border guards before it happened so easily, I agreed to trespass and a convoy of 40 hryvnia to the end of the bridge. Little man in my convoy was sociable and we had nice chat about life

Pasha, at the same time, managed to miraculously get through all convoys and travel by road. I believe that people with guns on the towers were a bit shocked.

Next, got to the hotel "Ukraine", where settled in a cozy two-story room.

Photos and videos will be, but there is absolutely no strength to do it. Tomorrow is another repair with an unknown outcome. I have to deal with Electrical equipment and tie trunk is normal, and Pasha lacks some of the spokes on the wheel drive.




Day 3: h5>
Blyuyuschih ... smile ...


Day 4: Cherkasy - Kremenchug h5>
Yesterday something poisoned and so is night was not the most pleasant, but seems to be more or less already oklemalsya, so we leave on.
Today we need to master 130 km to the glorious city of Kremenchug.

... 12 hours later ...

Got to Kremenchug, 85-90 miles I finally got the battery (the problem is not yet revealed), so 40-45km had to cut under its own power. How come the master himself does not understand, it seems it is a personal best, but when you consider that night I could hardly move a number from the poisoning, the more miracle.



Well, in Kremenchug we already met the guys from the forum, so did not have to look for accommodation late in the evening. I thank them for that individual. And yet many thanks for your help in solving the problem with Cash, really helped out.

Lyrics:
But such a lovely creature ran across the road on the way to Kremenchug



Day 5: Kremenchug - Dnepropetrovsk h5>
Today osilivaem 160km to Dnepropetrovsk, more than 100 have already behind. Who is reinforced further in the way.



... Night we got ...

The longest jump in our trip passed, about 160 km, which means we got to Dnepropetrovsk.



At the start of stretch for 4 km and then I had a first puncture, as flows like instrument was then Paschke had to get back to me, but he did not get 2 km and also caught a nail, so we had to walk to each other. Besides morality - better to go next.

Next, everything was fine, drove 155 kilometers, has waded through Dnepropetrovsk, when the fun began. I struck the wheel, and before that we have lost the pump and there was not a live camera. It was decided to walk to the hotel. Pasha decided to go ahead, leaving me peshehodnichat, but got lost along the way, too, struck the wheel and as a result more and later I got to the hotel. Today dnyuem in Dnepropetrovsk, we study the resulting damage and chinimsya.


Day 6: h5>
Dnёvka in Dnepropetrovsk. Rest after the biggest transition in the itinerary. At the same time saving the insect.




Day 7: Dnepropetrovsk - Zaporozhye h5>
Reached Zaporozhye. Nice town full of life.

Today drove 80 km on the way there was only one puncture, I, on the outskirts of Dnepropetrovsk. So all in all made it without any problems. The last 50 km went to full throttle and with all the weight of the order issued Vela 30-32km / h.



Ahead of Melitopol. Forces at the end.


Day 8: Zaporozhye - Melitopol h5>


So, the last 130 kilometers behind the last day was relatively quiet, only one puncture, another explosion and a new camera, but the last kilometers were the most difficult, probably - the psychological moment, so that the sign "Melitopol" greeted with smiles on their faces. < br />


It is worth noting that my trunk, unable to withstand strong lateral forces from coffers, still broke, or rather the side axle broke and hung in the free mode, but due to the fact that the motor-wheel stood behind and did not give dumps piece of iron to get into the spokes - with this breakdown happened to get to the end.


Chapter 3. Conclusions: h4>
Pashin:


Frame: Aluminum Optima
Wheels: Road 28 inches
Drive Wheel: 48V 1000W
Battery: Li Ion 48V20Ah

My:


Frame: aluminum Ardis
Wheels: Hybrid 28 inches
Drive Wheel: 48V 500W
Battery: Li Ion 48V20Ah

Declared technical features:
- Charging the battery on 20Ach lasts about 8-10 hours.
- Cruising on 1 charge of 70-80 km

Further, in order:
The aluminum frame - the right choice in terms of weight, but aluminum is partially stёrsya drive motor (or star) than all the new complicated repair work given that the rear wheels were bolted and we often had them removed or inserted . However, on more expensive frames this problem should not occur. But, in any case, losing weight - it's good.

28 inch wheels and drive
In our journey, we obviously did not consider the load on the rear wheel, so to teach me (and glue) camera as a team of Formula 1. The first day we are well practiced Flank bike, and then set the camera as I was and everything much nicer. I think that you can put even more "evil" the camera and it will withstand any load.

Electric Drive
The cost difference between the battery 500W and 1000W, we have not noticed. When fully charged, and a constant pedaling at a speed of 20km / h using a traction battery enough for 130 km. If you do not pedal - 70-80 km (in theory. Because in practice we have not tried to go only on the drive).

It became obvious that for reasons of load on the bike competently deliver front-wheel drive. But they say that there is a risk that the wheel will pull the plug. This we could not verify.

In hill 1000W drags really faster, but also consumes energy faster. But you can go as slow as 500 ka and then consumption will be equal. Obviously, the power reserve - is good.

Battery
20ach expensive, we paid for each 18000r, but he honestly fulfilled his obligation, let alone make the transition to 160 km without it we would not have been able to. The truth is obvious that we overpaid because they took already delivered, in China can take much cheaper.

Charging, as expected, required 8-10 hours time. Maybe a little less, because when we woke up, they were charged. In our case, everything was complicated by the fact that even in Kiev night Pasha managed to touch the wire and break the plug, so that in every hotel he unscrew the plug any device (lamp, hair dryer, horodilnik ...), and casts it in his charge, and screwed plug back in the morning. And so we went all the way.

Speed:


p.s.