INGREDIENTS:
large tomatoes - 6 pcs
. sprigs of basil - 2 pcs
. ready puff pastry - 500 g
fat sour cream - 200 g
pomidry Cherry (can be yellow) - 225 g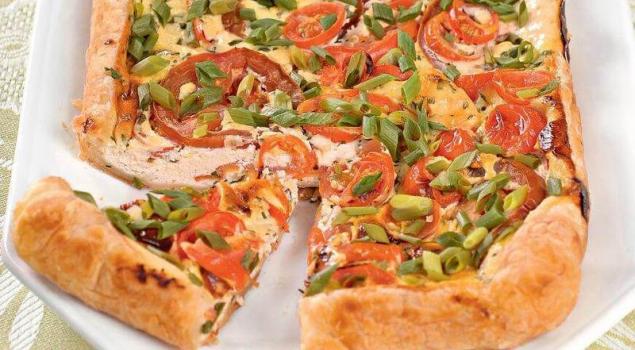 crushed garlic - 2 cloves
bunch of green onions - 1 pc
. Egg - 2 pcs
. salt - to taste
COOKING RECIPE:
1. Wash basil, garlic clean. Basil disassembled into leaves and chop them finely, chop garlic with a knife. Add basil and garlic in a mortar and pestle and mash into a homogeneous mass. Whisk to whip the cream with the eggs, add a paste of basil and garlic. Season with salt and pepper and mix well.
2. Tomatoes Wash and cut into circles of about 4 mm thick.
3. Roll out the dough into a large rectangle. Put it in a greased rectangular baking dish about the size of 25x35 cm so as to cover the bottom and sides. Excess dough is cut. Make on the surface of the dough with a fork frequent punctures.
4. Pour in the form of egg-sour cream mixture.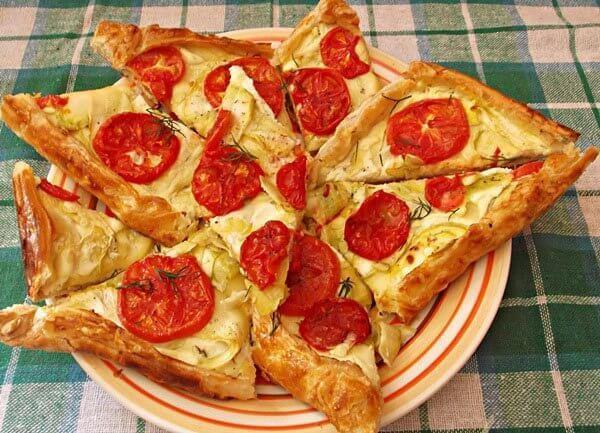 5. On top of decomposed randomly chopped tomatoes, season with salt and pepper. Put in a preheated 200 ° C oven for 20 minutes.
6. Green onions washed and cut into thin rings. Sprinkle hot onion tart and allow to cool.