The fate of Faina Ranevskaya there was not very good: the personal life does not go well, did not give a significant role ... It remained to joke, and she did it so wonderful to have stayed forever in our hearts as a cheeful, slightly cynical, and endlessly wonderful, kind and wise woman. < Website tells tales of Faina Ranevskaya.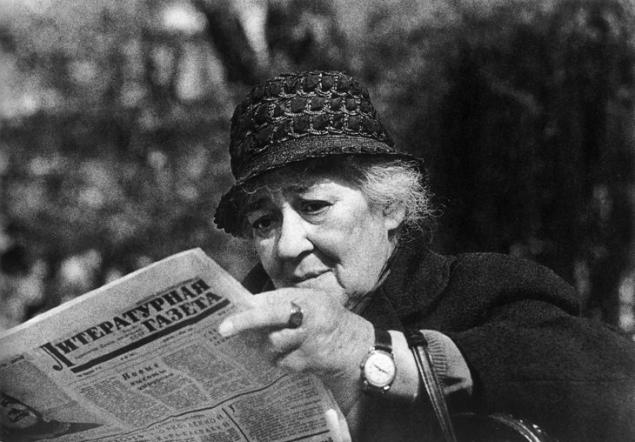 1news.azV 1976 still quite sprightly Brezhnev, handing nationwide actress Order of Lenin on the occasion of the anniversary of the round, I could not resist a joke:
- And here comes our "Not nervous about me, Mulia»
! - Leonid Brezhnev, - having admitted in his voice grumpy Bok notes, indignant Ranevskaya - so I called the boys or hooligans
! The Secretary-General looked down shyly:
- But I love you so much ...
***
- Each of us has its own Mulia - comforted her Akhmatova
. - And what you Mulia? - I asked Faina
. - Clasped his hands under the dark veil, - grinned Akhmatova
. During the war, both were evacuated to Tashkent, and there they became friends. Ranevskaya long nursed a poet with the notebooks, writing wise thoughts and fragments of future poems. And at one point mistakenly melted them oven-burzhujku.
- Madame, you 11 years and will never be 12 - a long time laughing Akhmatova
. Ranevskaya was 46, Akhmatova - 53.
***
She loved the whole country and even leaders, successive at the helm. Younger daughter Haimovich Hirsch Feldman, owner of "factories, newspapers, steamships" thrice awarded the Stalin Prize and personally myself, puffing on a straw, once remarked:
- Here Zharov in a different makeup and different roles - is the same everywhere, and Ranevskaya without make-up, but all different
. In the early '50s Faina even moved into a separate apartment on the Tinkers. Directly under the window was her entrance to the movie theater and bakery.
- I live on bread and circuses - smiling Honored Artist of the RSFSR
. ***
In her life there was almost no major role and not happened novels.
- All those who love me, I do not like. And she loved me - did not like me - recognized Ranevskaya. - My appearance deprived me of his personal life
! The only major film role Faina G. played in the movie "Dream", which hit the prime minister at the beginning of the war, when it was not up to the movie.
Amazingly, this particular tape looked Frank Delano Roosevelt concluded:
- One of the best films made in the world. Faina Ranevskaya - brilliant tragic actress
. ***
But saddest images was a little: an ironic and sarcastic Faina invited mostly on comic scenes enliven the screen space. But even a tiny role she chose:
- Removing a bad movie would be like spitting into eternity, - he loved to repeat actress - Money eaten, and shame will
. In 86 years, "the charter simulate health", Ranevskaya left the theater: the era of the great theater particle elderly residents lost illusions on the Soviet stage. For 50 years she played on it all 17 roles. Their duet with Plyatt, not very strong in the play "Next-silence" was inimitable. It is in Neu October 24, 1982 Faina last reached the bows. Farewell was quiet, without banquets and praises. Not to recall tragicomic:
- People like candles, are divided into two types: one - for light and heat, while others - in the f ** y ...
via historyporn.dirty.ru/liudi-kak-svechi-faina-ranevskaia-proby-na-rol-machekhi-v-zolushke-1947-god-sssr-1132288/