Maybe you will be interested in this story that I recently read in a book
Personally I enjoyed)
"Unbreakable Faina
Gribanov, by virtue of their employment and other circumstances, to meet with Ranevskaya sent the young opera by the name of Korshunov, who was the soul of the only primary education and two years of job training in the turner at the factory "Red October". In general, we are because of their poverty -nehvatki knowledgeable staff-released dropout for refined intellectuals, People's Artist of the USSR.
It was supposed to be instant recruitment in the forehead.
Guess it turned out, Gribanov and possessed Ranevskaya!
Why is that? Yes, because in that situation it was not only a brilliant stage actress, but also the greatest actress in life, pushed around nedotёpu Korshunova as a boy. In short, the beast, not a woman!
Korshunov started recruiting conversation, as it was taken from a distance.
And the class struggle on the international scene, and the machinations of foreign intelligence services in the territory of the Soviet Union, told Ranevskaya.
Quoted a couple of paragraphs of the new Programme of the CPSU Khrushchev, particularly pressed that the current generation of Soviet people will live under communism. But! The trouble is that cursed hirelings of imperialism in the guise of foreign secret services are trying to substitute the bandwagon of our people, by leaps and bounds moving towards a bright future of all mankind - communism.
Casually reminded also the duty of every Soviet citizen, regardless of their professional affiliations and gender, to provide all possible assistance to the state of security in their military work for the protection of the achievements of socialism ...
In short, Korshunov lodged themselves in the worst possible light - acted as a lecturer country club rather than a recruiter. And just a great actress guess what tends to her counterparts, but did not let on.
Squealing in the artistic environment has always been, even under the tsars, is very common. All elite, openly, discussed it. And it was the talk of the town. And around Faina ... There, in general, the agent on the agent and the agent sat drove! She did not know whether it was that all of her fellow artists have long been recruited, recruited by so Korshunov is believed that he was playing a game with the hole cards, with senior trumps on hands. For all his attempts Ranevskaya was an open secret ...
I believe that listening to the impassioned monologue Korshunova, Ranevskaya pretend to like her more elegant escape from the proposal, which, of course, to be followed at the end of a fiery speech of the tribune of the KGB ...
At first, she conducted a dagger reconnaissance. She asked:
"Young man, and where you were before, when I have not had time to exchange the sixth decade?»
"What are you, that you, Faina! - Cried, alarmed, Korshunov, which showed that the ship away from the dock right on his glazah. you more than thirty-one does not, believe me ... You - a girl compared to other actresses of your theater! »
Korshunov, anticipating a resounding triumph after the performance of the overture, did not even notice that blunder, calling Ranevskaya girl ...
Well, you can imagine fellow students, how can such nonsense in my eyes ... Call grandmother said the girl famous actress who he old enough age in the mother, it - top faux pas!
A Faina - nothing. Girl I'm for you, well, that means a girl. So be it! Women, after all, so many years, how much she looks like ...
She lights another "belomorinu" so cleverly narrows his eyes and at the same time quietly says:
"I am with you, young man, everything is clear ... As, however, and with me too ... Without further ado, I declare: I've been waiting for this moment, when the authorities will appreciate my dignity and offered to cooperate! I personally have long been ready for this. Y-yes ... expose the machinations of the hated imperialist Polliwog ... I can say that it is - my childhood dream. But ... There is one little "but»!
Firstly, I live in a communal apartment, and secondly, more importantly, I talk loudly in his sleep. So let's colleague, and in another I do, young man, and I can not imagine ever since we met. Yes, you - my colleague! So, let's get together, like the KGB, ponder ...
Imagine you give me a secret mission, and I, being the person required and responsible, day and night to ponder how best to carry it out, and thought processes, as you certainly know from psychology, head of intellectuals occur constantly - day and night … And suddenly! And then at night, in his sleep, I start with myself to discuss ways to do your job. Call first and last names, nicknames objects turnout, passwords, meetings and so on ... And all around my neighbors who persistently following me now that the year end. They're under my door around the clock, as the watchdogs are to hear what and with whom there is Ranevskaya speaks by phone! So what? I, instead, to bring its assistance on the altar of security, I commend you! I give the game away, because it speaks loudly in his sleep ... No, no, I netya just scream about everything that I have in my head ...
I am telling you in advance about their shortcomings, and honestly ... After all between us, his colleagues, should not be left unsaid, what do you think? »
"Of course, Faina ...»
"You misunderstand me. I want our future with you developed cooperation based on mutual trust and sincerity, or am I mistaken? If I'm wrong - correct me, saved me from making a fatal mistake in the future! I would say - from inadvertent betrayal ... But what if my parents gave me a vice - speak loudly in his sleep? I already addressed to doctors, to the luminaries of medicine - all empty, can do nothing about ... No sleeping pills and tranquilizers do not help ... Maybe you, Comrade Korshman sorry, Comrade Korshunov ... there are some spetspreparaty not to blurt out secrets ... in a dream? »
Passionate and scenically adjusted monologue Ranevskaya shaken Korshunova. With the appearance he had gone completely crushed and broken iron arguments female candidates for recruitment.
Reporting back on the recruiting conversation held Gribanov, he concluded the report said:
"Baba agreed to work for us, I instinctively feel, Oleg! But ... There are objective difficulties, especially its lead in the night physiology ... »
"What more features? - Asked Gribanov.-wets the bed or something? »
"No no! Loud talking in his sleep ... And then, Oleg somehow undignified work ... It's no good after all, our renowned actress take a room in a communal apartment ... I believe that in order to attract Ranevskaya to the secret cooperation and effectively use it in our interests, it is necessary to allocate a separate apartment ... I have - everything! »
"Well, think about it ..." - replied vaguely Gribanov, but a month later Ranevskaya celebrated housewarming skyscraper on Tinkers embankment.
And then again Korshunov went on the attack, began ringing the Moscow City Council theater where Ranevskaya worked to, then meet her and formally legalize the subscription held recruitment selection on voluntary cooperation, confidentiality, etc. Well, in general, to comply with all formalities.
However, each time it became clear that the Faina can not meet him either because of their employment or health status - that she is preparing for the premiere, then her spleen, the runny nose.
When at last the telephone he heard her cooing voice very confided to him as a colleague and friend of the struggle that was carrying began some "critical days" and so she requested again to move a date, he was furious and in the hearts tossed her that the next day will come to her home, a new independent apartment for the final calculation. I did not know the young lieutenant with the primary school, with someone he pushed his fate, and a seasoned web beast turned out to cajole them to "a candidate for recruitment»!
... The next Korshunova after talking with Ranevskaya day, early in the morning, in the waiting room of the KGB under the Council of Ministers of the USSR there was a man with a haggard mug indeterminate age - from fifteen to eighty-five and asked to take a statement from him.
He insists that it is necessarily recorded, because as a matter of extreme national importance ...
The collective statement residents of high-rise on Kotelnicheskaya quay, where a month lived Ranevskaya an hour lying on the table Gribanova because it was addressed to.
In his address tenants (only ten signatures), who lived above the apartment Ranevskaya, asked security organs to deal with some actress (name Ranevskaya in the statement was not specified), which all night yelling about the intrigues of imperialist intelligence services. It discusses how to cut the hated foe, and some gruel she would show them, as soon will be sho in state security organs freelancer.
An hour later, Korshunov stood at "attention" in the general's office. Gribanov gave him a statement saying:
"Faina put on the cross, look for someone else ... to remain silent in the dream. All! Single! »
After some time of Korshunov agents surrounding Ranevskaya in the Theater. Moscow City Council, learned the details of the creation of the notorious "collective statement».
Actress two bottles of vodka seduced by this action of sanitary housing office, of the applicant with his haggard face. In general, our train proceeded on without Ranevskaya ...
- A flat, Comrade Major-General? - Chorused the students.
- Apartment left Ranevskaya! As the actress said to paraphrase his own aphorism about the attitude of the patient and the medicine: "If the celebrated actress really wants to live in a luxury home, the KGB is powerless!»
Subsequently, the Faina, inviting fellow among them were many of our agents who are working on it and that it was not a secret, a cup of tea in her new apartment on the waterfront Tinkers, remembered for a long time communication with Korshunov. As if to justify his devilishly sophisticated trick of "collective statement" always repeated:
"Girls, you have to understand me. I refused gebe only for one reason. Give a lot of bodies, I can not, but little conscience does not allow me - damn upbringing! »
But after this it Fortelle Oleg and decided to immediately replace Faina ...
Thank God, not skudeet Russian land beautiful smart women! Found! Larissa (Laura) Kronberg-Sobolewski, divorced actress who would play in his life to start, and in the life of the French ambassador - a fatal role.
And she sang it brilliantly. What has been awarded General Gribanov luxury Swiss watches made of gold and diamonds. And yours truly - Kozlov finger poked himself in the chest, - received the Order of the Red Star! »
©
The book is called "the KGB. The last argument »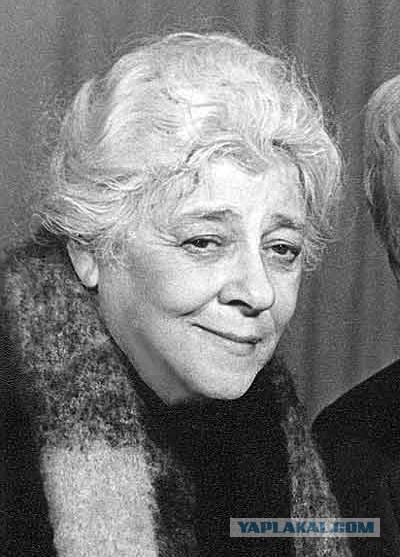 Source: