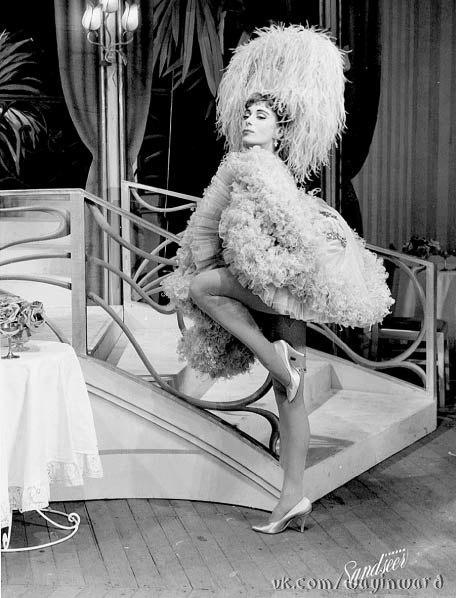 Gillian was only seven years, but its future is in jeopardy. Her performance at school was just disgusting. Gillian late to perform the task, her handwriting was terrible, and the results of control - depressing.
In addition, the girl distracted from school the whole class: the noisy fidgeted in place, then looked out the window, forcing the teacher to interrupt the lesson again to get her attention, then interfered with his antics sitting around her children.
Gillian all it's not particularly worried: she was used to that adults make her comments, and really did not feel difficult child - but the teachers were concerned. The situation came to a head when the school management wrote a letter to her parents.
Teachers believed that Gillian learning disabilities and that it may be better to go to a school for disabled children for her. All this happened in the early 1930s. I think today would have found that she had attention deficit hyperactivity disorder (ADHD), and to put it on psychotropic drugs.
However, at that time the term had not yet been invented. On ADHD it was impossible to refer at every opportunity.
Gillian's parents received a letter from the school, is very worried and immediately began to act. Gillian's mother wore a daughter in the best dress and shoes, her hair gathered in a neat ponytails and led to a psychologist, fearing the worst.
Gillian told me that she remembers how she was invited to a large room, upholstered oak panels, where the shelves were leather-bound books. In a room near a large desk was an imposing man in a tweed jacket. He led Gillian to the far end of the room and sat on a huge leather sofa. Legs Gillian did not reach the floor, setting guards. She was nervous about what kind of impression will produce, so sat on your hands, not to fidget.
The psychologist went back to his desk and over the next twenty minutes asked Gillian's mother about the daughter's difficulties in school and problems, the cause of which, according to the teachers, it is a girl. Without asking a single question most Gillian, he always watched her closely. Because of this, Gillian felt extremely uncomfortable and embarrassed. Even at such a tender age, she knew that this man will play a significant role in her life. She knew that meant attending a special school, and did not want to have this school nothing. She really did not think that has any real problems, but it seems everyone around thought the opposite. Judging by her mother answered the questions, it is possible that even she thought so.
"Who knows, maybe they're right," - Gillian wondered, sitting on the couch.
Finally mother and psychologist Gillian finished talking. The man got up from the table, walked over to the couch and sat down next to the girl.
- Gillian, you behaved very patiently, thank you for that, - he said. - But be patient a little longer. Now I need to talk alone with your mother. We will leave for a few minutes. Do not worry, it's not for long.
Gillian nodded apprehensively, and two adults in the room left her alone. However, the comfort, the psychologist leaned across the table, suddenly turned on the radio.
As soon as they came out of the room into the corridor, the doctor told his mother Gillian:
- Wait here a minute and see what it does.
The wall was a window through which one could see what was happening in the room. Adults were so Gillian could not see them. Almost immediately, the girl jumped to her feet and began to move around the room in time to the music. Two adults a few minutes in silence watching the girl, struck by its natural, almost primeval grace.
Finally, the psychologist turned to Gillian's mother and said: "You know, Mrs. Lynne, Gillian is not sick. She's a dancer. Take her to a dance school. "
I asked Gillian what happened next. She said that her mother followed the advice of a specialist.
- I can not tell you how wonderful it was, - she told me. - I walked into a room full of people like me. People who could not sit still for a long time. People who, in order to think, it was necessary to move.
She began once a week to go to the dance school every day and practiced at home. Eventually she was admitted to the Royal Ballet School in London. Then Gillian joined the Royal Ballet troupe, she became a soloist and toured with performances all over the world. When this stage of her career ended, the young woman created her own musical studio and put a number of very successful shows in London and New York. She then met with Sir Andrew Lloyd Webber, in cooperation with which were created by the famous musicals "Cats" and "Phantom of the Opera", received a fantastic recognition and had a huge success.
Little Gillian, the girl, whose future was at stake, gained worldwide fame as Gillian Lynne - one of the most famous choreographers of our time, to give pleasure to millions of people and made millions of dollars. This happened because someone looked deep into her eyes. Someone sensitive and attentive, who have already seen before these children and know how to read the signs of hidden talent. Someone else could force her to take medication and tell her to calm down.
But Gillian was not a problem child. There was no need to send her to a special school.
She just needed help to become the one who she really was.
Ken Robinson, "The Calling"