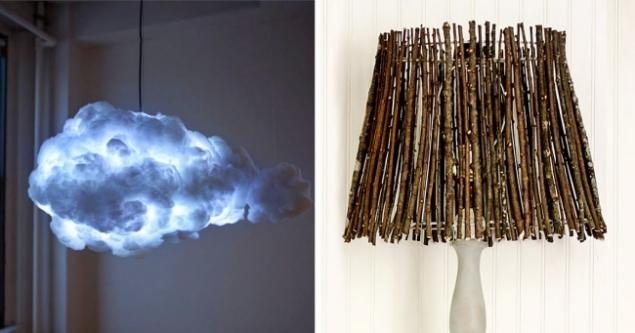 probably worse than you can imagine, when you know exactly what you want to buy, but the stores do not. The head has already formed the perfect image, thought through all the details, but it is such a thing nowhere to be found. Then come to the aid of imagination! After all, many things can be done with their own hands.
< Website gathered for you some cool shades that are easy to do yourself. Where you can find shade dream!
Globe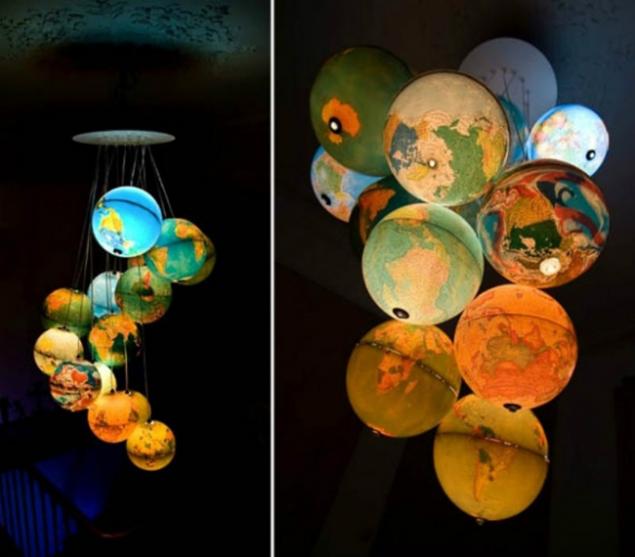 The whole world right above your head! How to make a lampshade, can be found here.
Cylinder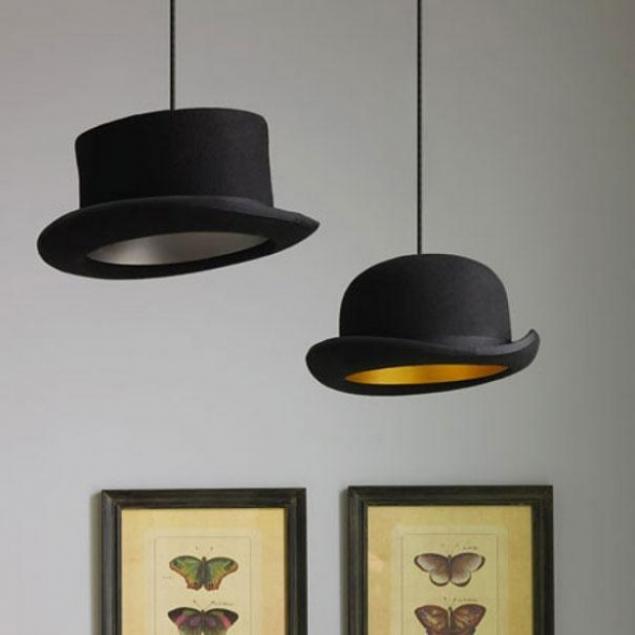 How to make the most gentlemanly lampshade. To make a lampshade hat need:
old hat
cable to chuck
Awl
lamp power no more than 40 W


Pierce awl hole into which fits the wire
Pull the wire and tighten chuck <.. /
Please note: suitable for such a lampshade bulb with a small capacity. Do not use powerful lamps, because the fabric may catch on fire.





Such a very nice shade just do this for instructions.

Fringe






This shaggy chandelier to make it is easy for this instruction.

Artificial flowers






How to make a lampshade for these girls, can be found here.

Map







newspaper
Illuminate your way through the future of travel and make a stylish shade will help the instruction.




How to make a lampshade, learn here.

Shadow





This mysterious shade make it easy.

Clamps





I can not believe that this beauty is made of conventional clamps.

Sticks





Illuminate dark forest of sticks can be on this instruction.

Cup-plate





This designer lamp shade is easy to make at home.

Packing from juice





Packaging Tetra Pak - the perfect material to make a lampshade

Photos





. Here is a kind of album you can do this manual.

Hangers





How to make a lampshade. To make such a lamp shade, you will need:



old wooden hangers
with a cartridge Wire
glue


Divide the wooden hangers in two parts. It's easy: they simply glued
Paste the resulting parts to the cartridge
That's it..! It remains only to fix the wire and screw in a light bulb. Steep wooden lamp ready!





Are you a sweet tooth? Then you definitely a lot of cupcakes wrappers. Of these, we could have done such a lacy chandelier.
Flasks






Lamp of the chemist or a vase for romance? It remains only to choose and make a lampshade is not difficult. You will need:



a circle of plywood
cans with paint
drill
cable to chuck
bulb
food color or colors


Drill holes in the plywood bulb If you want to make the basis not of wood, and the color, paint it from a container.
Clip design of the wire holder and lampshade on the ceiling.
Insert the bulb into the resulting hole.
Fill the water flask with diluted food coloring, or plain water if you want to make a lampshade vase.
That's all! Do not forget to pour the water!





Make a delicious shade can

Cloud
by this instruction.




Especially for you we made a video, how to make a cloud-lamp.



< See also:
20 ways to make a pillow on which a dream is really sweet
11 smart ideas for remodeling of old crockery


via www.adme.ru/svoboda-sdelaj-sam/11-shikarnyh-idej-dlya-peredelok-iz-staryh-servizov-1310065/