Led bulbs IKEA a deservedly considered the best that you can buy in Russia. First of all, many of the IKEA Ledare bulbs have a very high (91.1-96.1) color rendering index (CRI) and it should be noted that this is actually the only lamps with CRI>90 available in our country. Many lamps IKEA are cheaper competitors with better options. IKEA, more than half of the lamps support brightness adjustment (dimming).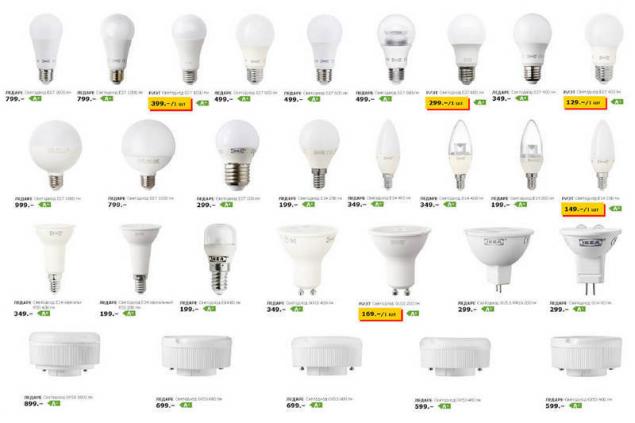 Of course, there are problems. Some lamps IKEA, previously, was a high level of pulsation of the light. Those lamps that are sold now, the level of pulsations does not exceed 20%, which is even lower than the pulsation of the light bulbs. Dimmable bulbs buzzing when adjusting the brightness and loudness of this sound depends on the type of dimmer. Some dimmable lamps have an extremely high level of low dimming, which does not achieve the shadows when you adjust their brightness.
Now in stock IKEA stores 31 led lamp. A lamp appeared recently, in February 2016. 29 lamps have color temperature 2700K, exactly matching the color of the lighting of the incandescent bulbs and only two lamps have a color temperature of 4000K.
I bought and tested 28 lamps. Three lamps of those that are on the website, was not on sale. This candle is 200 Lm with a transparent delicate glass bulb G45 E14 400 Lm and 400 Lm GX53 spot with lenses. Spot GU10 200 Lm were sold at a reduced price of 79 rubles, and it may not buy — on the website it is not.
I measured the parameters of lamps with instruments Viso LightSpion and Lupin. To measure the minimum level of dimming was used digital Rainbow EcoDim dimmer mode cutoff front of the sine wave.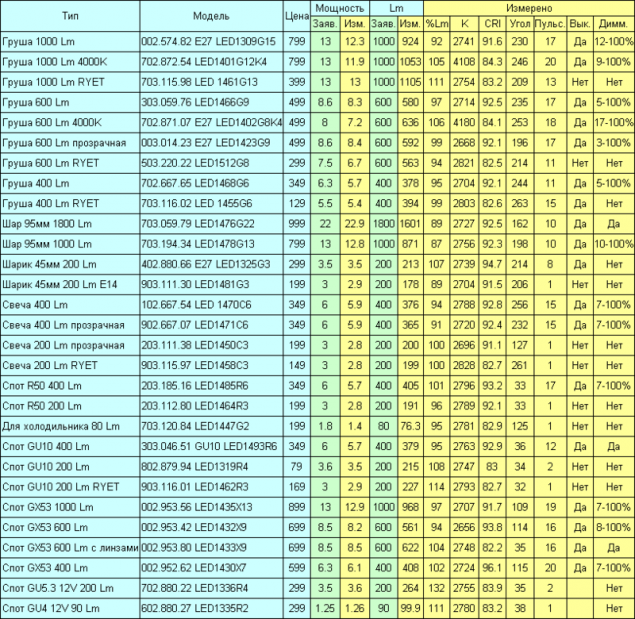 Most of the lights work correctly with the switches, with indicator, with only 9 lamps flash when the switch is off.
16 lamps support brightness adjustment (dimming). With digital dimmer lower limit of dimming is 3-17%, with conventional dimmers in most lamps the lower limit is 18-23%. For example, lamp-pear 600 Lm allows you to adjust the brightness in the range of 5-100% using digital dimmer, and dimmer IKEA range of adjustment was only 19-100%.
When dimming all the lights, make a sound whose volume depends on the dimmer. In most cases the sound is rather quiet and at a distance of two meters is not heard. Pulsating light when dimming is not increased.
The level of pulsation of light from all lamps is 1 to 20%. Recall that the pulsation of the light of incandescent lamps is 8-32%, so that in ripple 20% there is nothing wrong — the human eye does not perceive the ripple is below 40%.
All new lamps IKEA is not specified equivalent incandescent lamps — buyers are trained to indicate the brightness of a lamp in lumens. And rightly so. On the IKEA website there is such a sign.

The measured luminous flux of the lamp 13 corresponds to the declared or even exceeds it. 8 lamp luminous flux 1-5% lower than the declared ones have 5 lights on 6 to 9%, two lamps with 11% and one 13%.
The color temperature is close to the claimed and only lamps RYET it is close to 2800K, and not to the stated 2700K. Light bulbs are very similar to light conventional light bulbs.
Most lamps have very high color rendering index (CRI, Ra) not found in any other bulb available on the Russian market. The most popular lamps have a CRI of about 92.
Table colors lamp "Pear 600 Lm" 303.059.76 LED1466G9.
Cheap RYET series has a CRI of about 83, so we can safely say that even lamp RYET better than most bulbs of other brands represented on the Russian market, because they have a fair value of the luminous flux, low ripple, a very decent CRI value, and most importantly, low cost.
Table colors lamp "Pear 600 Lm RYET" 503.220.22 LED1512G8.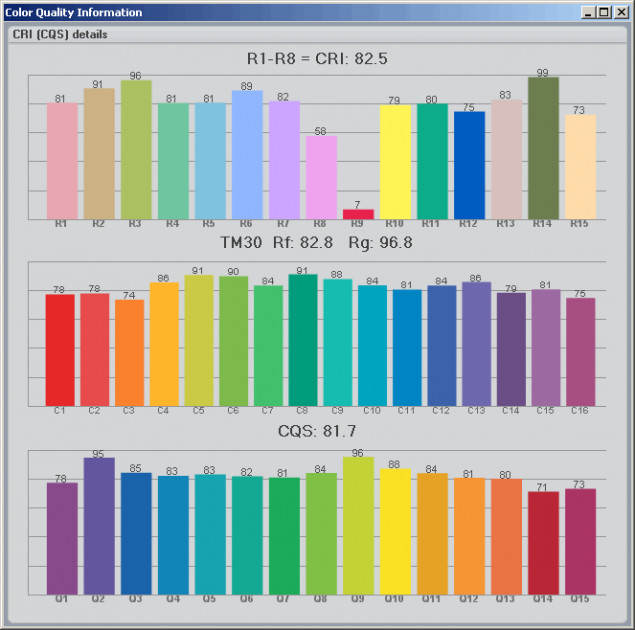 All lamps IKEA can be recommended for illumination of residential premises.
Most lamps IKEA are made in the same factory in China — barcode lamps made at this plant ends 21633. Some lamps are made at the second Chinese plant (barcode ends in 19972), several lamps on the third (22237), and only one lamp produced in Germany (barcode ends 22858).
All the IKEA lamps have a lifespan of 25000 hours and 2 year warranty (though this is nowhere specified). During the year, any lamp can be returned without giving a reason, even if the packaging has been opened.
Lamp IKEA really is one of the best led bulbs that you can buy in Russia for the following reasons:
• Very high color rendering index of most lamps Ledare;
• The claimed luminous flux;
• Color temperature 2700K (not 3000K as most competitors), exactly corresponding to the color temperature of incandescent lamps;
• The ability to adjust the brightness of most lamps;
• 2 years warranty and a hassle-free exchange under warranty;
• The ability to return the lamp during the year. published  
P. S. And remember, only by changing their consumption — together we change the world! ©
Join us in Facebook , Vkontakte, Odnoklassniki  
Source: geektimes.ru/company/lamptest/blog/273988/