We have always shown interest in covering that is not abated today. Today, I will briefly tell you about our search, trial and error, and show some good lights that remain in the directory and controversial options that directory left.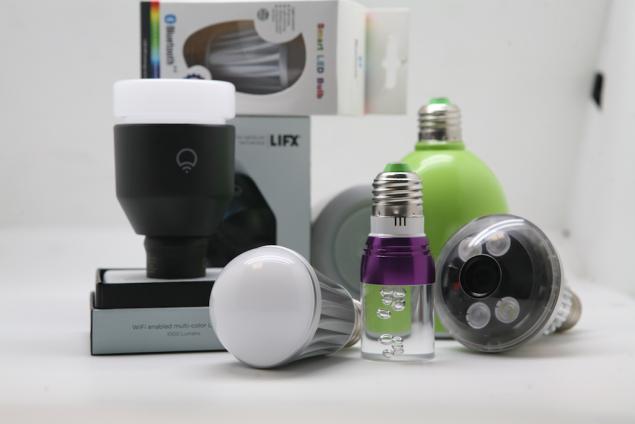 LIFX - why Wi-fi

The last of what I held it in my hands and burned, and quite literally and figuratively - smart Phil bare bulb . LIFX project already "historical", and three years ago there was a light in a more familiar, we design, in which both became successful on Kickstarter.

In 2014 LIFX acquired new forms, and as such got shelved our warehouse. Now it is sold in a rich captivating packaging, which lists all the main features of the lamp.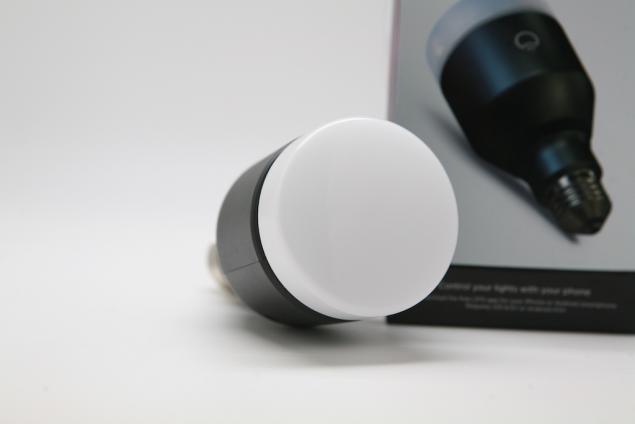 In the process of connecting the lamp is defined as Wi-fi point to which you are connecting with a password. Next in Annex LIFX (IOS, Android) choose your home Wi-fi and reconnect to it. After that, you can use the menu settings LIFX, where you can:

Enable / disable the lamp remotely Change the color and brightness Customizable themes Use effects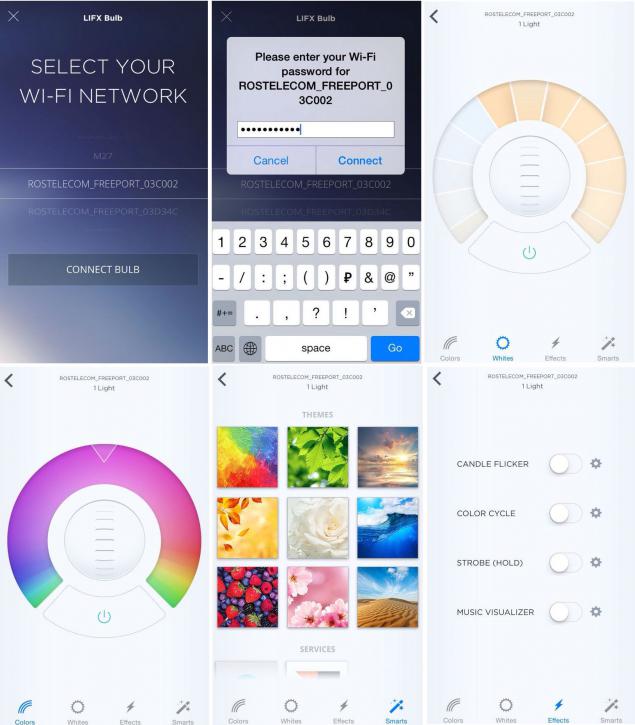 By "remote" is to be understood the distance over which the device will be synchronized within the range of Wi-fi, so as not LIFX remote access support. And in this sense for me was totally not obvious difference with this lamp Luminous .

It is worth noting that the lamp shines really quite bright, even unusually bright, but after five minutes of work on it will be possible to boil the kettle! As I have tried to joke above: double burned.

Structurally, it is quite controversial for devices of this nature and in form and functionality. The weight of the lamp is unlikely to twist it into a light table lamp: 299 grams!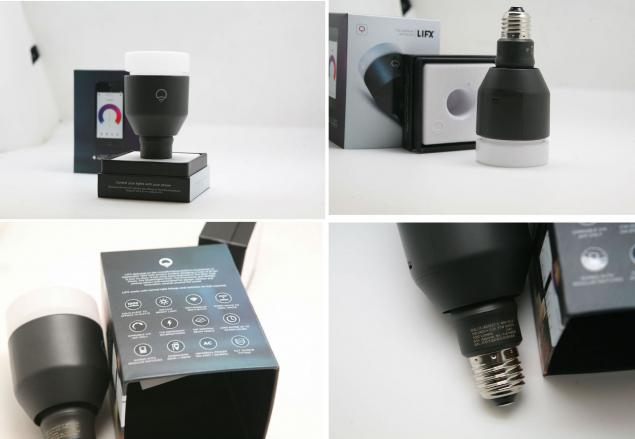 As a result, I would say that we have announced LIFX advantages: for example, 25 years of service, and the obvious disadvantages: weight, overheating, inability to remote access. Manual control of LIFX have also not provided: on the lamp, you can only switch wi-fi point "on / off".

Colours: i>

Black White
Performance Claims: i>

Power: 0, 2 to 18 W at 100% brightness The equivalent incandescent lamp: 75 W Brightness: 1017 lm Color temperature: 2500 - 9000 K Color Support: 16 million LED: Red (11), Green (7), Blue (6), White (8) < / Voltage: 100 - 240 Lifetime: 40 000 h Lighting angle: 130 degrees Height: 135 mm Diameter: 65 mm Weight: 299 g Wi-Fi: 802.11 b / g / n Supported OS: iOS 6+ / Android 4 +
Luminous

Taking into account the nuances of the management LIFX, I think it's fair to correlate it with the "old" lamp of our shop - Luminous a >.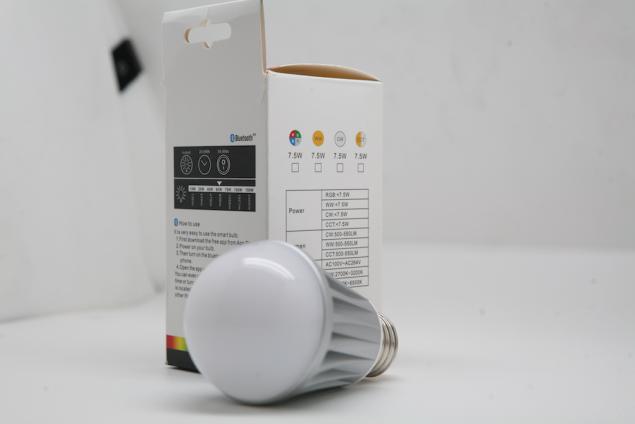 With almost identical functionality in a mobile application, it is more than half the price, however, at the same time is controlled via Bluetooth. However, as I realized that in the case of LIFX wi-fi does not give me any advantages.

Lamp always repeats characteristics from release to release, and the only thing we found: it appears to control there is one that is identical to the application completely. Classic one word.




very detailed analysis on parts with a description of all the features we published another Habrahabr September 16 last year.

Here I only duplicates characteristics:


Aluminium with ribs that increase the strength of the system and provides air circulation, which serves as a passive cooling system; The transparency of the bulb (Plexiglas) - 85%; < The uniform light output; Wireless Module Bluetooth, with a range of up to 60 meters. Type: RGB LED lamp 7W with technology Bluetooth, controlled using a smartphone li > Wireless connectivity: Bluetooth 4.0 Compatibility: Any mobile device iOS or Android-enabled Bluetooth 4.0 Requirements: - IOS 6.0 and above ( iphone 4s / 5 / 5c / 5s / 6, ipad touch, ipad mini) - Android 4.3 or higher Support for Bluetooth 4.0 Channels: 4 ( RGBW) or 3 (RGB) Wavelength: Red-620-630nm, Green-520-530nm, Blue: 460-470nm Luminous flux: Red: 100-150LM, Green: 200-270LM, Blue: 55-105LM, White: 200-300LM The color temperature of white light: 5500K-6500K Operating voltage: AC100V-AC240V 50 / 60Hz Lighting angle: 140 ° Power Factor: & gt; 0, 55 Operating temperature: -30 ° C to 55 ° C Lamp Size: 147mm X 79.5mm Lamp Power: 12 Watt Input voltage: 110-220V Effective distance for remote from the board: in an open space - 60m; in the room - 30m Material lamp housing: aluminum Material Lamp: milky white PMMA (plexiglass) Weight: 121 g < Waterproof: IP 25 Lifetime: 40000 hours Cartridge type: E27
G-tronic - I stepped on a rake

Another lamp, which changes color - G-tronic. This diode lamp with remote control that allows you to make a certain number of actions:


Enable / Disable Change the brightness Edit mode Change Color
 Two-part structure of the lamp, and the upper, transparent part - plastic, which with the help of the thread is screwed into the base. By and large, for the correct operation of the lamp it is not so necessary, but with it a bit softer glow.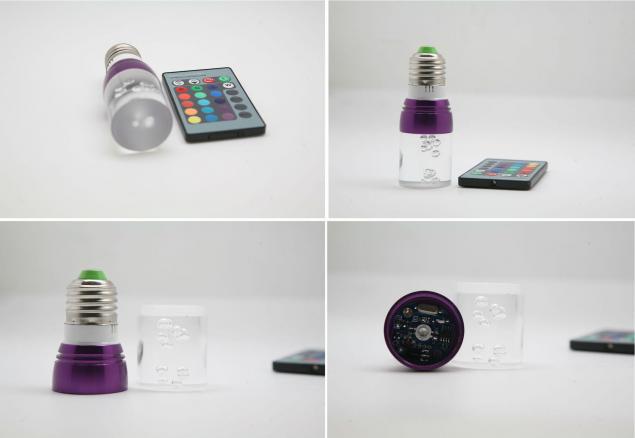 Lamps can be different in form from a simple round up cylinder (mine) or fanciful shapes, such as diamond.

The lamp can burn 12 to five different colors in four modes:


Flash - quick change of colors in the spectrum Strobe - normal speed change colors Fade - chalking speed Smooth - very slow
 

The lamp is very dark: 3W.
Weight: 87 grams

The lamp in the nursery

The lamp, which I would have bought if it did not get me free, commercially available under different names, and some specific, dominant, I could not identify.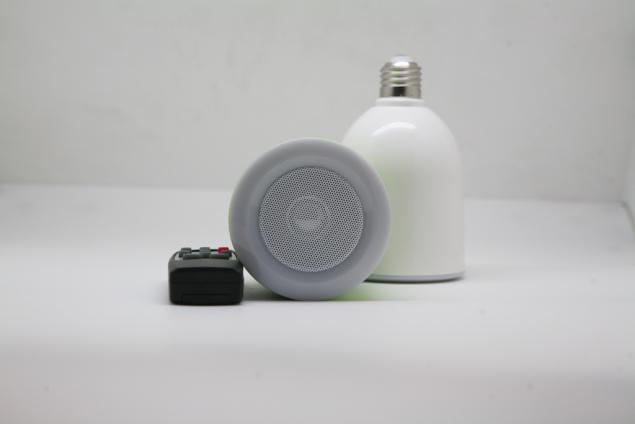 It is quite impressive in size and weighs even more than LIFX: 327 grams, but she came to me for several reasons. Since one of the children sleep under a fairy tale and the light softly, then this column I was very handy. Dull diodes does not prevent sleep.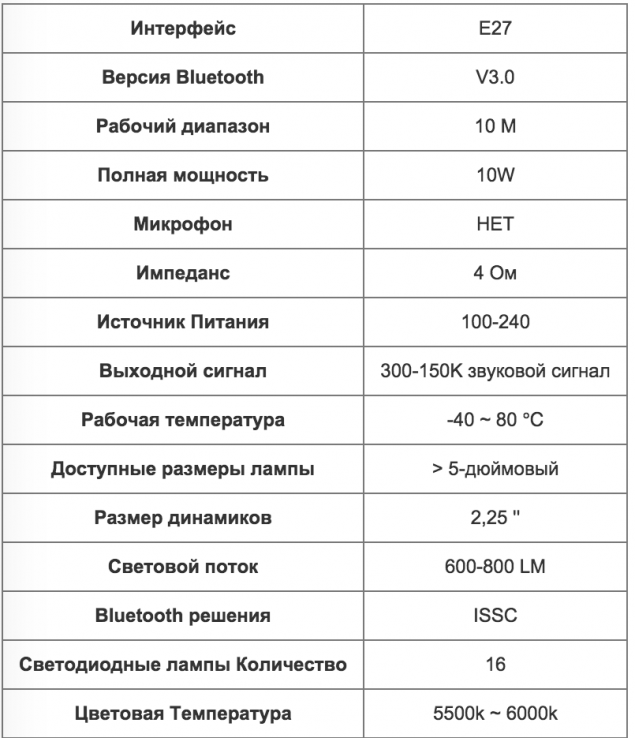 The lamp is controlled by remote control, which you can adjust the brightness and adjust the volume. Also adjust the volume on the device, which is synchronized lamp. Inside: the speaker, which dictated the amount of devices.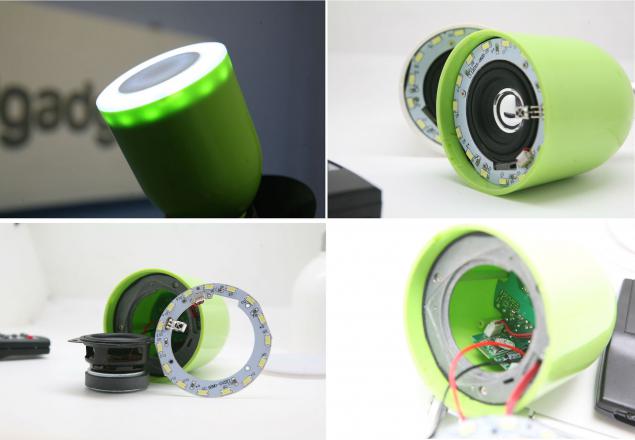 Unfortunately, the party with the lamp will not be able to organize: it connects the headphones as "one to one".

Eazzydv - hidden camera

This Chinese invention came to hand by accident, but I was expecting to get smart about hidden camera with such characteristics:


Video resolution 720P (1280 * 720) / VGA (640 * 480) / QVGA (320 * 240) Picture compression format H.264 Night Light - 36 LEDs with infrared emission spectrum provides up to 10 meters illumination Power: 220 Power consumption: not more than 5 W Operating temperature: - 20 to 50 gradsusov C Dimensions: 85 * 85 * 175mm
 And an array of features, such as: remote surveillance, control, alarm receiving sms and so on. N.

Surprisingly, she even sold in some stores in Russia, and at a very strange price: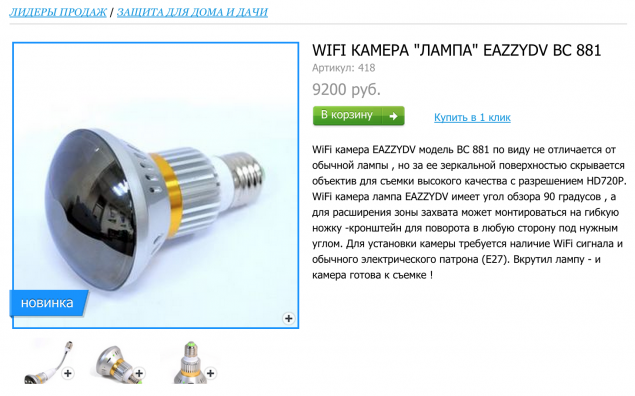 In fact, many of the functions are not configured and working properly, it saves the video in a format that I can not see any on the phone or on the computer or on youtube, and in real-time I have it fire through time.

Looks passable ...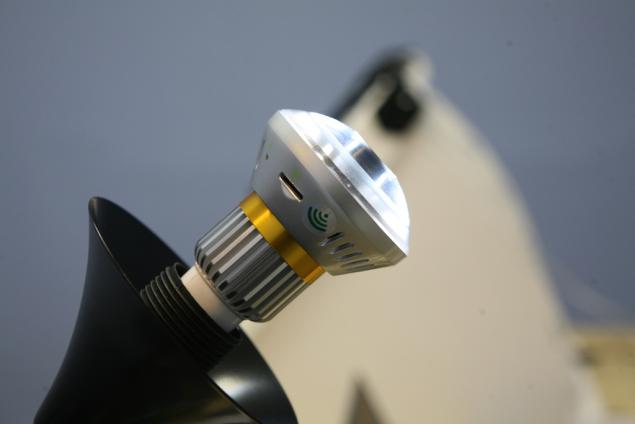 You can connect either directly or by wi-fi, and in any case I had to use the application plug2view.

If you need to watch what is happening remotely, the synchronization process will be similar LIFX, in case if you want to watch the kitchen from the room - you can connect to the lamp as a point Wi-fi and all.

Complete with lamp remote control "on / off / restart", but the remote works "face to face" instruction, CD with drivers and bending chuck adapter, which I happily lost. Lamp light is very pale and very rapidly heated.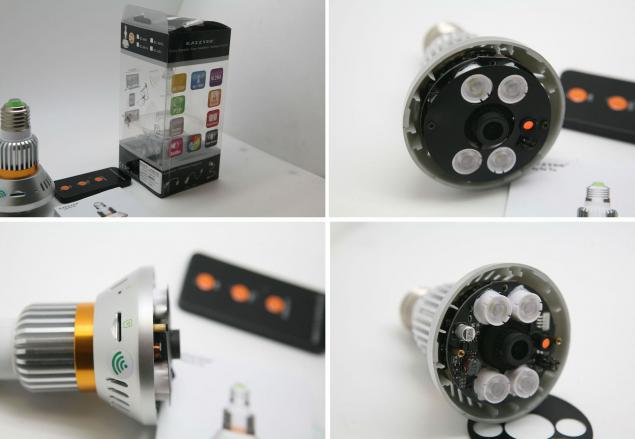 In any case, I would not recommend it to anyone! And even more so at prices that I've seen in stores.

Also in our catalog have normal bulbs - Thomson Filament - reviewed for us wrote Alexei Nadezhin . The peculiarity of the fact that this LED lamp filaments, but no smart management, they do not suggest

Let me once again to pay attention to the "light" review, which we prepared for Geektimes and Habrahabr: i>


Luminous BT Smart Bulb: light bulb inside a smart? Review + disassembly for parts - Habrahabr Thomson Filament - LED lamps new generation - Geektimes (Alex Nadezhin) Smart LED bulbs: to offer the market? a > - Geektimes
Lamps in the directory