In stores Auchan, OBI, 220 volts, Ulmart, pleer.ru sold cheap led lamp Rev. During the lifetime of the project lamptest.ru I have tested 9 lamps of this brand, but to finally deal with them, I bought in Auchan 10 lamps REV that did not come to me earlier, and tested them.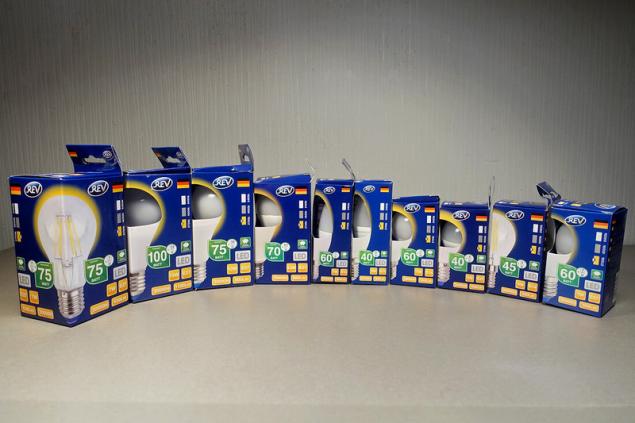 I measured the parameters of lamps with instruments Viso LightSpion, UPRtek MR350D and Robiton PM2. The first ten lamps — those that I bought in Auchan, the rest of the nine — what was tested before.  
The bad — a high level of pulsation in 9 of the 19 lamps. Light of these lamps can lead to eye fatigue and General fatigue. These lamps cannot be used in a residential area.
On the boxes of all lamps REV stated that the color rendering index CRI RA>80. It's a hoax. In fact, only three of the nineteen lamps it is more 80, the other sixteen lamps it lies in the range 72.9-77.7.
GOST R 54815-2011 measured initial luminous flux of led lamps should be not less than 90% of the rated luminous flux. Of the 19 tested lamps of the luminous flux (in fact, is the amount of light, which gives light) only 2 lamps comply with GOST, and the rest give only 64-88% of what they promised.
Good can be considered only one of the nineteen. This REV-A60-8.5 W-230V-2700K-E27-195 rubles. It shines like a 60-watt incandescent light bulb (though promised the equivalent of 70 watts), she has a decent CRI=85 and no pulse of light.
Another filament lamp REV-FA60-7W-230V-2700K-E27 for 211 rubles has good CRI=81.9, she's got almost no surge of light, but it shines as a 55-watt incandescent light bulb with a promised 70 watts.
All the other bulbs or have a high ripple of light, or low CRI, or both.
Only three of the nineteen lamps can work with switches with indicator. Other flashing or weakly lit when the switch is off.
The manufacturer specifies for all lamps the warranty period is 2 years and most likely during this period will be able to change them or return the money in most stores.
Perhaps someone will say: — what did you expect from a cheap lamp? I answer, that they would like an honest parameters, moreover sure to produce and sell the lamp with ripple 100% unacceptable. published  
Source: geektimes.ru/company/lamptest/blog/281648/