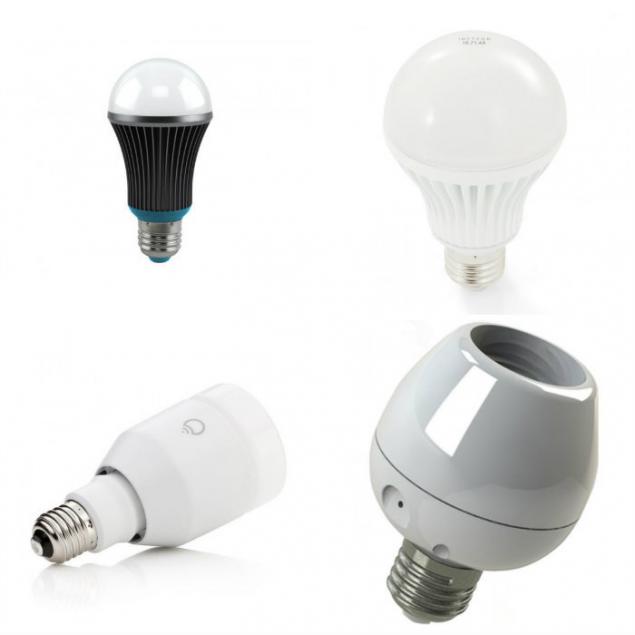 Saving electricity in our time - this is a good way to reduce the size of the bills and save some money. You can save in different ways, for example, just rarely turn on the lights and go to bed at 18.00. But the pleasure of a little savings, in general, there are other, less sacrificial ways.
For example - installation of energy efficient equipment, including smart LED light bulb. Previously, such devices (which is a complete unit, not just a source of light) were expensive, but now the market has to offer is much less costly solutions. In addition, these bulbs can be very functional. And below, under the cut - a review of five smart LED bulbs, plus as a bonus - a description of an intelligent cartridge under any lamp.
We decided to rank the bulbs at a price - from the budget to more expensive solutions. And do not think that the functionality of the smart lamp trimmed in inexpensive solutions - it is not so.
Luminous BT Smart Bulb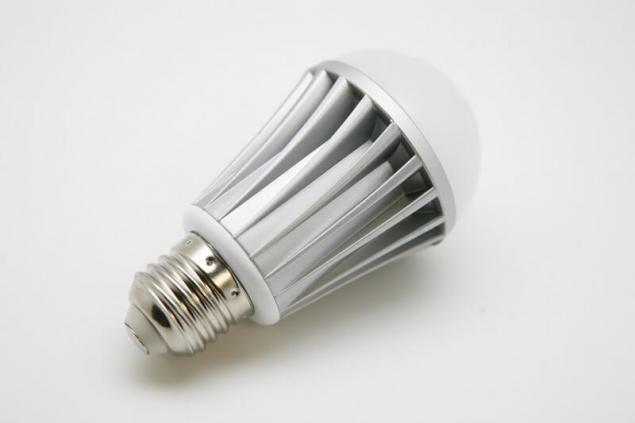 Surprisingly, the most inexpensive lamp on the list perhaps the most extensive functionality. What can the lamp? Much:
Manage from your smartphone to Bluetooth;
Ability to set color and brightness;
Formation of a system of several lamps installed in different places;
Ability to synchronize luminosity lamps and music played from a smartphone (a trifle, but nice).
 In this range of the radio signal from a smartphone is about 40 meters, so you can control the lights in any apartment anywhere.



Applications for the lamp is both under Android OS, and under iOS. Application, except for the above functions, allows you to also program the ON and OFF the lamp. You can adjust the cut-off on the gradual extinction of light, and inclusion - a gradual increase in brightness.

The factory settings for application Luminous BT Smart Bulb include 20 built-in routines. Each of the 31 sub-programs has the slowest mode ("1") to the fastest ("31"). Plus two dozen regimes governing flowers.

Learn more about the functions of the bulb can be инструкции it . In addition, we have dismantled this light bulb, and the corresponding post posted Habré .

Lamp power: 12 W (analog 75 watt incandescent bulb)

Price Luminous BT Smart Bulb quite democratic, and is 1990 rubles . It is safe to say that it is a combination of price / quality, close to the ideal.

Insteon LED Bulb




This lamp is also very good: you can change the brightness, turn on and off a light bulb, combine individual lamps in a single system. Management is carried out either with a special remote control, or from a smartphone running iOS / Android OS.



The user can adjust the lamp gradually fading, if necessary. When the lamp maintains the level of luminosity, which was when the lamp is turned off (assuming, of course, that the level of luminosity was not null).

Color this lamp can not change, but the service life - 52,000 hours.

Lamp power: 8 W (analog 60 watt incandescent bulb).

Price Insteon LED Bulb slightly higher than in the previous version: 2459 rubles.

Drift




There are not so many functions, but to control the lamp is very simple: for the nomination of one of the three modes need to click on an ordinary switch one, two or three times.

Once - it's on and off the lamp.

Twice - exhibiting mode "night light". In this mode, the lamp consumes very little power, shining weakly, so a couple of light bulbs can be left in this mode at night to navigate in an apartment if want to have a drink at night or in the toilet.

Three times - light gradually extinguished taper off in 37 minutes.



The manufacturer claims that this gradual extinction models sunset. Accordingly, if go to bed and turn on the "sunset", the human body more naturally goes to sleep mode than in the case of an instantaneous transition from day to night.

Lamp power: 7W (analog 40W incandescent bulbs).

Price LED lamp Drift is 2900 rubles .

LIFX




Quite functional solution. The lamp has a module Wi-Fi, and you can control the lamp remotely from your smartphone or tablet (as supported by iOS, and Android OS). According to the developers, this lamp is able to work without any problems for 25 years (!).

Using a special application can adjust the brightness of lights, color and mode of operation. Thus, it is possible to configure LIFX brightness and color change throughout the day, depending on the time. You can set it to automatically turn on or off the light source when entering or leaving a person out of the room.



Also, developers should consider the possibility of creating color music - perfect for a party.

Power: 17 W (60 W analogue for an incandescent lamp).

Prices less democratic than previous versions, and is 5990 rubles, but there are more functions.

Holi SleepCompanion



This lamp is not just a source of light, but also smart alarm clock and sleep quality detector. Before going to bed lamp can be set to a gradual shutdown, with a change in brightness and color of the glow. Lamp supports collaboration with many fitness devices, including Withings, bracelets FitBit, JawboneUP, weather station Netatmo.



Work with some devices can be synchronized, in addition, the application receives data from the lamp fitness bracelets, allowing to find out which mode the lighting system most beneficial effect on the quality of sleep and wakefulness owner.

According to the developers, the project was initially prepared for NASA, but later it was decided to transfer all the commercialization, for everyday needs of ordinary people.

Lamp can manage mobile devices running Android OS or iOS. For this lamp is equipped with a Bluetooth module.

This is the most expensive device from a selection, price lamp is 7990 rubles .

Smart Cartridge VOCCA



Finally, the market now has one more clever device - it Lamp VOCCA, that any incandescent lamp can be turned into smart. The smartphone has a wireless module Bluetooth, through which and provides remote control cartridge.



Developers have released an application for Android, and for iOS. The user who installed the application will be able to turn on and off the lamp remotely. In addition, the cartridge detects sound, so turn the lamp on or off can be a simple cotton or a voice command.

The cost of the cartridge Vocca in Russia - 3950 rubles .

P.S. The good news: 4% discount for readers GeekTimes the code Geek

Source: geektimes.ru/company/medgadgets/blog/245738/