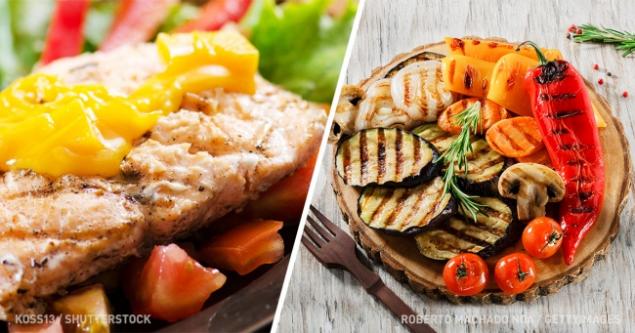 Ahead of the May holidays, and that means it's time to prepare the menu for picnics and hikes. Of course, every lover of a tasty meal there are several proven their dishes that delight from holiday to holiday.
However, we in the editorial
Website sure that weapons can take any of these recipes!

Salad of roasted vegetables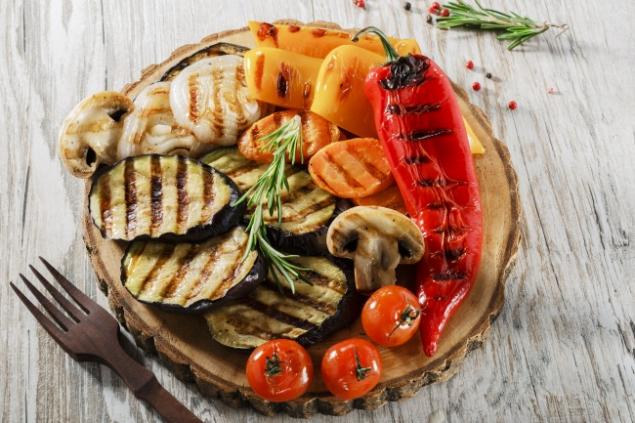 As long as the fire erupted, you can already make a warm salad. This is a great appetizer to any main dish - whether it's barbecue or porridge

Ingredients:

Eggplant . peppers tomatoes mushrooms herbs, garlic to taste oil Preparation:

Skewered vegetables on skewers, or put on the grill and cook them over a fire (not on the coals, and on an open fire) until soft. Clear from the skin and cut into cubes, mix in one container. As a filling add chopped garlic, any herbs and a little vegetable oil. < Tip: with vegetables much more readily removed skin if they are straight from the fire dipped in cold water for a few seconds



Kulesh or Conder





Cossack cuisine as well as possible transfers particular culture and life of the Cossacks, but it's not the most important of its dignity. It's just incredible delicious, and sin not to try at least once to cook porridge in nature

Ingredients per 5 liters of water:.


millet - 0, 5 kg fat - 300 g carrots - 1 large onion - 1 large potato - 3 medium 1 can of pork or beef stew egg - 1-2 pieces any herbs, but the best dill and young onion Preparation:

Kulesh and Conder - is, in fact, one dish, the only difference is that a liquid gruel and Conder more like a porridge. Adjust the density of food can be at the expense of millet. If the campaign has not appeared for pans zazharki, while she prepares directly in the boiler. Cut the bacon into small cubes, carrot, onion and fry until golden brown all. Stew grind directly into a bank with a knife, then add it to the zazharki. Fill it all with water, bring to a boil, add the potatoes, cut into cubes, together with millet. After 15 minutes, when the gruel is almost ready, the boiler break a raw egg and quickly stir, then season with salt and pepper to taste and add the greens. < Tip: for fat zazharki better to take a salted and not fresh, then the taste will be a unique



bread on the fire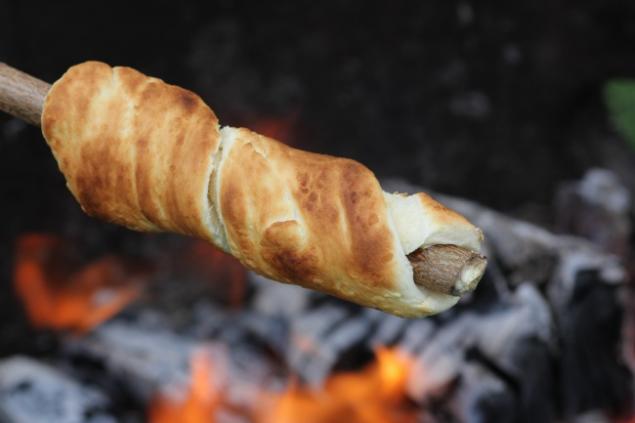 Go hiking and bake homemade - it's like to stay home and watch the fire in the monitor. This yummy must try every

Ingredients:.


a glass of water and milk in half 1 tsp.. fast yeast 2 cups of flour a little vegetable oil at pinch of salt and sugar Preparation: strong >

Knead the dough, let stand for 30 minutes. Divide it into three parts, each stretch in a thin long strip width of about 2 cm and a thickness of approximately 0, 5 cm. Drum tape on skewers and send on the coals for 5-7 minutes. < Tip: before preparing bread can smear yolk on top, so that it became more rosy and yellow.



Pork with apples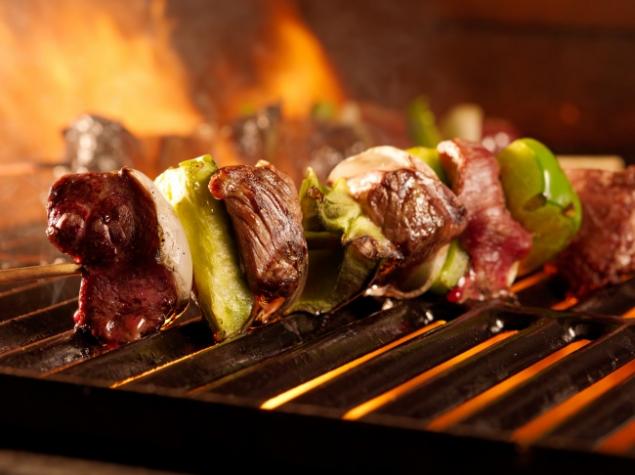 Surely everyone has a proven marinade for barbecue, but believe me: applesauce - it is something. Apples enrich their flesh sweet-sour taste and give it a piquancy and a terrific flavor.

Ingredients:


pork and apples in a ratio of 50/50 Method:

Make applesauce from apples and half mix it with sliced ​​pieces of meat. Leave to marinate for at least 2-3 hours. The remaining apples cut into slices and strung together with meat on a skewer alternately. Fry on the coals until cooked meat. < Tip: is better to take the apples and sour-sweet taste for a brighter



fish on a log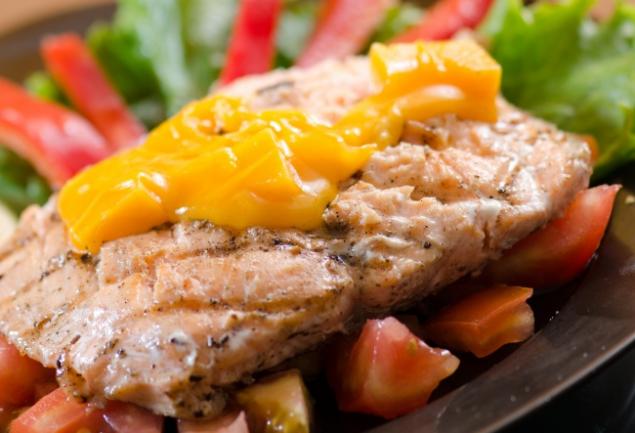 This recipe is for those who are not looking for easy ways. If you like to experiment, if you want to feel like a primitive savage, well, or if you just forgot to grill for cooking, then this kind of cooking fish for you

Ingredients:.


filet any fish (preferably oily red) salt, pepper, lemon juice Preparation:

Marinate the fish with spices and set aside at this time to take a broad piece of wood (in the fillet width), preferably oak or birch. To split the log into two parts (if a lot of fish, they both can be useful). On the inside of the resulting blank put the fillets and secure it with small nails, pegs made of wood of the same breed (they are easily planed chips of conventional knife). Near the fire (in centimeters 15-20 away) score 2 peg, put a large stone or build other support. Then, put the timber with the fish attached to the edge near the fire, leaned on the pegs at almost right angles to the ground. After some time (5-7 minutes) to pull the log and turn it from top to bottom, to evenly browned fish by the tail and head. Cooking time depends on the size of the fire and the type of fish. < Tip: instead of logs and homemade nails, you can use the board and toothpicks. Still advise to look to the blogger zlobin_aa, which gives step by step instructions with photos.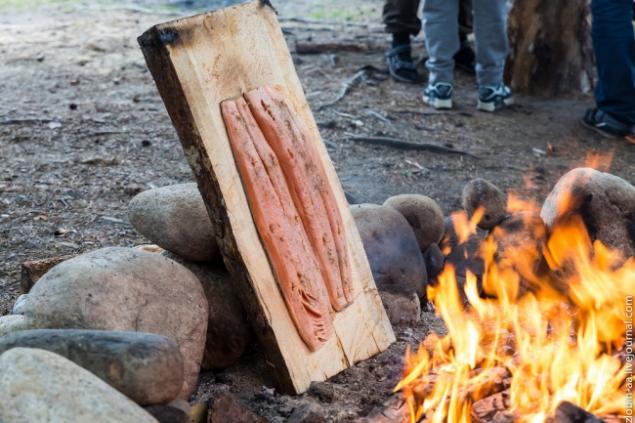 marshmallow over a campfire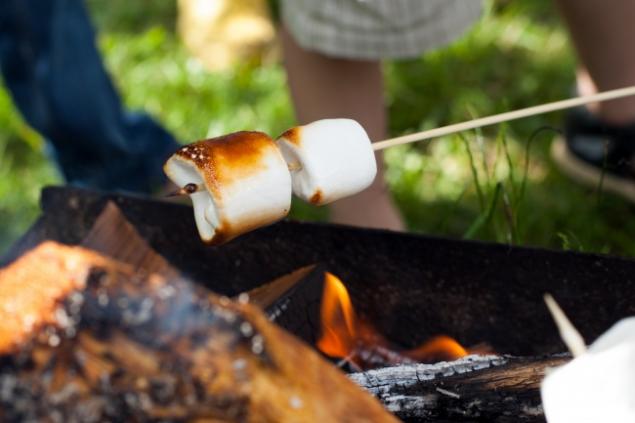 Fry on a fire zefirki have taught Western films, but few people realize that it's actually very tasty. On top is covered with a crispy crust delicacy and inside becomes soft as cream

Ingredients:.


marshmallow or marshmallow Preparation:

1. In order to roast marshmallows on the fire, you need to get a long twig and clean it from the skin.

2. Push the lozenge on a twig and roast over the coals a few minutes to increase its size in at least twice and golden brown

Tip:. marshmallow has slightly better ostyvshimi, otherwise you may get burned . Do not fry wafers over an open fire - they light up very quickly or charred



Mulled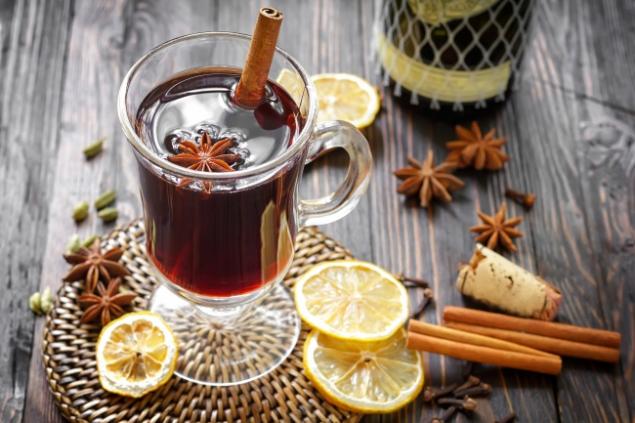 . What are the songs at a fire without a cup of warming beverage? In any weather and at any time of the year night gatherings in nature do not have to do without this wonderful drink: with him will always be tasty, warm and fun.

Ingredients:


dry red wine bottle 4 tbsp. l. Honey ½ orange ½ apple 5 buds cloves 1 stick or a pinch of ground cinnamon ginger on the tip of a knife or a pair of pieces Preparation:

1. Chop the fruit, cover them with wine, add spices, honey and put on a small fire, or near it.

2. Thoroughly warm drink, but do not bring to a boil.

Tip: this drink is a much tastier if cooked, oddly enough, from the inexpensive types of wines




According to the materials: vkusnyblog and edimdoma
Photos on the preview: shutterstock



via www.shutterstock.com/