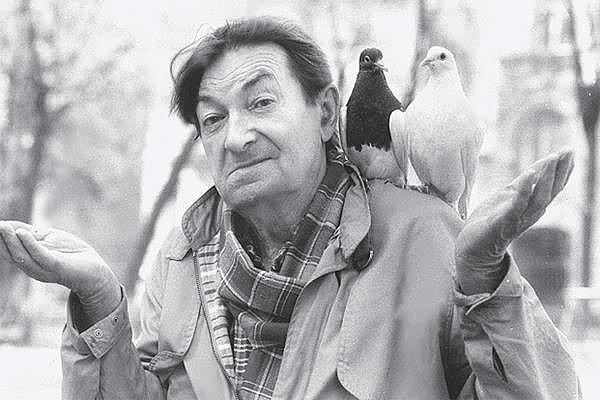 "Life is too short to spend it all on Moore».
Actor Georgiy Vitsin studied the works of Ovid, Horace, Petrarch. He was fond of astronomy and every evening watching from his balcony on the Arbat in the telescope. Seriously engaged in yoga, was a vegetarian. He lived modestly. And in the food and food for dogs and pigeons, which he adored, Vitsin enough.
Animals loved madly loved even cockroaches, never let them destroyed. All the neighboring inhabitants (birds, cats, dogs) knew exactly watch when it comes out "for feeding", and gathered in front of the porch.
George Vitsin about animals:
"That's a dog, they are like medicine: they are treated, saving people, strengthens the nervous system. After eighty everyone should have a dog. It will save you, will help with the regime of the day better than any doctors. " He said: "Time has proven to me that the meaning of life is not money and not in the glory ... the well-being of man can see the position of patience. It is important that you need to develop in yourself. In my opinion, I am still alive, it's easy to be happy. And when there is a dog, a wife, a daughter and a good memory - it is above normal for an elderly person »
! - If I did not become an artist, I would have become a naturalist - like plants, birds, especially animals. Remember Zoshchenko: "Animals - is not a person, it can be relied upon." They do not fuss, do each other mischief, and faithfully waiting ... And if killed, only when there is nothing. And the people - just
. A couple of years ago, George Vitsin found dying in the snow dog.
- She even coat all crept because eating horrible, and now, thank God - healthy and happy dog ​​- he says. And Lai (so-called tramp) became Vitsin other. He leads the actor to walk.
In addition to "dvorterera" in a tiny apartment Vitsin lived two parrots and a ladybird, rescued from a puddle.
- Georgy Mikhailovich knows what age, that is inaccessible to youth
? - What not to dig in its heels ... Do what you can, and all
. - What years were you the happiest
? - All. I am a happy man.
...
- A dream you have
? - To make people fed animals. ...
- You know, in recent years, the city became crowded with stray dogs, which you regret
. - These are the people to blame, can not build ...
"If I do not do yoga, many of my film roles were not as successful. After all, the process of filming - a very difficult thing dreary. But I'm on set, in spite of the noise, a cry, often fell asleep for exactly ten or fifteen minutes, thereby allowing the body to rest, relax. »
"Not that you eat." - "And what it is, Gosh?" - "Nuts - is responsible. - Here, I'll eat a few nuts, and not only full, but also will fit. " Some podhihikival, and some also take on board. Nuts these he generously shared with the avian world. Outputs - on the road, at home - endured food crows, sparrows, pigeons, magpies. His often were caught somewhere on the boulevard - one with a bag full of food. He lived in a world that was it needed. He loved nature, its remnants in the city, loved solitude: apparently there he kept hoarding enzymes and good ...
Many thought Georgy Mikhailovich strange ... Probably due to a rare modesty - he was always just enough. He himself could never pass someone else's misfortune. That fed the homeless. They were waiting for him every morning, and if he saw from the window that someone fumbling near the dumpsters, endured hot food, bread and a few desyatirublevok. When thanked, saying: "Go in peace»
. All stray animals fed and the fate of their suit: Arbat handed over in a pet store, where they free gave in good hands. And always with the kittens given a carton of milk. Were he and his three dogs - "girl", which he kept in the corridor in front of the apartment. But once in the dead of winter I saw the dog lying on the hatch heating plant. Feed, and then, after returning home, he said: "It is necessary to take the dog, and the night will freeze." The animal was first evil - anyone to not let myself, but warmed Vitsin Lai, who has become quite tame. Georgy Mikhailovich already there, and the local pigeons when he saw his dog, circling above the entrance waiting for the host with groats.
When he was buried, all stray dogs and the birds, which he fed, along with the crowds came to see him on his last journey.