Every nation accustomed to in their own breakfast, but one thing we all have in common: the breakfast should be dense and energize the whole day. There are the classic breakfast, have become internationalized - scrambled eggs, oatmeal, sandwiches, rolls with butter and jam, and there are those that are taken only in the country
.
For gourmets who want to diversify their morning, starting it with unusual dishes,
Website gathered a few breakfast options from different corners of the planet.



Europe. Irish skirli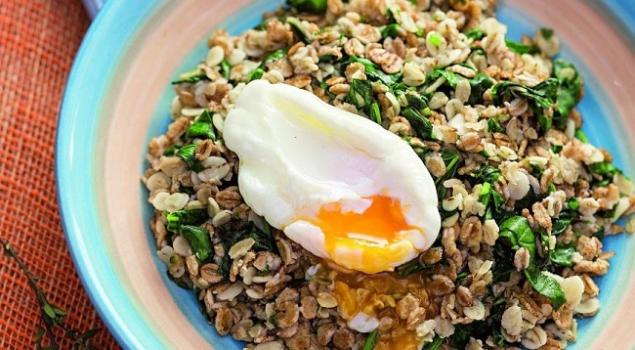 Irish cuisine is simple and satisfying, it has a lot of meat, fish, nuts and berries. Residents of the Emerald Isle honor their traditions, this also applies to cooking - each recipe here for several centuries. Breakfast cheerful Irish people love tight and satisfying, and one of the meals served in the morning - skirli, or oatmeal with meat.

< You'll need:

beef - 500 g oatmeal - 200 g butter - 200 g onions - 3 pcs <. salt, pepper, spices - to taste fried egg and spinach - optional Preparation:
.
Onion shred and fry in butter. To add the minced onion, salt, pepper, spices and fry until cooked. Oatmeal is ground in a blender and add to the stuffing, fry a few minutes (you can add water).


South America. Columbia changua h3>






Sunny and hot, Shakira birthplace combines its Spanish cuisine and local Indian tradition. Here, like beans, corn, vegetables, meat. Traditional Colombian breakfast - milk soup changua
.
< You'll need:


Water - 500 ml Milk - 500 ml cilantro - to taste green onion - 5 stems potatoes - 1 item chopped garlic eggs - 4 pcs butter -. 1, Art. Spoon salt and pepper - to taste cumin garnish:
.

Soft cheese (cut into cubes) cilantro chopped onions toast. Preparation:

In a saucepan, add water, milk, butter, salt, potatoes, cilantro stems, garlic. Simmer for 10 minutes. When the soup boils, hammer in his eggs so that the yolks are not flowed. Cover and wait a few minutes until the eggs are cooked. Arrange each plate of sliced ​​green onions, cilantro, diced cheese. Then remove from the pan and cooked eggs and arrange on plates. Then pour the soup. Serve soup with croutons.


America. Mexican chilaquiles h3>






Mexicans like dense and at the same time very simple food, in which a lot of vegetables, and of course, hot peppers. Traditional dish for breakfast here - rich chilaquiles, whereby Mexican farmers feel full and energetic throughout the hard day's work
.
< You'll need:


corn chips (or nachos) - 13-14 pc sauce -. 2 cups (you can experiment with his views, but it is advisable to take the sauce is tomato based) water - 1/2 cup boiled chicken - 300 g grated cheese Cheddar - 2 cups tomato - 1 pc onions - 1 pc cream -. 2, Art. spoon (the amount may be varied as desired) egg - 1 pc Preparation:
.
Put water, sauce and shredded chicken in a deep pan and simmer. Given that the chicken is ready, you just need to wait until the mixture is thoroughly warmed up. Add corn chips to the mixture and stir. Wait until the chips are soft, but do not allow them to become very "liquid". Remove the pan from the heat. Add to the mix a half cup of cheese. Put everything on the a la carte dish for the microwave. Add the tomatoes and onions. Sprinkle with remaining cheese. Put in the microwave for 1 minute, if you want - a little more, until the mixture is covered with a golden crust. Remove the plate from the microwave oven and let cool for 10 minutes, then add the cream. Before serving, garnish with a fried egg. Mexican breakfast is ready, Buenos días, amigos!




Asia. Indian homemade yoghurt Dahi Baray h3>






The basis of Indian food - vegetables, dairy products and cereals. Indians are mostly vegetarians and adherents of a healthy diet. Breakfast Indian - light but nourishing and very useful. One option may be homemade yogurt dahi, which is better to cook the night before.

< You'll need:


Milk - 500 ml yogurt - 2 tablespoons. spoon fruit - to taste greens - to taste Preparation:.

Milk bring to a boil and boil, stirring constantly for 5 minutes. Let cool the milk to a temperature of 47 degrees Celsius (you can place a pan with the milk in a cold bowl, so that it will cool down). The sterilized (optional) 2 tablespoons Bank impose. spoons of yogurt, then pour the cooled milk and mix thoroughly. We reserve yogurt for 5-6 hours. In the morning, before serving, add the chopped fruit in it and decorate with a sprig of greenery.


Africa. Egyptian Fula h3>






Egyptian cuisine - a classic example of an Arab Middle Eastern cuisine. Here love sweets, cereals, legumes, and Egyptians prefer to eat breakfast dish called "Fula". It is served hot separately or placed in the cake. Putting cooking Fula need in the evening.

< You'll need:


dry beans - 2 cups red lentils - 2 tbsp. spoon tomato - 1 pc onion -. 1 pc. Carrots - 1 pc garlic -. 2 slices cake - 1 pc. . (Optional) Preparation:

In the evening wash the beans and cover with water for 1 hour. Put the beans in a saucepan, cover with water and add the lentils and wheat, tomato whole (not cut), whole garlic cloves. Bring to a boil and cook for 10 minutes. Reduce heat to low and simmer the beans 6 hours on low heat, covered. In the morning, when the beans are ready 2/3, add a cup of boiling water and interfere with, boil until cooked. You can bring to the table.

May your morning be a delicious, hearty and good, no matter what day of the week it may open!

According to the materials: molomo.ru, ru.wikihow.com, golden-monkey.ru,
Favorite dishes of Indian vegetarian cuisine Yamoun Devi.
Photo preview: alittlesaffron.com





via www.alittlesaffron.com