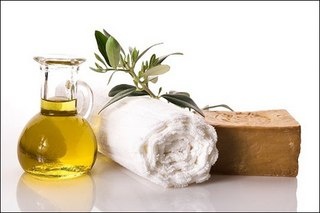 This is a special mask for hair with ground coffee and fresh extra virgin olive oil. It nourishes and revitalizes hair, effectively restoring their natural beauty, vitality and shine.
Olive oil nourishes the scalp and restores hair, while coffee has a cleansing effect and gives the hair shine.
Take this to mask the best olive oil, which you have. It is best to take unrefined, the first extraction, the characteristic green color and a pleasant zapahom.V recipe of this mask can also add essential oil of orange or lemon for shine and shine of hair.
1. Preheat a water bath of olive oil to a warm (but not hot) state.
2. Add the freshly ground coffee (instant will not work), stir well to mix the state semi-slurry. You can add a mask of a few drops of essential oil of orange to shine.
3. Apply the mask to damp hair along the entire length, wrap film and leave for about 30 minutes.  
4. Once done, rinse your hair with shampoo and dry as usual. You can use a conditioner after washing the hair on the basis of apple cider vinegar (2 tablespoons to 3 liters of water), which strengthens the hair and makes them shine.
To make this visible effect coffee hair mask at least once a week, preferably in the evening before bedtime.